Women's lax gains valuable lessons during rigorous preseason
Head coach Meredith Black says senior-heavy team will give team best season yet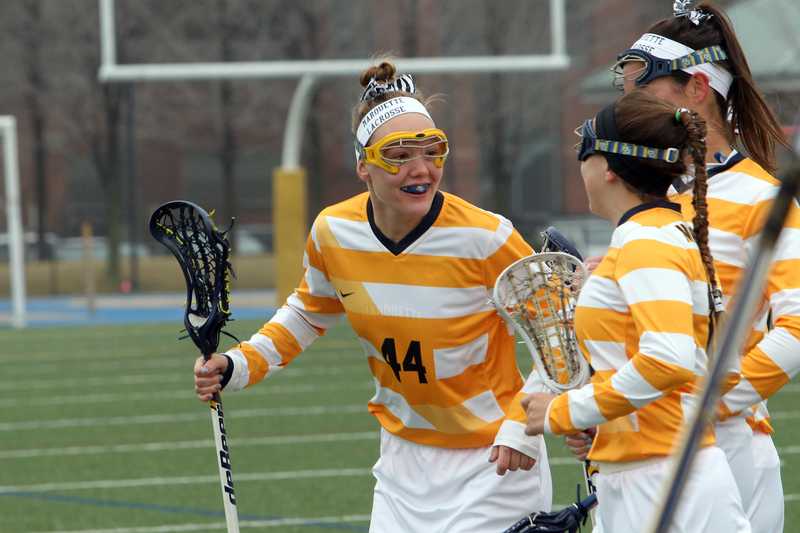 Robby Cowles, robert.cowles@mu.edu
October 21, 2015
Women's lacrosse wrapped up its fall exhibition season last weekend in Louisville, Kentucky, capping a tough five-game schedule that included games against 2015 top-20 teams Notre Dame, Ohio State and Louisville.
Despite the team not keeping score for the five games, head coach Meredith Black thinks the stiff competition helped the team learn more about itself.
"We played a really tough fall schedule," Black said. "I think we saw some really great teams and we were able to compete with them."
The team did not keep score for any of the games because they are meant to serve as learning experiences for both the players and coaches.
"I think we got a really good feel for each other as a team," Black said. "We got to know our freshmen, but we also got to know how this year's team is going to work together."
Against Louisville, who the team will face in their official season opener on Feb. 6, Black was glad they got to experience their style of play.
"They go really hard all the time, they play a fast-paced game, and we typically don't," Black said. "So it's great competition for us to go up against them in the fall."
The tough schedule may have exposed some of Marquette's weaknesses on both sides of the ball, but coach Black was still positive about the team moving forward.
"It pointed out things we need to work on and continue to get better at, but the fact that we were able to compete with all the teams we played with this fall was great," Black said. "We really felt good about that and were happy that we were able to do that, even though it's just in the fall."
During the five-game preseason, Black learned which areas specifically to address between now and the spring.
"Just playing at game speed on a daily basis is what we need to work on, that will be our focus," Black said. "If we can play at game speed every time we're together from now until February 6th, it would be incredible."
There are clear adjustments that need to be made for Black's team, which went 5-12 last season and just 1-6 in the BIG EAST. Since first taking the reigns on the women's lacrosse program in 2011, she has worked on building team chemistry to promote a winning attitude, which is what she emphasized during the preseason.
"I learned that when they play with confidence, they're a completely different team then when they don't," Black said. "That'll be a focus, just building their confidence and having them know that they should believe in themselves."
Entering the program's fourth year, Black will have her most experienced team yet, led by seniors Biz Goslee, Hayley Baas and Claire Costanza.
"The biggest difference I think is that the biggest class that we've ever had here at Marquette, numbers wise, is now a senior class so they're really stepping up as leaders this year," Black said. "It's a long season and we want to develop and learn from each game we play and each practice go through and just continue to grow so that we are playing into May, which means we're playing into our conference tournament and NCAA tournament."