String Cheese Incident makes its return to the Riverside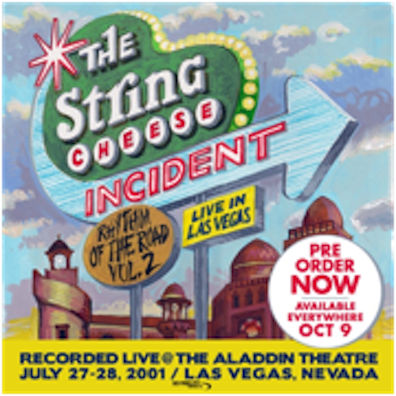 Hang on for a minute...we're trying to find some more stories you might like.
The String Cheese Incident are a little bit of bluegrass country with a very familiar sound fans of jam bands will enjoy. The group will return to Milwaukee at the Riverside Theater for their "Roadtrip to Hulaween" fall tour this weekend.
The band's origin trails back to Colorado. After an incident at a restaurant when jack cheese, beans and salsa were scattered all over the place the members decided to call themselves The String Cheese Incident to never forgot that experience.
They also thought the name was a creative reference to the stringed instruments that the members all play.
"We're excited to be up in the Midwest playing music again," said Bill Nershi, a founding member of The String Cheese Incident and acoustic guitar player.
Other members of the band include Michael Kang, violin player; Keith Mosely, bass guitarist for the band and another founding member; Kyle Hollingsworth, keyboard player; Michael Travis, drummer, and Jason Hann, percussionist.
The String Cheese Incident released their latest album, "A Song in My Head," last year, which was produced by Jerry Harrison, former keyboard player for Talking Heads.
"When we had started 'A Song in My Head' we got a lot of the music down, we needed someone to come in and help us finish that album," Nershi said.
It was their first album recorded in nearly 10 years. There was a period when The String Cheese Incident did not record because they were afraid that the albums were not going to sell and that something would happen to the master recordings.
For bands like The String Cheese Incident, each of their songs tend to go into a jam, an extended performance of the song. Improvising is key to continue with the song.
"It really makes you use your ears in a different way," Nershi said. "It's a great thing because unlike arranged parts where everybody knows exactly what they're going to do, every measure, when you get into in a jam, nobody knows what's going to happen."
There are certain musical flows that jam bands will try to follow. The length of a jam is based on how long the band wants to keep going. Some songs have a certain point when the band knows they will go into a jam, so they prepare themselves for when the time comes to jump in.
The String Cheese Incident is currently in the process of recording a new album and trying to build up a recording studio. This will ensure that the time between when songs debut at their shows to when they appear on a studio release is as short as possible.
"The first thing we need to do is continue to develop the space and make it work for us," Nershi said.
After the tour ends, The String Cheese Incident will head down to Florida for their "Hulaween" show on Oct. 31 where the band plans on playing rhythym and blues songs with an added horn section joining them.
"We're working on eight more songs right now," Nershi said about the process of the upcoming album. "There's always a lot of new ideas for songs that are being brought up, so we are trying to keep base with that."

About the Writer
Dennis Tracy, MUTV Executive Entertainment Producer
Dennis Tracy is a digital media major from Palatine, IL. He has previously worked as a production volunteer for MUTV before becoming an entertainment producer...