James Foley's parents attend remembrance Mass, procession to AMU
Sophia Boyd, Student Government & Politics Reporter
October 12, 2015
Diane and John Foley walked hand in hand with the Rev. Frederick Zagone down Wisconsin Avenue on Sunday, Oct. 11 after attending a remembrance Mass for James Foley, a Marquette alumnus and their son.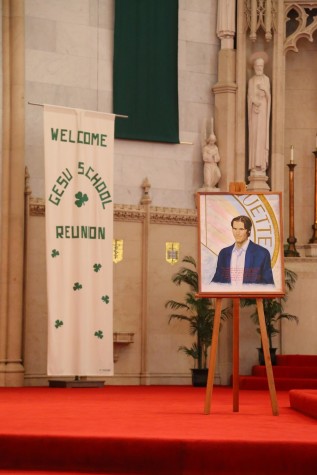 An altar server in front of them carried a blessed painting of James Foley to the Alumni Memorial Union, where it was hung in front of the building's chapel.
The Liturgical Choir and a crowd of more than 100 Mass attendees followed and sang in unison, "we are marching in the light of God."
James Foley graduated from the College of Arts & Sciences in 1996. He later became a journalist and was covering Syria's civil war when he was captured in 2012. He was killed by Islamic militants Aug. 19, 2014. His death, said to be in retaliation to American airstrikes against the Islamic State, was shown in a video made by the militants.
Stephanie Russell, vice president of Mission and Ministry, organized the Mass, which took place in the Church of the Gesu.
"For the campus community, I think there's a deep desire to continue to express our support for the Foley family," Russell said. "This is an opportunity to do that. It's also an opportunity to commit to the things that were important to James."
During the homily, Zagone honored James Foley alongside Mother Teresa, as an example of someone who followed their mission and served God.
"When I think of James Foley, I remember his words: 'someone needs to tell the stories of these people'," Zagone said, calling him a messenger for the Syrian people.
Zagone blessed the portrait of James Foley after Communion. The artist Mary Pimmel-Freeman was commissioned by Marquette to paint it in Raynor Memorial Library during Mission Week from Feb. 1 to 6, 2015.
Pimmell-Freeman said she felt honored and lucky to be a part of "a really beautiful tribute."
After the blessing, John and Diane Foley spoke about their son and how his time at Marquette helped him find his passion and be brave in Syria.
"Jim is here with us today," John Foley said. "He knew Marquette made differences and hoped to leave and do the same."
Diane Foley thanked everyone for attending and received a long applause after her testimony.
"You know Jim's secret – he maintained goodness and calmness because he knew his rock," she said, referring to God.
Once arriving at the AMU, Diane Foley was in tears and profusely thanked the crowd again for being there.
"Jim's life and death have not been lost on this community," Russell said. "It's difficult to find an example of an alumnus more pointed than that of James Foley, who has shown such courage and bravery in the face of violence."
The university started awarding a James Foley Scholarship this academic year. It goes to incoming freshmen in the College of Communication.
"It's been really moving to see how the university has honored his memory and welcomed his family," Pimmel-Freeman said. "You can just see how touched the (Foleys) are."
The university will have two more events honoring James Foley this month. The James Foley Memorial 5K, on Saturday, Oct. 17, will raise money for the scholarship in his name. Then there will be a rosary ceremony on Oct. 18 to commemorate what would have been his 42nd birthday.
"We continue to grow and discover new ways of incorporating our relationship with who Jim was and who he continues to be in various ways of the university's life," Russell said.