Volleyball falls further behind Creighton after weekend slip-up
Louis had only nine kills in match against Creighton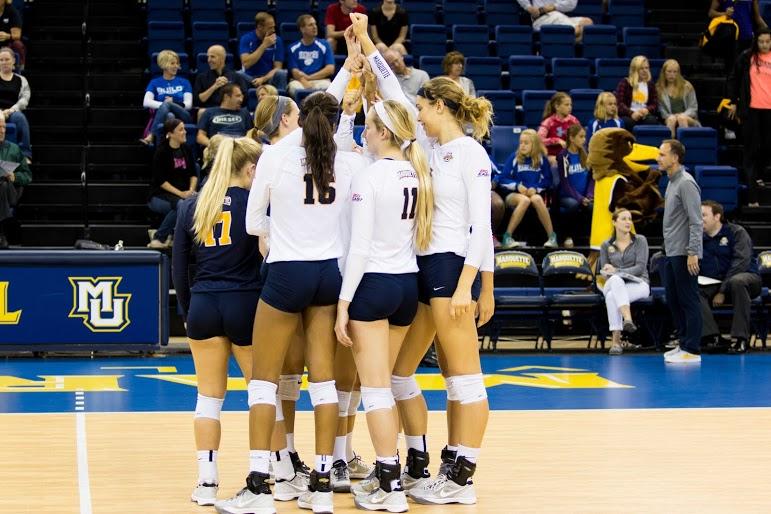 Andrew Goldstein, andrew.goldstein@mu.edu
October 12, 2015
Another weekend, another mixed bag for Marquette volleyball.
The Golden Eagles split their two road matches this past weekend. They decisively swept the Georgetown Hoyas on Friday, only to be swept just as decisively by the Creighton Bluejays on Sunday. Marquette is now 12-7 overall and 4-3 in BIG EAST play, which leaves them at fourth place in the conference.
"Long weekend," surmised Marquette head coach Ryan Theis.
Marquette's road trip started out promisingly enough as the Golden Eagles bucked their trend of slow starts and dispatched Georgetown by a final of 26-24, 25-22, 25-20. Middle blockers Meghan Niemann and Jenna Rosenthal were the stars of the evening for Marquette; they combined for 18 kills on only 25 swings. Both players also stepped up on defense and helped Marquette out-block Georgetown by a seven to two margin.
"I wanted to make sure to compliment (Niemann and Rosenthal)… because I thought they had a good day and were effective," Theis said.
However, the match that truly mattered this weekend was the Sunday afternoon clash with BIG EAST-leading Creighton. Marquette could have drawn to within one game of the Blue Jays if they had won in D.J. Sokol Arena, but that did not happen. Instead, the Bluejays thoroughly manhandled the Golden Eagles, hitting .356 en route to a 25-19, 25-21, 25-16 win.
"I thought too many Creighton shots were getting through our hands and we could have converted those for some blocks," Theis said.
Creighton outside hitter Jaali Winters put together a magnificent performance against a hapless Marquette defense. Her mix of full-force power shots and tactical seam shots kept finding the floor, and Marquette simply had no answer. By day's end, the freshman had 23 kills on only 37 swings, which translates to an astronomical .541 hitting percentage.
"Her size, her hand contact and her range are all extremely good," Theis said of Winters. "Today she was just swinging at everything and was totally fearless."
In contrast, Marquette's biggest offensive weapon was conspicuously silent. Redshirt freshman outside hitter Taylor Louis picked up only nine kills on 36 swings, which ties her career-worst kill total.
Marquette now returns home to the Al McGuire Center for a five-match home stand, with the first set of play taking place Friday evening against Providence.