Police block off 16th St. after off-campus shooting of non-student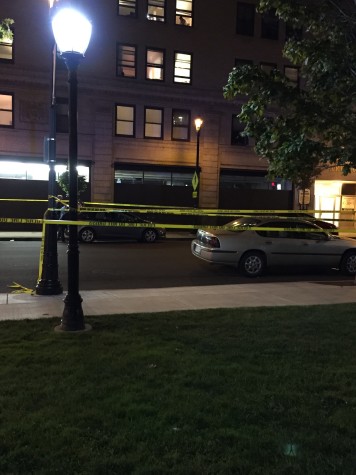 This story was updated Monday, September 14 at 9:35 a.m.
The 700 block of 16th St. was taped off Sunday evening after a non-student was shot on the south side and drove onto campus while wounded, Marquette Police Department confirmed.
Milwaukee Police Department Captain Mark Stanmeyer said the shooting happened around 8:30 p.m. on Sunday in the 1800 block of S. 19th St.
"A 24-year-old Milwaukee man was shot and drove himself to the area of N. 16th St. and W. Wisconsin Avenue where an ambulance then took him to a local hospital for treatment of a serious injury," Stanmeyer said in an email.
Stanmeyer said the incident is not connected to Marquette in any way. The 16th St. side of McCormick Hall was taped off, in addition to the street itself. The other side of McCormick was left open for students to get in and out.
"Just after 12:00 a.m. a 22-year-old Milwaukee man was arrested at the crime scene for his role in the shooting," Stanmeyer said in an email. "Officers also recovered a gun believed to be used in the incident. The suspect will be referred to the Milwaukee County District Attorney's Office in the coming days."