Marquette working to improve diversity after protests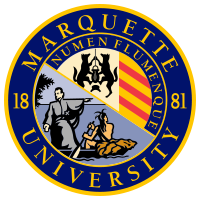 The Ad Hoc Coalition of and for Students of Color criticized Marquette last semester for its handling of diversity and inclusion.
The coalition issued a list of demands and organized protests including a solidarity march, which resulted in a blocked intersection and the arrest of four students.
Daniel Bergen, interim assistant vice president for student affairs, said the university worked with multiple organizations this summer to create a committee focused on diversity and inclusion.
"A committee comprised of staff representatives from student affairs, campus ministry, the office of diversity and student representatives from Marquette Student Government and the Ad Hoc Coalition of and for Students of Color at Marquette was convened this summer to identify ways in which staff and students could collaborate and create diversity initiatives and programs," Bergen said in an email.
Bergen said many of the programs have already been developed or are in the process of development.
"These programs focus on dialogue around issues of diversity and inclusion, education around issues of diversity and inclusion and action-oriented opportunities for engagement," Bergen said in an email.
In addition to those programs, the university worked on answering the coalition's demands. One of them was to re-crop the university seal because the coalition saw it as a biased view of Father Marquette's relation with indigenous people.
"To provide context for the Native American depictions on our university seal, the Office of the Provost will launch an educational campaign that will feature the 1869 Wilhelm Alfred Lamprecht painting from which the seal is derived," University Spokesman Brian Dorrington said in an email.
Information about the campaign will be posted online and shown in displays in the Alumni Memorial Union, Raynor Library and Cudahy Hall.
Additionally, Dorrington said the university planned events to improve diversity this year, including the Excellence in Diversity and Inclusion Faculty Award.
"The annual award will recognize exemplary leadership by a single regular or participating faculty member, which manifests the ideals of diversity, equity and inclusion into practical action," Dorrington said in an email.
There will be campus-wide presentation on Sept. 15 and 16 to announce results from the campus climate study survey.
"(The survey was) an exercise that Provost (Daniel) Myers says will bring the open and healthy dialogue necessary to address Marquette's strengths and growth opportunities in the areas of diversity and inclusion," Dorrington said in an email.
Dorrington also said the Office of the Provost is developing a committee to address recruitment and retention of a more diverse student body. The committee will focus particularly on Native American students.
A full comprehensive diversity plan is in the final stages of development, and Dorrington said it will be released this semester.