Not horsing around: Equestrian Club to begin competing
Started in 2012, Marquette's Equestrian Club will begin competing in dressage and hunter/jumper this year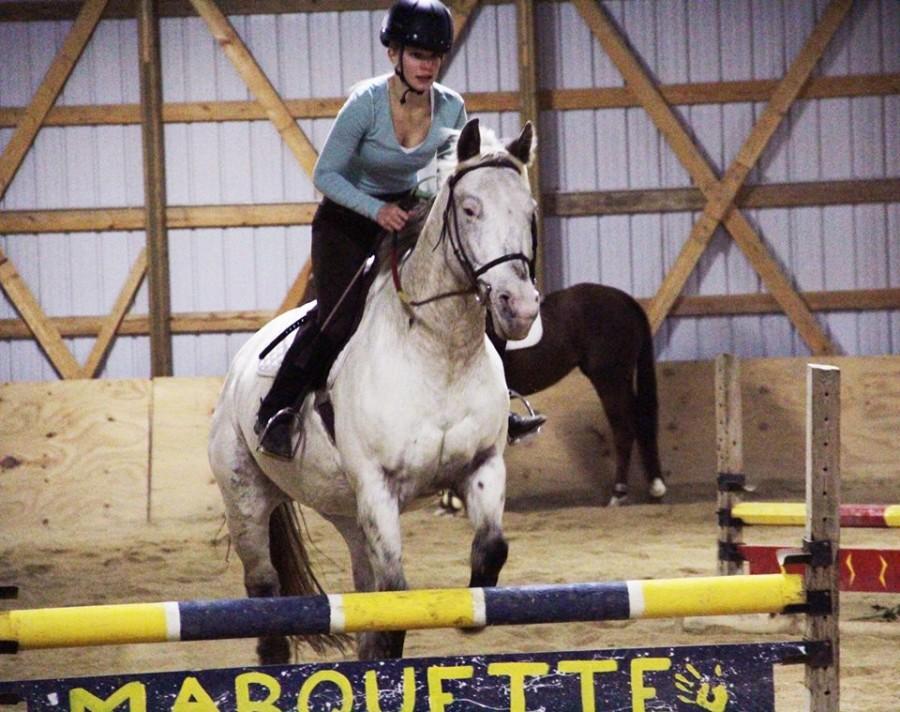 Robby Cowles, robert.cowles@mu.edu
September 10, 2015
There are 36 club sports students can participate in at Marquette. Some of them are very mainstream and popular, like basketball, baseball and hockey. Others are ones that most students don't even know exist, like the Equestrian Club.
Founded in 2012, the Equestrian Club has had a tough time promoting itself outside of Marquette's O-Fest. President Natalie Ullrich and her members look to take the club to new heights this year.
"Our goal is for people to stop asking 'Oh what's an equestrian?'," Ullrich said. Ullrich, a junior, is entering her second year with the club and first as president.
For the first time since its creation, the club will travel to compete against other colleges in dressage competitions this fall. There are also plans to compete in hunter/jumper shows in the spring.
Getting the club to this level has not been easy, but it's already paid off when it comes to membership recruitment, according to vice president Emily Gaietto.
"I think it was a big thing for experienced riders (to see) that at O-fest we weren't just a team you can join as a beginner, which you can, but we also take it farther and are a competitive team," Gaietto said. "Everyone's just gotten way more serious this year I think, and I think we're going to have more riders because of that."
This year the club will have about 30 riders, its best year membership-wise.
For senior Laurel Stofan, the club's treasurer and member since its inauguration, competing against other colleges was always a long-term goal.
"It's always been people asking me, 'Do you compete?' and we always say 'Well, we're hoping to'," Stofan said. "It's been neat seeing the club progress, especially this year. It's taken a huge jump club-wise."
When the team travels to competitions, the host schools will provide the horses to the athletes through a draw. Riding different disciplines on unfamiliar horses could be a difficult task, but all visiting clubs must follow the same standards.
Stofan and the rest of the club's leadership stressed that despite the added competition, the club is not just for veteran riders.
"We've had a lot of people who are beginners, who have either never ridden a horse or even seen one," Stofan said. "We try to advertise that it's not just people who've been riding forever, if you've never been on a horse that's fine, you can come and try."
Ullrich gets excited talking about new members whose first experience of horse riding was with the club.
"It's been really cool to see people who have started out, never ridden a horse before, who are now jumping," Ullrich said. "(That) is kind of like the next level for us."
Stofan shared Ullrich's enthusiasm for watching beginner club members improve.
"Watching people who have gone from never even riding, to jumping their first fence is awesome," Stofan said.
Ullrich described getting "goose bumps" when watching her club members attempt their first jump.
Ullrich, Stofan and Gaietto hope that this year will offer a variety of both beginners, and veteran riders competing for Marquette against other colleges.
"That's what we really want to be, we want to be welcoming to all levels, and we can offer people a lot of growth," Ullrich said.
The club begins it's weekly lessons next week, with it's first ever competition Oct. 16-18 in Michigan.