Marquette aims to retain Milwaukee Cup
A win would be Bennett's 200th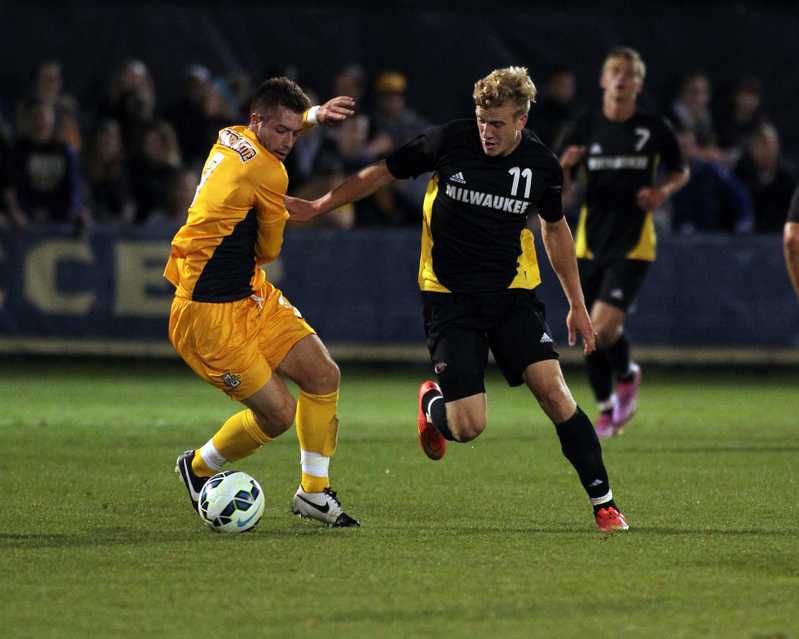 Jack Goods, jack.goods@mu.edu
September 3, 2015
When the Marquette soccer schedule is released, the Milwaukee Cup is always a match to circle. The matchup, featuring crosstown rivals Marquette and UW-Milwaukee, is as competitive as ever thanks to the Golden Eagles' rising program prestige.  Marquette looks to retain the trophy Thursday night at Engelmann Field.
The Milwaukee Cup, founded in 1973, has historically been dominated by the Panthers. UWM has won 28 to Marquette's 11, but the Golden Eagles have fared well in recent years. They've won four of the last seven match-ups.
"Throughout the world, soccer is about derbies," Marquette head coach Louis Bennet said. "You go to Argentina, Spain, Italy, England — it's Manchester City blue or Manchester United red… There are people in the city that are either one or the other."
"Winning the cup is having a part of local college history," Bennett explained.
Last season Marquette won 2-0 at Valley Fields thanks to first half goals from then-redshirt freshman Jack Alberts and then-redshirt junior C. Nortey. The shutout was the fourth in a run of six straight blank sheets. This year's match will be set across town, as the series switches universities each year. The last time the visiting team raised the Cup was in 2010.
"After competing in my first Milwaukee Cup last year, I have experienced that it is not just a derby match." redshirt senior David Selvaggi said in an email. "It brings the entire Milwaukee community together for a great game. What the Milwaukee Cup means to me is having the honor and opportunity to have the chance to be the best team in Milwaukee and have the bragging rights."
The crosstown rivalry received extra juice when Bennett left UWM for Marquette before the 2006 season. A win tonight would have added importance for Bennett, since it would be the 200th victory of his career.
"I think that would be a lovely piece of fluff around this game afterwards," Bennett said. "I want (the players) to be winners for all the right reasons. How many games I've won should not be a motivational factor… We pretty much have to stay even- keeled and on-point, because this is going to be an unbelievably competitive game."
The Golden Eagles look to move above .500 after splitting their first road trip last weekend. They opened with a 1-0 overtime loss to No. 21 Oregon State, but ended the weekend on a high note with a 4-2 victory against Portland.
The Panthers come into the match with the same 1-1 record. Their most recent showing was a 4-0 loss to powerhouse No. 3 Creighton on Sunday. This UWM team is discovering life after losing three-time Horizon League First-team member and 2013 Horizon League Player of the Year Laurie Bell. Now with the Tusla Roughriders of the United Soccer League (USL), Bell finished 11th in program history in career points. Last season he had a second half penalty shot opportunity in the Milwaukee Cup, but was foiled by Charlie Lyon.
Just as they lost a franchise great, the Panthers reloaded their roster quite successfully. A new generation of UWM soccer is spearheaded by a group of young forwards. Sophomore Reid Stevenson led the team with 11 points last season, while freshmen are already making their mark. Matthias Binder has a goal and an assist while Francesco Saporto has also notched a goal. Canadian senior Declan Martinez is also a name to watch. He scored two goals in the Panthers opening game against Evansville.
"It's a young roster in one sense, age, but it's an internationally laden team," Bennett said. "What they're doing is putting together something that is representative of the coach."
Who will be in goal for the Golden Eagles is still a mystery. The team has picked a starter for tonight, but Bennett doesn't want to announce who it is until just before the 7 p.m. kickoff. Freshman Luis Barraza, named to the Big East honor roll this week, started both games last weekend. Redshirt junior Mac Wheeler came in for the last twenty minutes of the Portland match. Bennett said that they will pick the goalie who is not only playing best, but who is also the best matchup for UWM's style.
Freshman Ruben Sanchez, who made his first start on the back line against Portland, will once again be in the starting lineup tonight. Bennett was very impressed with him last week.
"I thought he was very good against Portland," Bennett said. "Arguably, he might have been one of the best players on the field. He's a soccer player first and foremost. He's becoming a Marquette soccer player. He's learning the nuances of how he plays."
Selvaggi, who has been rehabbing from a groin injury, told the Wire he is "at 100 percent." He is a good candidate to get the start at forward for the Golden Eagles, along with Nortey.