New Haggerty Museum of Art director getting Marquette involved with exhibitions
The Haggerty Museum of Art expects a big year under new Director and Chief Curator Susan Longhenry.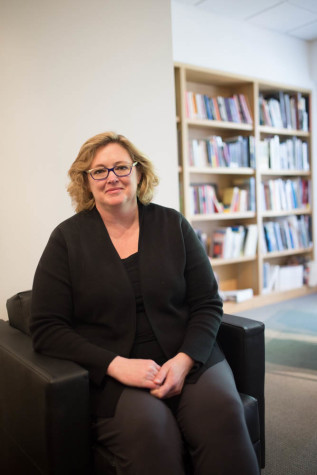 Longhenry began her new role in August. She previously served as executive director of University of New Mexico's Harwood Museum of Art. A native of Milwaukee whose father graduated from Marquette, Longhenry said she feels like she came home.
"Marquette has always held a very special place in my family's heart," Longhenry said.
Her interest, she said, has always been to engage the community and visitors.
"I enjoy working at a university museum because I have so much interest in education," Longhenry said. "I was looking for an opportunity to come home and Marquette was the perfect fit."
Longhenry hopes to connect with the Marquette community and have the museum become more visible this year. According to the museum's website, the Haggerty's mission is to better the intellectual and creative lives of the Marquette community through its artwork.
Longhenry said Marquette students and faculty will always be her number-one priority.
"I have not worked at a Jesuit institution but I am very inspired by the values of Marquette," Longhenry said. "I plan to work to really explore that."
The museum involves the Marquette community with its exhibitions. Longhenry said the university will influence some exhibitions that are slated for this fall.
"The school is doing such interesting things that the community should be engaged with," Longhenry said.
One example is the exhibition of a 3-D rendering of a 17th century Parisian cathedral. According to the Haggerty's website, Giuseppe Mazzone created the rendering at Marquette's Visualization Laboratory, where he is the Student-Centered Active Learning Educator.
"It's a perfect example of something that is very intense academic work being done on campus," Longhenry said. "My intention is to optimize what is happening on campus and then share it with our community."
The Haggerty Museum's Curator of Education, Lynne Shumow, uses exhibitions to work with different classes to help students receive a visual learning experience.
"My goal is to make the art applicable to diverse areas of study," Shumow said in an email. "Every class has a different goal, so different approaches are required."
In addition to those goals, Longhenry said she wants the Haggerty to become accredited by the American Alliance of Museums.
"The Haggerty just turned 30, so it's at a point where it deserves and warrants accreditation," Longhenry said.
She said accreditation will take about two to three years but they are looking forward to starting the process.
"There is a terrific team in place here,"Longhenry said. "I'm looking forward to working with them on these initiatives to move forward."
This fall the museum will have four new exhibitions. Along with the 3-D rendering they include: Adi Nes' "Biblical Stories," Marc Chagall's "Biblical Narratives in Print" and "What is Hispanic," which was organized by Scott Dale, an associate Spanish professor.
The exhibitions will run Sept. 17 through Dec. 23 at the Haggerty.