Marquette plans fundraising strategies after 9-year campaign absence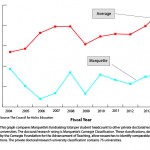 Marquette has been without a fundraising campaign for nine years — an abnormally long amount of time for universities — and there are plans to change that.
Vice President for University Advancement Michael VanDerhoef said Marquette is looking to start a new campaign July 1, 2016.
"Yes, we've been out of campaign too long," VanDerhoef said. "We've got to get back in."
Before kicking the campaign off, though, the university needs to figure out a few things. Marquette will take the next calendar year to see what areas could benefit from a fundraising campaign, using information from Strategic Innovation Fund applications to find patterns. The likely beneficiaries of the campaign include a new building for the College of Business Administration, a new life sciences building and a new athletic performance research center.
Advancement plans to write a survey for students, faculty and staff by the end of summer 2015 to see what people think of the funding priorities. The office will then launch feasibility studies, which will determine the priorities of the alumni and donor base.
The campaign's quiet phase, which is when Marquette will solicit top gifts so it can reach part of its goal before making the campaign public, is expected to start July 2016.
Private institutions normally spend about 26 months in quiet phases, according to a survey by the Council for Advancement and Support of Education. VanDerhoef said Marquette's quiet phase will likely take a couple of years.
"It's a minimum of 24 months, probably, unless things really catch fire and go fast," he said.
In terms of the length of campaigns, VanDerhoef said quick campaigns are the way to go for Marquette because then it's possible to change focus quickly to accommodate new ideas.
"Marquette is becoming a more dynamic place, so it makes sense to start doing campaigns in slightly shorter cycles than longer cycles because we're fostering innovation," he said.
WHY HAVE CAMPAIGNS?
VanDerhoef said it's unusual for major universities to be out of campaign for so long. Marquette has been delayed for several reasons, including a down economy in 2008 and the 2013 departure of former University President the Rev. Scott Pilarz.
Marquette's Office of Finance said the university needs to develop a campaign because fundraising can offset tuition price increases.
"Overall, the university's financial situation is stable, but there is a strong dependence on net tuition revenue generated by enrollments to balance the budget," University Treasurer John Lamb said in a financial performance dashboard released in February 2015. "The university needs to diversify its revenue streams by increasing gift contributions, investment income, grants, endowment income and other income sources."
Diversifying revenue is one of the roles of Advancement.
Generally, it is considered unhealthy for schools to be heavily dependent on student enrollment because those rates can fluctuate from year to year. At the same time, many costs associated with running a university are fixed and not directly scaled to the number of students. Year after year, the cost of faculty, staff, materials and resources continues to rise.
"We can't keep the escalation on the tuition side going the way it has been," VanDerhoef said. "How do you deal with the rising costs over time in a way that doesn't put it all on the backs of students? (That's) where fundraising comes in."
Advancement raises money for two purposes: providing current funds and growing the endowment. Through invested money, the endowment provides the university with regular income, which is a necessary aspect of maintaining and improving the university. The market value of Marquette's endowment is $545 million, with the net operating income of $12 million at year-end.
"If we want to ensure the long-term vitality of Marquette University, we have to grow our endowment," VanDerhoef said. "If we do that, a lot of other things become possible because we become less dependent on tuition revenue. We can be more generous with financial aid."
FUNDING FROM ALUMNI
Going forward, VanDerhoef said future alumni need to remember that all students have benefited from previous donors through scholarships, services or physical resources. Nearly every aspect of the university is touched by money collected through fundraising.
"Just like others have made it possible for us when we were here, I think we owe it to future generations to do the same," VanDerhoef said.
Still, for some upcoming graduates like Angie Comte, a senior in the College of Arts & Sciences, it can be difficult to consider donating money.
"You're just starting to pay your student loans and I have to pay for other things," Comte said. "I think donating is pretty unrealistic."
She said she may be able to give to Marquette financially in the future. For the time being, Comte said donating other talents, such as assisting with mentor programs, may be her only option.
VanDerhoef said the priority alumni place on donating to Marquette is below average. He pointed to a study conducted at Marquette two years ago that showed alumni do not place Marquette as their first or second priority whereas, nationally, higher education institutions rank second.
"The way we are perceived by our alumni, we're typically third," VanDerhoef said. "I think we need to do a better job of pointing out why Marquette is worthy of people's support at higher levels."
Leave a Comment