At Anodyne Coffee Roasting Co., intention is everything
Growing up, the closest coffee shop to my house was on a busy corner in the middle of the town. Every day, I saw my dad with a white cupped, green-labeled coffee and it was explicitly clear to me the necessity of it. Everyone's reason for drinking coffee is different, whether you drink it for the caffeine, as an incentive when studying or simply to get together and spend time with a friend.
Living in Milwaukee, I've developed an appreciation and preference for local coffee shops. Milwaukee has plenty of established, local coffee shops you can choose from, including, Colectivo Coffee Roasters, Stone Creek Coffee and Rochambo Coffee & Tea House. One local coffee shop rising in popularity in Milwaukee is Anodyne Coffee Roasting Co. Whatever your reason for drinking coffee, you should put Anodyne at the top of your list of coffee shops to check out.
Anodyne Coffee Roasting Company started in 1999 as a small batch roaster. Their business has moved around a few times in the greater Milwaukee area, but their latest move in 2014 proved successful. Located in Walker's Point, a 17- minute bus ride away from campus, Anodyne looks more like an industrial warehouse from the outside. While it is a roasting warehouse, it is also a café and concert venue. The rustic wood floors stretch across the warehouse and are met by creamy brick walls. The tabletops are carved from trees and make for a cozy study spot. The only complaint I have is that the chairs are not very comfortable, but sometimes I think that works in my favor to stay focused on my work rather than sit back and relax.
Daily, there are a variety of coffees, teas and specialty drinks to choose from. I'm particular to the Dirty Chai, but the specialty drinks are equally worth trying, such as the Frosty (mint and mocha), Turtle (caramel and mocha), My Buddy (almond, vanilla cappuccino) or the Honey Bee (vanilla, honey latte). Soups, quiches and baked goods are available for purchase as well. The ordering counter happens to be a 40-foot bar and, while coffee is the specialty, sodas, beers and hard ciders are also available for purchase. As mentioned, Anodyne hosts concerts in its venue and has a decent-sized stage in one corner of the building. If you like live music and new bands, these concerts are worth attending with a drink. The concert prices range from $8-$10 and can be found on Anodyne's Facebook page.
Anodyne changes the common thought of a coffee shop on a busy corner through the creation of a roasting warehouse and café. It's as though the creation of this environment was done purposefully so, to reflect the intention that goes into creating the roasts. Dramatically speaking, intention is everything. It is clear Anodyne Coffee Roasting Co. is in tune with this mantra, as it works to roast coffee for caffeine fanatics. Equally, the environment is inviting to those on a mission to do their work or simply relax and enjoy the company of another. Whether you are there to study or socialize, Anodyne does not disappoint.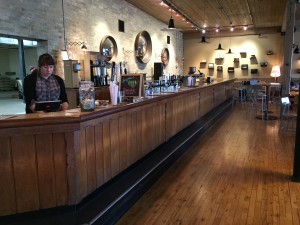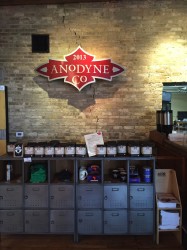 photos by Caroline Horswill/ caroline.horswill@marquette.edu
Leave a Comment