Sweet Tooth: Ranking the Top 5 Easter Candies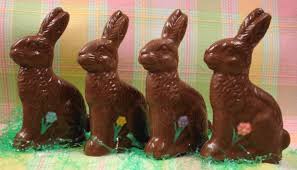 5. Jelly Beans
Although these treats lack any extravagance, they belong on the list for the simple reason that they are fundamentals of any Easter basket. Some people like to eat them, and some just use them for decoration. No matter how they're used, jelly beans are undeniably irresistible at this time of year, regardless of how many get stuck in your teeth.

4. Marshmallow Peeps
What many people consider to be the iconic Easter candy, marshmallow Peeps clock in at number four on our list. People are either angry to see the marshmallow birds ranked so low, or furious to even see the name on our list. Peeps are without a doubt a cult candy. People either adore or despise them. Sure, the richness might be a bit much, but it's hard not to have fun while eating a bird made entirely of sugar. Besides, if you don't like the taste, you can at least have fun by throwing one of them in the microwave. Those poor birds…
3. Reese's Peanut Butter Eggs

Reese's peanut butter eggs capture the familiar taste of the famous peanut butter cups while creating it in the shape of an Easter egg. Although the taste is not necessarily new, the variations of the candy earned the spot on our list. Each egg comes individually wrapped, about the size of a normal peanut butter cup. Reese's also created both bite-size and jumbo eggs. The eggs are offered in both milk chocolate and white chocolate just in case anyone wants something sweeter. That's a lot of peanut butter egg we're talking about. On top of that, Reese's has bunny shapes just in case people get sick of the eggs. Any shape, size, or flavor of peanut butter and chocolate—Reese's has it covered this Easter.
2. Chocolate Bunnies

Never have I bitten into a chocolate bunny and thought, "Wow, this is miserable." Chocolate bunnies are always a safe bet on Easter. Varying in all sorts of sizes, they always guarantee a satisfying chocolate experience. For some reason, they usually taste better than a standard chocolate bar, richer and more flavorful. Arguably the best part about chocolate bunnies is biting off the ears. Anybody who's eaten one knows what we mean. Whether it's eaten in increments or devoured all at once, a chocolate bunny is a must in anyone's Easter basket.
1. Marshmallow Eggs

Some might be appalled to see this candy take the top prize, but marshmallow eggs blend the greatest elements of Easter candy into one. Marshmallow eggs take the success of peanut butter eggs to a whole new level. They replace the peanut butter filling with marshmallow, blending the essence of Peeps with chocolate, a staple to most Easter candy. While the Peeps' sugar coating provides an ultra-sweet (rather excessively sweet) layer, the chocolate egg shells tone it down a bit, better complementing the marshmallow inside. The chocolate and marshmallow team up to create a duo of magical taste. Neither element overpowers the other, and they blend together to create a taste unmatched in any other Easter candy. Marshmallow eggs claim the number one spot on our list. It is truly an honor to consume marshmallow eggs this time of year, and they should not be taken for granted this Easter.
Leave a Comment