Anti-stigma 5K has biggest turnout for this year's Mental Health Awareness Week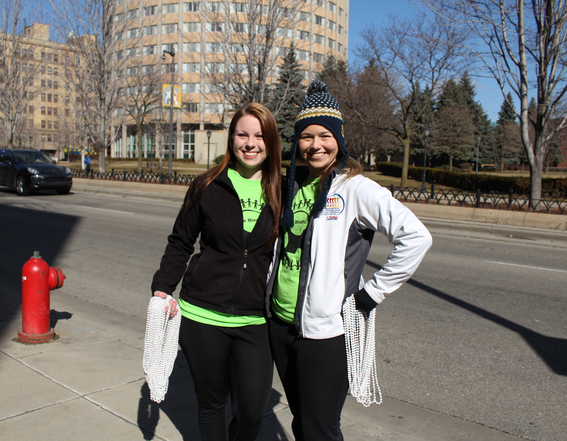 Active Minds wrapped up this year's Mental Health Awareness Week with record-breaking turnouts.
The week's Saturday Stomp Out Stigma 5K attracted the biggest crowd, with 250 people signing up and around 200 participating. The second-most attended Mental Health Awareness Week event of this year was Monday's Wellness Night, which hosted a crowd of 140 people on the first floor of the Alumni Memorial Union.
That's compared to one of the highest-attended events of last year's Mental Health Awareness Week, which 
had 90 attendees.
The week is organized by Active Minds, which works to aid those with mental illnesses and prevent mental illness stigma on campus. This year it featured free yoga classes, massages, stress ball making, tea tasting and a photo booth.
"I think Mental Health Awareness Week will receive more funding every year from the university and the community because the more it grows, and the more students it reaches the more people will want to help with our initiative," said Markie Pasternak, president of Marquette's Active Minds chapter and a junior in the College of Arts & Sciences, in an email. "I am looking forward to the week being even bigger next year."
Pasternak became the National Student President of Active Minds earlier this month.
"My ultimate favorite part of the week was how many students confided in me about their own experiences with mental health because of the week," Pasternak said. "The week started conversations, which is what mental health advocacy is all about."
Sarah Israel, vice president of Active Minds and senior in the College of Arts & Sciences, said planning the week had been in the process since the middle of last semester.
"We had a very good (volunteer) turnout at our events, especially the 5K run/walk of which we had some 30 volunteers who helped with set up and about 200 runners/walkers," Israel said in an email. "The energy at the 5K was amazing. It was great to see so many people excited to be there at 10 a.m. despite the cold."
Brian Stumph, a sophomore in the College of Engineering, is not a member of Active Minds but works with the National Alliance on Mental Illness through his involvement with Sigma Phi Epsilon fraternity. He took part in the planning, preparing and volunteering for the week.
"I thought it was amazing how I saw so many people share their stories about their experience with mental illness as well as just seeing people being so open to learning about the stigma behind mental illness itself," Stumph said in an email.
Emily Gaber, Active Mind's director of events and a senior in the College of Arts & Sciences, was one of the organizers of the 5K.
"While everyone may not have a personal experience with mental illness, everyone has mental health," Gaber said in an email. "We need to empathize with our peers and help them deal with their struggles in healthy manners. As our outreach expands on Marquette's campus, I hope the acceptance of mental illness increases among our students."
Leave a Comment