Mental Health Awareness Week: a student's battle with PTSD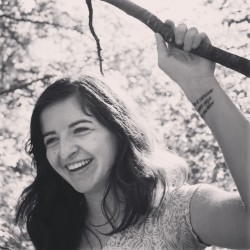 The summer before her junior year of high school, Nycole Fassbender, a freshman in the College of Arts & Sciences, drove through an intersection with her 11 year old brother. Halfway through, she saw a speeding van approaching at 70 miles per hour, 25 miles per hour over the speed limit. Screaming was the last thing she remembers and everything following is blank.
"Not many people know that I suffer from post-traumatic stress disorder," Fassbender said. "It's not very common in teenagers. It's usually most common in military veterans."
Since the accident, Fassbender has been going to counseling sessions, both on her own and with her family.
She shared her mental health story last night as part of Mental Health Awareness Week's "Sharing your Story" workshop. Kyle Whelton, a senior in the College of Arts & Sciences, joined her and told his story of experiencing and recovering from anxiety.
"I know a lot of people don't realize that you can suffer from the symptoms without actually experiencing what you went through," Fassbender said. "I don't have to experience another car accident to experience the symptoms. I just have to have reminders of it."
At the hospital, Fassbender's parents helped her piece together the events of the accident.
"I had my license for only six months at that time and so I didn't even want to drive, which isn't normal for teenagers," Fassbender said. "With counseling I've been able to drive but it's also sometimes hard when it comes close to one of those almost moments."
Fassbender said counseling plays a huge role in her recovery, and she continues it at the university counseling center. She also found help, with encouragement from her parents, from other outlets like volunteering and meeting with military vets. She credits Active Minds for help in the healing process by showing her she's not alone.
"I really like helping others who deal with post-traumatic stress disorder or other illnesses, which is why I'm part of Active Minds," Fassbender said. "What I learned most of all is that we may not know what everyone is going through exactly, but we can be there for each other."
Fassbender said the tattoo on her left wrist, which reads "I'm a survivor in more ways than you know," brings her comfort in opening up about her story. The inspiration for the tattoo comes from the song "Warrior" by Demi Lovato. She said she sees the tattoo as an opening to tell others about her story when they ask about it.
"I hope from sharing my story that other people get the courage to share their story," Fassbender said. "Everyone has a story out there. Everyone is a survivor of something and I don't think we really know it without them telling us."
In light of Mental Health Awareness Week, this is the second in a two-part series of stories about student experiences with mental illness and treatment.
Leave a Comment