Marquee's spring break food recap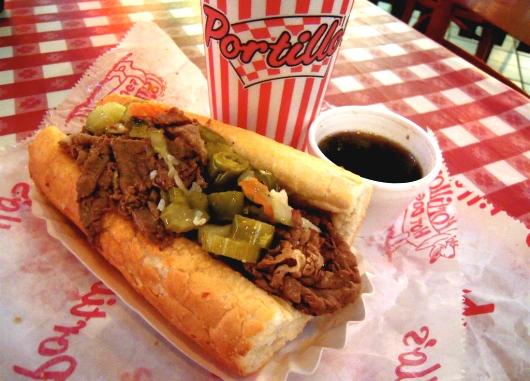 Spring break for college students entails a variety of activities, including everything from lounging in Florida, tanning in Cancun and finding good eats in Illinois—the latter being my choice of relaxation during the glorious week I had off from school. Freshii, Portillo's and Baby Back Blue provided me with a opportunity to indulge in three vastly different types of cuisine.
Freshii, which offers solely healthy food options, is found in select cities throughout the country, with many locations throughout downtown Chicago and its western suburbs. Owner Matthew Corwin focuses on providing customers with fresh and delicious options that are good for your body and taste buds. I ate at the Lombard location inside of Yorktown Mall. I chose to go with the Baja burrito, which consisted of quinoa, cilantro, avocado, onions, a wide variety of other non-processed ingredients and chicken, which cost a few extra dollars. All burritos Freshii offers lack a meat option, which is illogical considering the protein value chicken, steak and others meats possess. Making customers pay extra money just to have meat included in an already overpriced burrito is unfortunate and more importantly, unnecessary.
The food tasted fresh and the combination of ingredients added diversity in entrees, but a little seasoning could have helped. Eating healthy does not have to be bland, a main reason why people shy away from eating nutritious food. Overall, Freshii is a convenient place for a person looking for food that won't make them feel guilty hours later.
My next dining spot was Portillo's, a staple within the Chicagoland area. Its Chicago-style hot dogs, burgers, Italian beef sandwiches and shakes are fulfilling, and their venues give off a retro feel. I have eaten Portillo's at least 40 times throughout my life, a number I should quite frankly be ashamed about. From chopped salads and baked spaghetti to tamales and chocolate cake shakes, the options Portillo's offers is astounding.
The wait is about 10 minutes or so, but when you want delicious food, a little wait time is usually a good thing. During my trip to Portillo's, I ate a beef and cheddar croissant with sweet peppers, french fries and a strawberry shake. The tenderness of the meat and softness of the croissant bread with the cheddar cheese oozing out of the sandwich made for a delightful meal and the shake I had simply put a cherry on top of my meal—or in this case, strawberries.
The last place that I visited during my spring break was a place called Baby Back Blues, a small barbecue joint located in Plainfield, Ill. Baby Back reminded me of Smoke Shack, located in Milwaukee's Historic Third Ward, but the essence seemed more authentic. The sides, which included macaroni and cheese, mashed potatoes and green beans, were stellar. The pulled pork sandwich, rib tip sandwich (which was my recommendation) and slabs of ribs are just some of the food options available for people looking to lick the sauce off their fingers. My rib tips were extremely tender. Back Blues also provides their hot and mild sauces, which adds to the intense flavor that is already given with each dish.
Freshii, Portillo's and Baby Back Blues gave me a chance to explore a healthy food venue, revisit one of my favorite places to eat as a child and discover a new way to eat BBQ. In the end, weighing my options for scrumptious food definitely worked out. Scale anyone? 
To find more food venues within the Milwaukee area, visit mkefoodfinds.com
Leave a Comment