Men's lacrosse heads to Louisville to face Detroit and Ohio State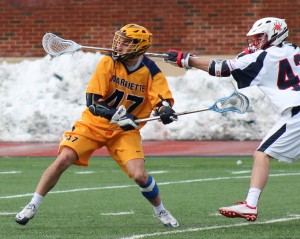 It will be a busy trip to Kentucky for No. 17/18 Marquette men's lacrosse this weekend. For the first time this season, Marquette will play two games in a matter of three days. The team travels to Louisville, Ky., for the Midwest Lacrosse Classic Weekend. The Golden Eagles will face Detroit Friday and Ohio State Sunday.
Coach Joe Amplo said he believes this weekend will be good practice for others going forward.
"This week hopefully mimics what we'll face in the Big East tournament if we are fortunate enough to make it there," Amplo said. "We have to manage our energy."
The Golden Eagles (3-0) are coming off a thrilling overtime victory against Richmond last week. Graduate student attackman Jordan Greenfield scored six goals, including the game winner. He was named the Big East Offensive Player of the Week and the Inside Lacrosse player of the Week. For Marquette, the pair of games are an opportunity to build on the momentum it's created.
"We're on a roll right now, and we know at the end of the game we are going to be playing our best lacrosse," sophomore Ryan McNamara said. "Hopefully we can start having a better start and leading earlier in the game so we don't have to make the dramatic comeback."
Despite Ohio State being the bigger name of the two teams, it was in fact Detroit who came out on top when the two teams battled earlier this season. The Detroit Titans (2-1) are coming off an 11-10 win against Robert Morris. Marquette defeated the Titans 15-10 in last season's matchup.
"We can't look past them," redshirt junior midfielder Kyle Whitlow said. "Every year I think it's closer than we want it to be."
Freshman attackman Mark Antstead, a former top recruit, is leading Detroit in scoring with 11 points through three games. He was the MAAC Offensive Player of the Week this week and the Rookie of the Week the week prior. Behind him with six points is senior attackman Shayne Adams, who led Detroit in scoring last season.
"Detroit is as tough and as aggressive a team that we'll face," Amplo said.
The Buckeyes are on a three game win streak since their loss to Detroit. They beat Robert Morris, Delaware and Dartmouth by an average of seven goals. Ohio State is receiving votes in both the media and coaches' polls.
For the Golden Eagles to beat Ohio State, they need to control senior midfielder Jesse King. The 6th overall pick in this year's MLL Draft, King scored 29 goals and 22 assists in 13 games last season. His 3.92 points per game ranked first in the Eastern College Athletic Conference. He was a finalist for the Tewaaraton Award, given to the best player in college lacrosse. King scored four goals and two assists in Ohio State's 11-7 win against Marquette last season.
Marquette follows a common sports mantra, taking its season one game at a time. The team prepared all week for Detroit, and will begin looking at Ohio State Friday night. In fact, the team doesn't want to talk about Ohio State just yet. Amplo sees it as an opportunity to really focus on the team they have, instead of the teams that they are facing.
"The one thing we can do is focus on what we need to do to get better as opposed to trying to game plan for two teams," Amplo said. "We'll really look internally to see where we can improve."
For the offensive unit, the lack of time to prepare for the Ohio State game allows it to play more naturally to its abilities. Instead of watching hours of game film, the two teams will display which team is more talented.
"We just focus on what works best for us," McNamara said. "(The defense) is going to try to tailor their play to us."
"Ohio State is going to be in the same boat," Whitlow said.
Both forwards noted the turnaround will be tougher for the defensemen, who tend to focus on the other team's unit more prominently.
Marquette's first action of the weekend against Detroit is scheduled for 2:30 p.m. Friday, while the Ohio State game will be at noon Sunday.
Leave a Comment