EDITORIAL: Klingler core changes promote academic flexibility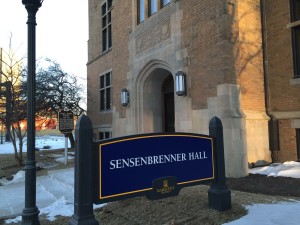 As the university looks to promote improvement for campus' overall climate, there are other impending changes that will affect students at Marquette, particularly in the humanities and hard sciences.
Last week, Klingler College of Arts & Sciences Dean Richard Holz announced new changes to the college in a forum with students. These included altering the college's core requirements by decreasing the foreign language and science requirement and eliminating both the third-level theology and philosophy. The overall number of required credits to graduate with a degree has gone from 128 to 120, giving students more flexibility with course requirements.
Holz and his associate deans said these changes are a direct result of the feedback students provided last year, which said the core was too rigid and often difficult to complete. The students' collective voice was heard and, starting next fall, Arts & Sciences students can opt into this new curriculum, which continues to be a work in progress as the details are figured out.
While some could see this as a ploy to de-emphasize theology and philosophy at Marquette and give Arts & Sciences students an easier load, these changes are truly positive. As they serve students' interests and their ability to explore different areas of study throughout the university, college core changes open up a student's learning experience rather than restricting it. The college's response to feedback ultimately shows a dedication to the students and their individual interests.
Holz and Susannah Foster, Arts & Sciences associate dean, were adamant that these changes would allow students to pursue secondary majors or minors in the college and across colleges. Greater flexibility with the requirements is not intended to let students slack off, but instead to encourage academic exploration, a very important feature of the university setting that should be widely acknowledged.
Decreasing the number of core requirements within the college makes it more uniform with other colleges within the university. Klingler is the only college which currently requires four semesters of a foreign language and three theology and philosophy courses each. College transfers will have an easier time transitioning and will still have room to pursue additional coursework.
The departments of foreign languages, philosophy and theology may worry that a drop in class enrollment will be imminent, yet there are still core requirements to draw students into the disciplines. The core changes will also make it easier for a student to pick up a second major or minor if they become passionate about a new subject. There could alternatively be a boost in interested students' enrollment in classes and more majors because they have more flexibility with their credits.
Requirements may be going down within the college, but that does not mean there will be any less interest or focus on the different disciplines. Instead, students will be able to pursue more of a variety, as well as other opportunities in research, interning and campus activities.
The College of Arts & Sciences students ultimately win with these changes, as they will be able to do more with their time at Marquette and seek out new opportunities and interests. This is a direct result of the college's administration taking the concerns of students seriously. Dean Holz and his associates have set a commendable example for how other colleges might try to use student opinion to make the school more flexible and beneficial to the overall student experience.
Changing what is required of students directly affects them and it is ultimately up to each college's administration to determine if the effect will be positive or negative. Looking at the current response to Klingler's core changes, it might be advisable for other colleges to follow suit with Arts & Sciences.
Correction: The original story stated the required number of credits to graduate changing from 108 to 100. The correct credit numbers are 128 and 120. The Marquette Wire regrets this error.