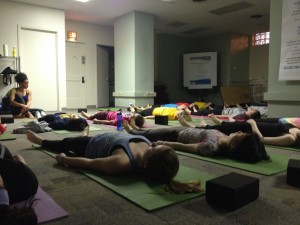 "Doing scary things on the mat allows you to do scary things off the mat," said Jess Homontowski, a yoga instructor, leading her class through the tripod headstand pose. A few minutes later, Homontowski saw a Marquette student rise to assume the position only to fall, rolling over before landing safely on her yoga mat. "Nice flip!"
Overcoming fears and their perceived boundaries is just one part of Gentle Yoga, the Monday yoga class and first of five weekly sessions offered to students by the Marquette University Medical Clinic (MUMC). With the help of Homontowski and other Core Essence Yoga instructors, newcomers and veterans alike on campus can practice yoga to exercise, relieve stress and clear their minds at the 707 building through April 30.
Two classes were added this semester to meet increasing demand. This was welcome news to many students, such as sophomore Maddie Noorlander, who has been attending the classes for a year now.
"I've definitely had days where (I say) yoga is going to be my savior today," Noorlander said. "It's a really nice physical release. I feel like there is a lot more of a sense of being comfortable with yourself when you start doing yoga."
Moving one step at a time, students moved themselves through a series of yoga poses of varying difficulty with the aid of instructions, and also have the option of doing alternate exercises using small, black yoga blocks to enhance bodily stability. As students flexed and twisted their way through poses like Happy Baby and Cobra, Homontowski routinely gave breathing cues and words of motivation.
"I think yoga is about breath…moving the body therapeutically all starts with breathing," Homontowski said. "(Being) present within the body, within the mind, moving with intention, breathing, that is the connection of mind, body and spirit."
Calm guitar strumming and sparse beats dotted the background, and students occasionally broke the quiet with soft laughter or excited cries when failing or succeeding at poses. Even with often-difficult postures, many were still able to find their inner peace.
"It was a struggle doing the scissoring poses, but in some you dream. It's nice," said sophomore Elizabeth Young after finishing her fourth yoga class.
Regardless, Homontowski encourages those practicing Yoga to relish their time on the mat.
"Just enjoy the experience," Homontowski said. "Connect with yourself…every day you have to take the time to do that."
Yoga classes are open to all Marquette students Mondays from 5-6 p.m., Tuesdays 7-8 p.m. , Wednesdays 4-5:30 p.m., and Thursdays at 7-8 a.m. and 5:30-6:30 p.m. at the 707 Building, room 130.