Thanksgiving Netflix Picks: "Planes, Trains and Automobiles"
PLANES, TRAINS AND AUTOMOBILES (1987)   ★★½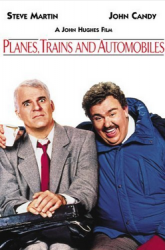 Well, it's that time of year again. Thanksgiving is a holiday to enjoy our friends, family and just about everything else we are thankful for. Unfortunately for Neal Page (Steve Martin), it takes delayed flights, rental cars engulfed in flames and a disastrous travel halfway across the country before he can enjoy Thanksgiving with his family.
Page works as a marketer who finds himself in New York City for a business meeting two days before Thanksgiving. Booked for the 6:00 p.m. flight, he tells his wife he will make it back home to Chicago within a few hours. Immediately after leaving the office, Page begins a restless journey he will never forget.
Time is running out for Page to catch his plane to Chicago. The streets are crowded in New York City and Page finally catches a taxi cab to get him to the airport in time to catch his plane. After he flags down the cab, another man loads his luggage into the trunk and rides off. This is the audience's first glimpse of Del Griffith (John Candy), a happy-go-lucky guy with a big heart.
The two coincidentally run into each other at the airport. Page immediately shows hostility toward an apologetic Griffith, establishing tension right from the start.
As the plane begins boarding, Page gets bumped into coach, despite the fact he purchased a first-class ticket. He takes his seat and sure enough, Griffith plops down right next to him.
A snowstorm prevents the flight from landing in Chicago, forcing the plane to land in Wichita, Kansas. Luckily for Page, Griffith has business connections to the owner of a nearby motel and invites him to come with for a place to stay. Thus begins the love-hate relationship between Neal Page and Del Griffith.
Steve Martin plays a man stuck inside his own shell. Neal Page is a cynical, uptight man with his mind set on getting home in time for Thanksgiving without any setbacks. Page spends most of the movie on the brink of losing his temper (and does so on several occasions). This, quite honestly, is a peculiar role for the hilarious Steve Martin.
His co-star, on the other hand, is a different story. Without John Candy, the movie falls apart. Candy perfectly molds into the role he was so brilliantly cast to play. Del Griffith has the spirit of a little kid. His amiable personality is polar-opposite of Martin's character. John Candy nails the performance like a giant teddy bear. His character provides the majority of the laughs and keeps the plot moving along.
The first true head-to-head clash occurs in the Wichita motel room. Griffith accidentally books a room with only one bed making for both an awkward and humorous situation. While Griffith makes the most of the mishap, Page sulks and complains about every detail. Everything – and I mean everything – sets these two apart. Page goes to sleep in a white undershirt and boxer-shorts; Griffith wears top-and-bottom pajamas. Page enjoys going to sleep immediately; Griffith must obnoxiously clear his sinuses, sounding like a pickup truck blowing on its horn before he can rest.
Page eventually loses his cool and blows up at Griffith, calling him out for pointless stories and obnoxious behavior. Candy delivers a response that truly defines Del Griffith: "I like me. I'm the real article. What you see is what you get." It sets the stage for not only his own character, but it gives Page something to think about. Director John Hughes does a fantastic job of bringing this bit of dialogue full circle and tying it into the film's emotional ending.
Page's relationship with Griffith sets up to be an interesting one but turns out to become a repetitive cycle of acceptance, isolation, then acceptance followed by isolation all over again. In fact, the entire film quickly becomes predictable with a plot that goes around in circles.
The movie's first half hour provides entertainment in the sense that whatever can go wrong, goes wrong. Delayed flights, broken-down train engines, missing rental cars; the list goes on. These countless incidents make Page wonder if it is simply bad luck or karma biting him in the butt, leading to Martin's famous F-bomb rant at the car rental agency. These situations are so frequent, however, that the scenes become more of a tedious watch than a surprising unfolding.
It must be mentioned that Hughes penned a strong ending to the film, adding sentimentality to both of the characters. This is one bit of the film that steps out of its own familiar formula. Once the two arrive back in Chicago and appear to head their separate ways, the script cannot rely on any number of disasters. The end of the journey comes down to the characters and their true understanding of each other. The last fifteen minutes in particular truly capture the Thanksgiving spirit and remind us to love during the holiday season, no matter who we are or where we come from.
Despite Martin and Candy's big names headlining the bill, "Planes, Trains and Automobiles" is generally a one-trick pony, relying heavily on the physical comedy of John Candy to pull along the narrative. Martin seems a bit out of place and misused overall. The film provides a good amount of laughs, and it emphasizes the importance of loving interaction, but the movie does not unfold quite as well as it should. Although the ending significantly redeems the story, the film lacks certain elements that make me want to see it again.
View Comments (1)