Thomas' 3-pointers lead MU to victory on National Marquette Day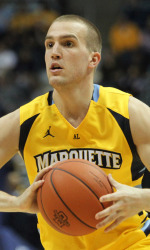 Jake Thomas came through on National Marquette Day as the senior guard's six 3-pointers led the Golden Eagles (15-10, 7-5) to an 81-72 victory over Xavier (17-8, 7-5).
"You can say what you want about Jake, but if I had pom-poms I'd jump up and down for that kid." Marquette coach Buzz Williams said.
Jamil Wilson continued his recent scoring success with 16 points, while Davante Gardner went a perfect 10-for-10 from the free throw line, also finishing with 16. Todd Mayo was the fourth double-digit scorer for the Golden Eagles with 13, as Marquette connected on half of its field goals in the first half and shot 46.2 percent in the second.
The Golden Eagles never trailed by more than two points, taking the lead for good on Thomas' first shot from beyond the arc just over four minutes into the contest.
A 3-pointer from Xavier's Myles Davis cut the Marquette lead to 59-54 with just under 11 minutes to play. After a timeout, Thomas answered with his sixth triple of the day, and after Xavier failed to score on the ensuing possession, Jamil Wilson got a friendly roll to put Marquette up by 10.
A tough layup by Davis made it a six-point game with around four minutes remaining, but after Derrick Wilson missed the back end of a one-and-one, the Musketeers' Justin Martin was called for traveling.
Matt Stainbrook picked up his fifth foul with 3:14 to play, as the imposing Xavier center ended his day with 12 points, five rebounds and four turnovers.
Martin's 3-pointer cut Marquette's lead to four points with 1:54 on the clock, but Isaiah Philmore couldn't capitalize after a missed shot from Thomas. With the Marquette Day crowd in full throat, Semaj Christon drew a foul under the basket and bricked both of his free throw attempts.
Jamil Wilson grabbed the rebound, went to the line and converted both attempts with 48 seconds left. Philmore missed again on a layup, and Mayo closed Marquette's scoring with with two more free throws.
The Golden Eagle offense continued to improve as it reached a new high in points in a conference win this season. The victory bumped Marquette up to a tie for third place in the Big East with Xavier, three games behind conference leader Villanova.
Leave a Comment