BEG: Young activists' voices crucial
Greta Thunberg, a 16-year-old Swedish environmental activist, has become the face of the climate change movement, drastically impacting the world's perception of what action needs to be taken to heal this planet and sustain its livelihood.
I first heard about Thunberg from her attendance at the United Nations Climate Action Summit in New York City, her involvement in leading climate strikes and her testimonies to the United States Congress. She embarked on a 15-day journey beginning from Plymouth to reach the summit, United Kingdom, in an emission-free racing yacht powered by solar panels and underwater turbines. By sailing instead of flying, Thunberg omitted airplane carbon emissions.
Thunberg's turn of phrase certainly follows through to her actions as seen by the strategies she consistently employs to live as green as possible. She ensures that the entire world recognizes that.
Shortly after Thunberg led a global climate change strike Sept. 20, she spoke at the United Nations Climate Action Summit. Thunberg gave her impassioned speech in New York and was met with praise and admiration from climate researchers. Social media users who are passionate about stopping the climate change crisis resonated with Thunberg's heartfelt words.
Throughout Thunberg's environmental activist efforts in the United States and Sweden, climate change deniers and political right spokespeople continue to attack her, criticizing her appearance, age and abilities. They dismiss and belittle Thunberg because she is 16 years old. In reality, Thunberg and other youth activists like her have been the only ones making a serious effort to advocate for this planet. Meanwhile, CEOs and world leaders are choosing to focus on the detrimental economic effects that might stem from choosing to be environmentally conscious.
Emmanuel Macron, President of France, said that Thunberg's stance was "radical" and was "depressing a generation" after the activist called out France for its inaction to prevent global warming. Trump also decided to demean her in a sarcastic tweet after her UN speech by saying that "she seems like a very happy young girl looking forward to a bright and wonderful future. So nice to see!" Fox News guest Michael Knowles called Thunberg "mentally ill" and someone who is "being exploited by her parents."
Knowles' comment was especially offensive due to the fact that Thunberg has Asperger's Syndrome. Yet, real adults and opposers of her movement choose to continue to mock her.
This is ironic because Thunberg has done more to advocate for change and a healthier planet in these past two years as a teenager than Trump has done in three years.
This is not the first time that children have been at the forefront of social justice movements. In 1903, 100 child textile workers marched from Philadelphia to New York City to fight for improved legislation for child protection. In 1963, thousands of brave African American children marched in Birmingham, Alabama to protest immoral segregation. In 2018, teenagers across the country protested for greater gun control during the March for Our Lives.
Although this is not the first time children have been involved in social issues, it is a first for this kind of derisive rhetoric in American political discourse. With the increased political divide in this country and the normalization of blatantly disrespectful remark from both sides, people have now made it acceptable to also speak in this manner about children.
"There used to be a constraint upon criticizing children, generally," said Lawrence Prelli, a University of New Hampshire professor who studies political discourse, in an article for The Washington Post. "These vile attacks now are a sign of the times."
The current American political climate encourages and perpetuates verbal and disgusting verbal abuse against children and teenagers who are exercising their first amendment rights. Teenage and youth activists sacrifice the innocence of their childhoods to fight for the betterment of the world through their continued activism. One should not be expected to take on such a heavy responsibility during their youth, but people like Thunberg have taken it upon themselves to do so. This is due to their sheer passion and strongly held belief in what they fight for. Now, to repay their efforts, adults all over the world will dismiss and disgustingly mock young activists with no consequences.
David Hogg, one of the teenage leaders during the March for Our Lives protest, was called "a special kind of stupid" by Virginia Thomas, wife of Supreme Court Justice Clarence Thomas. Emma Gonzalez, another activist for the March for Our Lives, was named "a skinhead lesbian" by Leslie Gibson, a Republican candidate for the House of Representatives in Maine. These are just some examples of what these leaders and other activists have been forced to face.
Young activists work tirelessly and passionately to fight for what is right. Those who hold opposing beliefs purposefully ignore their calls for help because they do not believe kids are smart enough to make mature and qualified decisions. Young activists have protested and tweeted enough. They should not have to prove their credibility simply because of their age.
It is now the responsibility of those in power to listen to the voices of the future generation. World leaders and high-ranking officials cannot deny their responsibility in the deterioration of today's current state.
They need to listen. And they need to listen now. Thunberg's claims are backed by reliable scientific evidence. If adults continue to dismiss her, the state of the environment will be in serious danger.
Leave a Comment
About the Contributor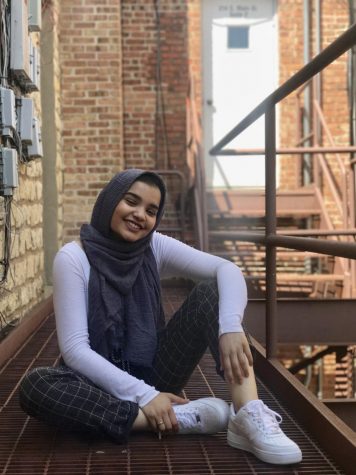 Aminah Beg
Aminah Beg is the assistant opinions editor for the Marquette Wire. She is a sophomore from Naperville, Illinois who is majoring in Public Relations and...