Brittney Feivor qualifies for Olympic Trials with strong marathon showing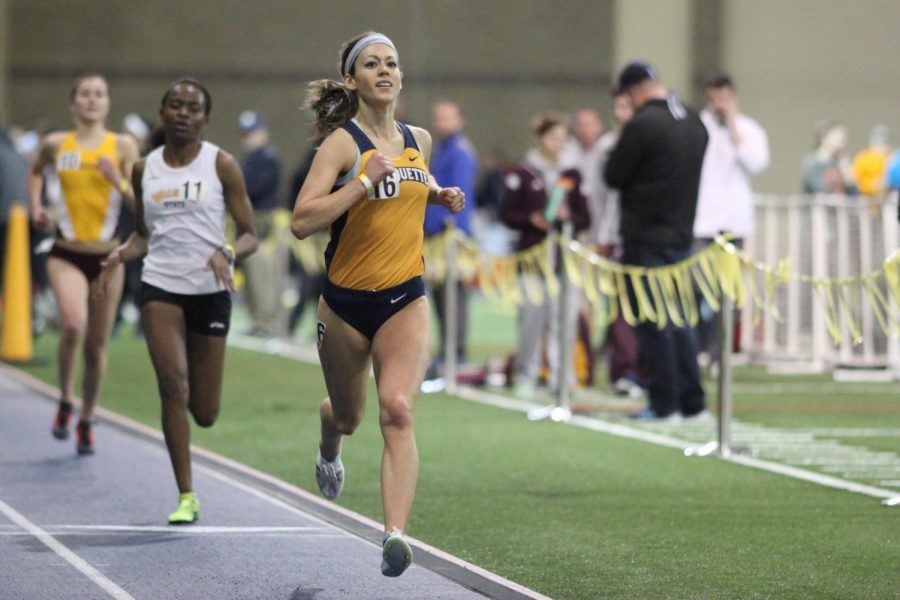 After finishing in 10th place in the annual Los Angeles Marathon, former Marquette distance runner Brittney Feivor has earned a chance to represent her country.
"It's still kind of hard to wrap my brain around it because it's still so far away," Feivor said.
Feivor's time of 2:40:37, which equates to a 6:08 mile pace, qualified her for the 2020 U.S. Olympic Marathon Trials. Despite being an accomplished distance runner, Feivor had never completed a full, 26.2-mile marathon before the Los Angeles Marathon.
"I always wanted to try marathons," Feivor said. "I'm definitely an endurance runner. Speed has never been my forte, and the long grinding workouts have always been what I'm good at."
Feivor bested approximately 24,000 participants to get that top-10 slot, which was fourth-fastest among American women. The race began at Dodger Stadium and ended in Santa Monica, a suburb roughly 20 minutes from downtown Los Angeles.
Cross country head coach Mike Nelson wasn't surprised with Feivor's performance.
"It definitely wasn't shocking to me," Nelson said. "Whether Brittney is running a 5k, 10k, half-marathon or full marathon, she is going to do really well. When you're good, you're good."
Although Feivor will continue to run, she must do so on her own, having exhausted all her collegiate eligibility at Marquette. While a member of the Golden Eagle track and field team, Feivor set the program record in the 5,000-meter event with a time of 16:26.32. 
After leaving Marquette, Feivor moved to Arizona for graduate school to become a physical therapist. She also joined the Sonoran Distance Project, a women's running team based out of Arizona.
Nelson helped Feivor in the process of finding a good fit. 
"A very close friend of mine is a coach of an elite group (in Arizona)," Nelson said. "He suggested the Sonoran Distance Project and so I recommended that group to Brittney. She did all the leg work from there."
John Reich, a coach that seeks to help athletes pursue their goals of competing in the Olympic Trials, runs the Sonoran Distance Project.
"John (Reich) is very well known around here," Feivor said. "If you go to any local race around here, pretty much all of the top finishers will be people that he coaches."
With the increased distance and level of competition comes an increased training regimen for Feivor.
"It's definitely a whole different mindset," Feivor said. "I went from doing more speed work in college and running about 50 miles per week, to now running around 80-85 miles per week."
As she continues to train every day with the motivation of the 2020 trials, Feivor's focus remains squarely on the chance to represent the United States.
"It's always something I have dreamed of, and you never know if it's fully possible until it happens," Feivor said. "I've come a long way though since I've started training, and you can really surprise yourself with what your body can do".