Women's soccer player Lena came to Marquette through Nickelodeon reality show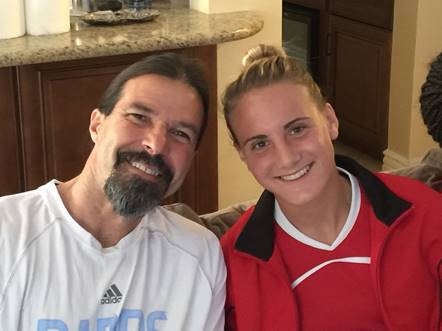 Maggie Lena stepped onto a soccer pitch near her southern California home on a warm, sunny day to practice her shooting. She started from the 6-yard box and tried to hit the back of the net in the air, moving further back with each successful attempt.
All the while, Lorrie Fair, a member of the 1999 United States Women's National Team that won the World Cup, looked on sternly. People holding cameras and boom mics kept circling, looking for the perfect angle.
Soccer and reality television are two subjects that don't often overlap with each other, but Marquette women's soccer player Maggie Lena found herself in the middle of that Venn diagram when she competed on "Soccer Superstar," a four-episode Nickelodeon reality show about finding America's best teenage female soccer player.
"I was kind of surprised at … how much effort it takes to not only compete, soccer-wise, but just always be present on the reality TV show basis," Lena said.
The road to soccer superstardom began in spring 2015, just before Lena's junior year of high school, when her club soccer team, Beach FC, distributed fliers advertising the tryouts. One of the locations, the StubHub Center, home of the LA Galaxy in Carson, California, was only a 20-minute drive from Lena's house in Santa Monica.
"It was like, 'Why not try out?'" Lena said. "You have nothing to lose."
Roughly 100 girls tried out in California, and over 300 auditioned nation-wide. Only 16 of them made the cut to be on the show.
"They timed me doing sprints, they counted how many shots I could make in a certain amount of time," Lena said. "We did 1v1 and 2v2 drills. Everything was documented, and everybody was looking at you."
The judges gave out jerseys to the 16 finalists, according to how highly they graded each player, from bottom to top, and they gave Lena the last uniform. She was one of six people from her group to make the cut.
Each stage in the two-week show consisted of training drills similar to the ones Lena did in the tryouts, all conducted under the watchful eye of host Heather Mitts, an Olympic Gold medalist, or one of the other judges. Then, the remaining girls teamed up for a match, after which several players would be cut from the show. However, the toughest part of being on 'Soccer Superstar' had nothing to do with the on-field competition for Lena.
"It was very important to have interviews," Lena said. "Every day, you sat in front of the camera and talked to cameramen for two hours, explaining what you did in the day and how the girls are bonding or not bonding."
That cycle – drill, interview, game and cut – continued unabated until Lena made it to the final four. Her final match was against Beach FC, the club team that spurred her to try out in the first place. Although Lena scored a goal in a 3-1 Superstar victory, the judges selected Vanessa Millsaps, a University of Washington commit, as the show's final winner.
When the announcement was made, Lena smiled and wrapped her arm around Millsaps, but felt much different internally. "Obviously, it was devastating," Lena said. "I'd spent so much effort in those two weeks just filming, playing soccer and competing. But, I think everything happens for a reason."
Life proved Lena correct over the following year. One of the other girls from southern California that made the show convinced Lena to try out for her club team, ECNL Eagles. Lena made the Eagles and soon appeared on the radar of women's soccer coach Markus Roeders.
"She had contacted us and we followed up with her," Roeders said. "We saw her play multiple times and were really intrigued by her."
"It's kind of this show that got me to the team that allowed me to play at this university," Lena said. "That's just awesome."
Although Lena has only seen the field for 20 minutes over the course of four matches this season, Roeders remains impressed with her footwork.
"She's very good with her feet," Roeders said. "She is a great striker and she can finish the ball. In club soccer, we also saw that she can … play from the midfield all the way to the front line."
Even though she's two years removed from the show, Lena still thinks about it sometimes. And, if Lena ever tried to forget, there are people in her life that would remind her.
"My parents videotaped the TV while it was going on," Lena said. "You get a little of that secondhand embarrassment, but I think it's definitely so awesome to see yourself on television."
Leave a Comment