What to Wear on Game Day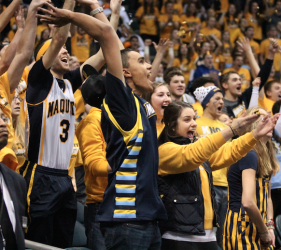 It's time to show your Golden Eagle pride beyond sporting a classic tee or jersey. Here are some quick and easy ways to throw together your best super fan outfit yet.
1. Blue/Gold Afro: Having a bad hair day on game day? No problem. Show your fanatical side by rocking a blue and gold spiky wig or afro.
2. Golden Eagle Beads: Festive beads are essential to parades and Mardi Gras and they should be for Marquette Basketball games as well. A blue and gold necklace is a more subtle way to show your Golden Eagle pride.
3. Face/Body Paint: Since a yellow t-shirt sometimes just isn't enough to show your school sprit, students can often be seen with blue and gold faces and stomachs despite the brutal cold. Get a group of friends together and designate letters for each person in order to spell out Marquette or the name of a favorite player.
4. Stick-on Face Tattoos: These stick-on tattoos come in a variety of designs, including the phrase "We are Marquette," the Golden Eagle head and the simple letters MU. Just peel it off the paper, place it on your face and you're good to go.
5. Blue/Gold Knee-High Socks: Knee-high socks and shorts may not be the most fashionable choice, but they will help to stand out in the crowd. Pair one blue sock with one gold one to go beyond the average fan.
6. Golden Eagle Rosette Hair clip: Want to look cute and not crazy on game day? Pick up one of these blue and gold rose clips from the spirit shop and show off your inner fashionista.
7.  Golden Eagle Winter Hat: The spirit shop sells a wide variety of Golden Eagle winter hats, allowing you to show off your school spirit and keep warm at the game.
8. Blue/Gold Morph Suit: If you are looking to go all out and be head to toe in Golden Eagle pride, a morph suit is the best option for you. Keep the mask on or off depending if you want your friends to recognize you.