Marquette edges Georgetown 75-73 for season sweep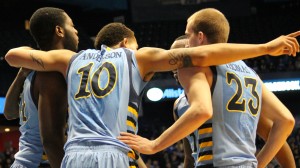 Although Marquette guard Jake Thomas claims his second-half technical foul Thursday was the result of a misunderstanding, it may have been exactly what his team needed.
Thomas scored a Marquette career-high 22 points on six 3-pointers and senior Davante Gardner pitched in 26 as the Golden Eagles upended Georgetown 75-73.
Markel Starks led the Hoyas with 24 points, D'Vauntes Smith-Rivera scored 19 and Jabril Trawick had 16 points and six rebounds.
After Thomas made a 3-pointer to put Marquette ahead 48-41 with 14:45 left, he was hit with a technical foul for taunting. The soft-spoken Thomas insisted he was talking to his own bench and not to any Georgetown players, but the officials believed otherwise.
"We were running a play we just put in, and one of our assistant coaches said the pass was too late, and then I was just making fun," Thomas said. "The ref thought I was talking to one of their players, but that's something I really don't do."
Nevertheless, it was somewhat of a coming-together moment for the Golden Eagles, who would not surrender their lead for the rest of the game.
Marquette coach Buzz Williams is impressed with Thomas, who has gradually developed into a dependable perimeter shooter.
"The thing you can always depend upon with Jake is he's always gonna give you every single ounce of his brain, of his body, of his mind and of his heart," Williams said.
Gardner was a deciding factor down the stretch, scoring 18 of his 26 in the second half and using his bulky frame to consistently draw fouls. Two of Georgetown's front court players fouled out, and two others finished with four fouls. Gardner was slightly surprised to see minimal double coverage on him throughout the night.
"I thought they looked at previous games when teams double-teamed me, but I guess they didn't," Gardner said. "They just stayed single-coverage with me, so I just had to go at them and score."
Gardner scored nine straight for Marquette in the closing minutes, including a key and-1 with 3:58 left to make it 72-64.
"When everybody watching at home or on TV knows we're trying to throw it to Davante, it's not quite as easy as you would think,"  Williams said. "You've got to try to do some things to get him open, and I thought our guys executed that really well."
Georgetown spoiled a golden opportunity on its final possession to send the game to overtime. After a Juan Anderson foul shot put Marquette up by two with 10 seconds left, Smith-Rivera drove the length of the floor. His layup try fell short and Gardner corralled the board to seal the victory.
"I felt like it was going down when I released it," Smith-Rivera said. "It rolled on the rim a little bit, just didn't go my way."
Marquette had to overcome an early 15-4 deficit after the Hoyas knocked down three 3-pointers and limited the Golden Eagles to 1-of-8 shooting.
Georgetown would go the first five minutes of the second half without scoring, which turned a three-point Hoya lead to a five-point Marquette advantage. The Hoyas shot 26.9 percent in the second half.
The loss spells big trouble for 7-9 Georgetown, whose two remaining games are against nationally ranked Villanova and Creighton. Meanwhile, Marquette continues to control its own destiny as a pivotal week awaits.
"We're not acting as if we're the best, but we're trying really hard to be the best that we could be," Williams said. "And that may not be good enough, but we also play as if every possession really, really matters on both ends, because it does."
Leave a Comment