Local agencies give a voice to those with autism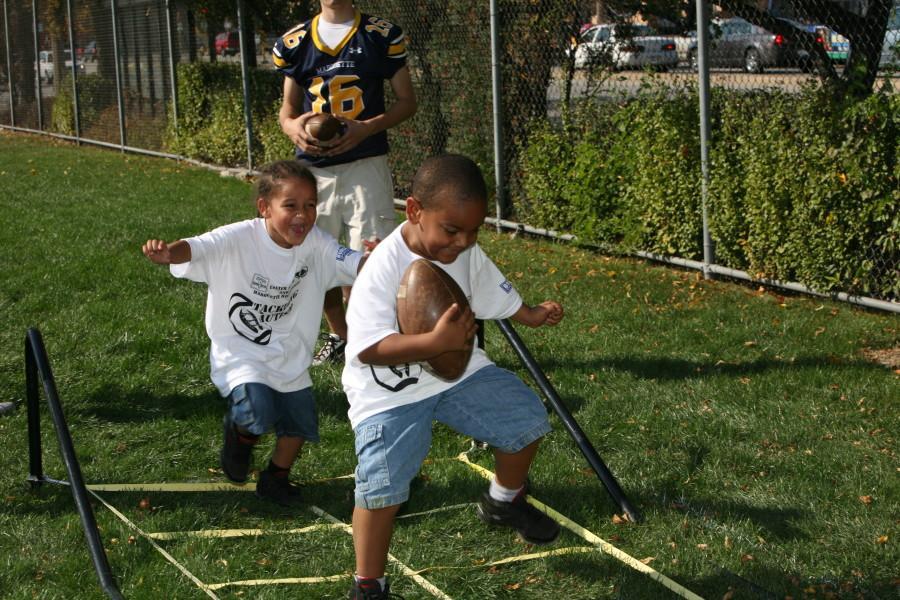 Carole Burns, director of the Wakerly Technology Training Center in the College of Communication, is known as the college's "tech guru." Now, she's putting her talents to use in a new way by working with individuals with autism to support their needs and help them find the resources they need to succeed.
Einstein Productions, located at 161 W. Wisconsin Ave. Suite 18 in the Grand Avenue Mall and founded by Burns, trains individuals with Asperger's syndrome, a form of autism, in digital media. This training includes photography, video, graphic design, broadcast and digital storytelling, Burns said. The company's grand opening will take place on Oct. 15 in Grand Avenue Mall.
"It is my belief (that) being able to work from home or their own office will allow them to be successful in maintaining employment," Burns said. "No one wants to be dependent on others their entire life, and this group is no different."
Burns has a personal connection to the autistic community that motivated her to start Einstein Productions. Her son, who was diagnosed with autism at the age of 14, has dealt with behavioral disabilities for most of his life. In 1998, he was also diagnosed with several other behavioral disabilities.
Burns said Einstein Productions is a great way to get the Milwaukee and Marquette communities talking about and understanding autism.
"This cooperation will not only assist both groups in a deeper understanding of the world but will also create the start of a greater knowledge of (autism spectrum disorders)," Burns said.
Burns' company is one of many in the Milwaukee area that serve people with autism and their families. While Einstein Productions is unique in that it uses technology training to help individuals with autism, all of the organizations work to educate the public about what autism is and how to reduce the stigma surrounding it.
What is Autism?
Autism is a lifelong neurological disorder that affects how a person perceives the world, interacts with other people and how they communicate, according to the Autism Society of Southeast Wisconsin. The inability to communicate like typical individuals makes it hard for individuals with autism to hold jobs, focus in school and take part in a community.
Each year, more children in the United States are diagnosed with autism than juvenile diabetes, AIDS and cancer, according to website of Autism Speaks, a leading autism research and advocacy organization.
According to the Centers for Disease Control and Prevention, the disorder is more prevalent in boys than girls. One in every 54 boys and one in every 252 girls are diagnosed annually.
While there is no single cause of autism, there are several explanations. According to Autism Speaks' website, there are several genetic mutations that are connected to autism. In addition to genetic causes, environmental stresses further increase a child's risk. Some of these stresses include maternal illness during pregnancy and childbirth complications.
Autism Speaks
Autism Speaks is an autism advocacy organization "dedicated to funding research into the causes, prevention, treatments and cure for autism; increasing awareness of autism spectrum disorders; and advocating for the needs of individuals with autism and their families," according to its website.  
Bob and Suzanne Wright, who were the grandparents of a child with autism, founded Autism Speaks in February 2005. A $25 million donation from family friend Bernie Marcus allowed the organization to expand its reach in the areas of both research and advocacy.
Autism Speaks stands by four pillars for autism awareness: Science and Research, Advocacy, Awareness and Family Services. It based these pillars on the needs of children with autism, their families and the communities they live in.
Science and Research
The organization has raised $180 million for national research to continue until 2014, said  Mallory Walsh, events manager of the Autism Speaks's Wisconsin chapter. The Wisconsin chapter has raised about $961,000.
Since the organization's creation, it has created the Autism Speaks Autism Treatment Network, Autism Speaks Autism Genetic Resource Exchange and several other clinical programs.
The treatment network brings together several medical centers to provide treatment for autism. The collaboration provides families with a place where they can get many different medical services for their children or family members. There are locations across the U.S. and Canada.
According to the genetic resource exchange program's website, "The Autism Speaks' Autism Genetic Resource Exchange is a research program for families who have two or more children on the autism spectrum. AGRE helps accelerate the pace of autism research by taking time-consuming steps out of the hands of researchers, so they can spend their time and effort analyzing the data and looking for answers now. AGRE gathers DNA, clinical, and medical information from families throughout the United States, making it the world's first collaborative resource for autism research worldwide."
"We've changed the face of autism research," said Mallory Walsh, walk events manager of Autism Speaks' Wisconsin chapter.
Advocacy
When Autism Speaks began, only one organization funded autism research at a state level in the U.S., Walsh said. Now 32 states provide support for autism through government assistance and insurance.
In 2004, then-Wisconsin Gov. Jim Doyle created a task force focusing on autism and  the needs of parents of children with autism. After meeting with  families of children with autism, Doyle and his task force developed several policy recommendations, including identifying standards for extending in-home intensive autism services and options for ensuring adequate state coverage by in-home intensive treatment providers, according to Easter Seals of Southeastern Wisconsin's website.
According to the Autism Speaks website, on June 29, 2009, Doyle "signed S.B. 3 into law, requiring individual and group health insurance policies and plans, state health care plans and self-insured plans to provide health insurance coverage for the treatment of autism spectrum disorders. Treatment must be provided by a psychiatrist, a person practicing psychology or a social worker licensed or certified to practice psychotherapy."
Wisconsin's Medicaid program added the Children's Long-term Support Waiver to provide an autism benefit for intensive in-home treatment services for individuals from birth to age 21. The services include support and service coordination, support home care, respite care, day habilitation, supported employment, home modifications, transportation, adaptive aids, communication aids, specialized medical equipment, foster care, consumer education and more, according to Autism Speaks.
Awareness
"A lot of the stories I've heard from families talk about how, when they've told people their child has autism, they've had to explain what autism is," Walsh said. "We've been able to change that — I can say 'he has autism,' and more often than not, people know what I'm talking about."
Autism Speaks has created many notable awareness initiatives, including the annual United Nations-sanctioned World Autism Awareness Day on April 2. Autism Speaks celebrates this event through its "Light It Up Blue" initiative, "a global initiative to help raise awareness about this growing public health concern," according to its website.
Autism Speaks' "Learn the Signs" campaign, which encourages families to seek out the early signs of autism, has received more than $316 million in donated media, including television, radio, print and Internet advertising.
Family Services
Autism Speaks offers a range of services to help those living with an individual with autism, Walsh said. These services help support individuals with autism as well as families and communities affected by the disorder.
Walsh's favorite part about Autism Speaks' family services is the tool kits that are provided to families. She said the tool kits are large binders customized specifically for the needs of any particular child. The kits can be printed out for free from Autism Speaks' website.
The 100 Day tool kit and the Asperger Syndrome and High Functioning Autism tool kit are designed specifically for families to make the best possible use of the 100 days following their child's diagnosis. The kits are customized for each family's specific needs by assessing the severity of the child's disorder through questionnaires and other forms of assessment.
"These kits help our community directly by giving them information and tips they need for living and treating autism," Walsh said.
Autism Speaks offers tool kits for other individuals who are affected by autism. This gives school nurses, bus drivers, secretaries and others information on autism in order to make the child's time in school easier, Walsh said.
Walsh also said that transitioning from childhood to adulthood can be especially difficult for children with autism. To make the transition easier, Autism Speaks offers a transitioning tool kit that helps families make the next step. The kit offers research on colleges, assisted living facilities and workforce resources.
 "These tool kits are great for the families," Walsh said. "The information is all in one place, so they don't have to spend hours looking up information on Google."
In addition to the tool kits, Autism Speaks holds three major fundraising events to help support families and children with autism.
Walk Now for Autism Speaks, a grassroots autism walk program, attracts thousands of participants yearly. According to its website, it is the organization's "signature fundraising and awareness event, taking place in 95 communities across the United States, as well as in Canada."
Last year's event raised $3,000 for autism research and resources, Walsh said.
The walk brings individuals with autism and their families together for support and fun.
"They come and say 'Oh my, God, I'm not alone,'" Walsh said. "It's amazing."
The 2013 Walk Now for Autism Speaks will be held on April 27 at a location that is to be determined, although Walsh said it is usually held at the Wisconsin State Fairgrounds.
The organization also holds a resource fair, which allows about 30 vendors that serve the autistic community to meet with families.
"There are barbers that work especially well with children with autism, (and) there are colleges that cater specifically to autism (at the resource fair)," Walsh said.
The organization's newest fundraising event, Ride for Autism Speaks, will bring the motorcyclist community together to support autism research and treatment. The inaugural event will take place on July 13, 2013.
Walsh said Autism Speaks hopes to develop a marathon run program in the future.
In addition to its major fundraising efforts, Autism Speaks hosts several community events that aim to bring families together. On Oct. 14, from 10 a.m. until 4 p.m., Autism Speaks will hold Autism Day at Discovery World, located at 500 N. Harbor Dr. The first 100 people to RSVP will receive free admission into the event.
"A lot of our events focus on the little kids," Walsh said. "This is going to be the perfect opportunity for older individuals to enjoy some fun."
Walsh is the only employee for Autism Speaks' Wisconsin chapter because there is little awareness of the program in the state. The chapter is always looking for interns, volunteers and leaders to help support the cause.
"Working with Autism Speaks is a great way to give back to the community and learn about autism," Walsh said.
Autism Speaks U
Autism Speaks brings awareness to university campuses through its Autism Speaks U chapters. The program is designed to support college students in their awareness, advocacy and fundraising efforts for Autism Speaks.
Taylor Levicki, a junior in the College of Health Sciences, started an Autism Speaks U chapter at Marquette. She currently has about 100 interested students and hopes to begin contacting them to get involved.
"Back in February, I stumbled across this organization on the Autism Speaks Twitter page," Levicki said.  "I then started to research the program and read the benefits about having a chapter. I have a passion for autism and believe that this campus is missing a strong presence for the cause."
Since this is the chapter's first semester on campus, Levicki aims to build membership. Last year, Levicki was able to pull together a team for Walk Now for Autism Speaks, raising more than $5,000.
"Taylor and her team have been really active," Walsh said.
Levicki hopes the chapter will make more people aware of autism and bring in more support for Autism Speaks' cause.
"Our main goal is educating students and the surrounding Milwaukee community on the issues and prevalence of this disorder," she said. "We're going to continue the mission of Autism Speaks and work to build awareness and acceptance of autism spectrum disorder." 
Easter Seals of Southeastern Wisconsin
For more than 75 years, Easter Seals of Southeastern Wisconsin has provided services for individuals with special needs. According to the foundation's website, one of every nine individuals it serves is on the autism spectrum.
One of the services Easter Seals offers is early intervention, which provides intensive in-home applied behavior analysis therapy to children.
Nicole Berlowski, the autism services coordinator at Easter Seals, said supporting the families of individuals with autism is just as important as supporting the individuals with autism.
"It's a team effort where everyone needs to be supported," she said. "The families need someone to talk to, (and) we work as a support system for them."
Berlowski said diagnosing and living with autism is difficult because of the wide range of characteristics and symptoms. She credits awareness and advocacy for the increase in diagnosis.
"Education in the last few years helps people see the signs and get a diagnosis quicker than ever before," she said.
Like Autism Speaks, Easter Seals helps newly diagnosed families with its Make the First Five Count campaign, including its Ages and Stages Questionnaire.
According to the Easter Seals website, "When kids get the right treatment and therapy they need before the age of five, they are ready to learn alongside their peers, build lifelong skills and achieve their dreams." The questionnaire is designed to help families determine if their child is developing skills at the right pace.
Alpha Xi Delta's Theta Epsilon Chapter at Marquette
Alpha Xi Delta is a women's fraternity founded in 1893. Its philanthropy focuses on autism awareness. According to the fraternity's national website, Alpha Xi Delta has raised more than $800,000 for Autism Speaks since partnering with the organization in 2009.
Marquette's chapter is focused on supporting autism awareness as well as fundraising.
"What draws our girls into our philanthropy is that we get to see what changes we are making in our society," said Lorena Martinez, a philanthropy co-chair for the fraternity and a junior in the College of Health Sciences. "We become truly passionate with every event we do. It is rewarding and fulfilling."
For Sarah Glowinski, another philanthropy co-chair for the fraternity and a junior in the College of Education, supporting Alpha Xi Delta's philanthropy hits home. Glowinski's cousin was diagnosed with autism.
"Having that personal connection makes the work I do for AXiD very important," she said.
The Alpha Xi Delta women take part in several Autism Speaks events, including Walk Now for Autism Speaks.
"Walk Now is the one big event that brings the whole community together," Glowinski said. "It helps the community see that AXiD is really supporting the cause."
The fraternity hosts Pass Xi Syrup and Pop Xi Corn, which raise money for Autism Speaks. The fraternity's most notable effort is Light it Up Blue. It held its inaugural Light It Up Blue event last year by lighting the face of Cudahy Hall blue to show support for autism awareness and research.
Hope for the Future
All the work these organizations do will help Wisconsinites learn and understand autism better, Berlowski said.
"There are a lot of misconceptions," she said. "All the children we work with are wonderful, and there's so much that we can learn from them just by interacting and supporting them."
For Carole Burns and everyone at Einstein Productions, this message resonates loud and clear.
"Autism is not a disease," Burns said. "It cannot be cured, but it can be understood and can be overcome with the correct supports. No two individuals with (Autism Spectrum Disorder) are the same – they will have as many various strengths, interests and personality traits as (typical) individuals have. Just take time to know them and you will never regret it."
Leave a Comment