Marquette grad has unique career: Caddie on PGA Tour
July 7, 2017
The soft-spoken Irish brogue caught John Rathouz off guard. The man on the other end of the line was to be his new employer and this was no normal job. The call was quick and to the point, lasting less than five minutes, and that was all they would need. Rathouz was hired as the new caddie for Seamus Power, one of the fastest rising stars in Irish golf.
"I remember hearing his accent over the phone, chuckling to myself, thinking, 'Oh yeah, he really is from Ireland,'" Rathouz said. "From the very first phone call, I knew that something was there."
Rathouz, an Omaha, Nebraska native and 2004 Marquette graduate, has had a trying journey to becoming a caddie on the PGA tour. His first career choice was on the other end of the caddie-golfer relationship, which is why he tried to walk on to the Marquette golf team. A relative lack of experience ended that dream, sending him instead on the caddying path.
It started with a media relations internship on the Web.com tour, a developmental tour that is equivalent to the PGA's minor leagues. "I had cooked up this idea, and had been thinking about it a little bit, and the guys (at the tournament) really got me thinking about caddying," Rathouz said. "So they told me there's no school or formal training, you learn from experience, and so I figured I'd give it a shot."
He picked up a bag for the first time during his senior year of college at Bluemound Country Club in nearby Wauwatosa. Caddying hooked him. It didn't matter that the 21-year-old was doing the job alongside seventh and eighth graders. He caddied all throughout the spring and seriously considered doing it for a living after graduating from Marquette.
Rathouz's first professional loop – a caddying term for a full 18-hole golf game – came on the Web.com Tour at the Glen Club, a course just outside of Chicago, where he carried the bag for University of Wisconsin-Madison graduate Jim Lemon. While he worked at a post-graduate internship in public relations, Rathouz circled a block of dates in his head: August 12-15, 2004. The PGA Championship would be coming to Whistling Straits.
"I called every club pro in the area who had qualified for the PGA Championship," Rathouz said. "I knew the tournament was coming up to Kohler in August."
"So I called and I told them that I was a pro caddie on the Web.com Tour and that I knew Whistling Straits really well. The fact was, I had never been to Whistling Straits, and I had only caddied on the Web.com Tour a few times."
Rathouz found a taker in University of Maryland golfer and Western Nebraska native Mark Evenson, a club champion based out of Baltimore. A few months after graduating from Marquette, Rathouz was carrying the bag for a major championship.
"I stayed at my buddy's house, I got paid like $500 and the next thing I know, I was on the driving range with some of the best players in the world," Rathouz said.
"
I stayed at my buddy's house, I got paid like $500 and the next thing I know, I was on the driving range with some of the best players in the world."
The PGA Championship was the turning point for Rathouz. He decided to drop everything and follow the tour, hoping for a chance to caddie full-time. In the fall, Rathouz packed his belongings in his parents' minivan and drove out to Eugene, Oregon hoping to find work on the Nationwide Tour. (Its name has since been changed to the Web.com tour.) He did not find a loop that week, so he hit the road again. He made the eight-hour trek across Oregon on US-20 to Boise, Idaho. There at the Albertsons Boise Open, Rathouz found his golfer.
John Merrick rolled up to the course in a brand-new, yellow sports car. He was an eager, successful golfer who had a bright future; just the kind of guy Rathouz wanted. He picked up Merrick's bag and kept carrying it for the next seven years.
"Merrick was my golden ticket," Rathouz said. "I caught a break, showed some initiative and everything came together."
The golden ticket obtained his PGA Tour card two years later and everything was looking promising. After two more years on the Tour in 2008, it appeared that Merrick was primed for a breakthrough. He finished tied for sixth at both the U.S. Open at and the following spring's Masters.
Those two tournaments would be the peak of Merrick's accomplishments during Rathouz's time as his caddy. Merrick struggled the following season and again in 2010. A change had to be made and unfortunately for Rathouz, that change meant his departure.
"Honestly, it taught me that nothing is secure in this game," Rathouz said. "When you're out there, you have to remember that as caddies, we can get fired at any moment for any reason, and you never know when you'll be out there with your next player. You never know how it will work out."
Despite feeling like he was the best caddie he'd ever been after four straight years of the Web.com tour, Rathouz was seriously considering finding a different job with more financial stability. Then, the call came.
In April 2016, Merrick's agent, Allen Hobbs, who happened to also be Seamus Power's agent, was on the line. Power needed a caddie and Rathouz was the guy. After thinking about it for a few minutes, Rathouz accepted the job.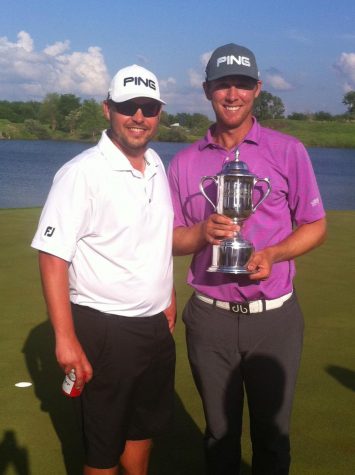 Power flew in from Mexico, where the tour had been the previous week. Rathouz came from Omaha. They met for the first time at the driving range in Newburgh, Indiana for that week's tour event, just days before Rathouz was to start working.
"It's funny, you know, it's like a blind date, in a sense," Rathouz said. "We've never met each other and then after you introduce yourself, off you go to the driving range. You're walking on eggshells trying to figure out everything … every golfer is different, and although you're doing the same job no matter what, you are catering to that particular player, always."
Despite the nerves of that first meeting, Power knew he had found the right caddie. The Irishman went on to win the United Leasing & Financial Championship later that week. Power became the first Irish player to win on the Web.com Tour.
"It was incredible, to be our first week (working) together and win in the way we did, it was great," Power said. "Just for me to have someone like John out there with me, who has had all of this PGA experience, it was very helpful, and it still is."
The win was significant for Power but perhaps even more significant for Rathouz, who quickly regained his old sense of purpose.
"In this one decision I made off this one phone call, then all of a sudden, I was back in the saddle and back on top of the world," Rathouz said. "It felt like it was the break I needed. Being with Seamus has revitalized my career and it was validation that it was something I should continue to do."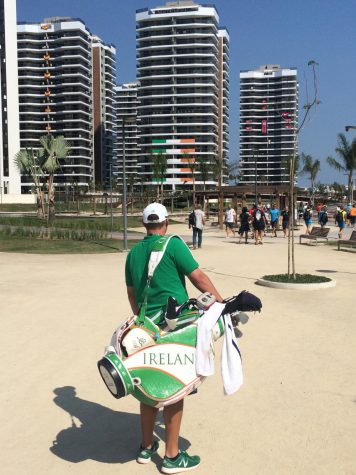 Last June, the duo got an unexpected opportunity. Irish captain Paul McGinley rung Power to let him know that some notable golfers dropped out of the Irish team for the 2016 Olympic Games in Rio de Janeiro. Power was one of the fastest-rising golfers in the country and a viable replacement.
"It was incredibly special because we were the first group of players to represent Ireland in over 100 years in the sport and it was an awesome experience," said Power, who grew up playing at the West Waterford Golf & Country Club in Dungarvan, Co. Waterford. "Golf is one of the most popular sports in Ireland. When I was growing up, it was always a topic of conversation no matter where you went, and to even get the chance to represent my country was just an unbelievable experience."
The experience was just as special for Rathouz.
"I was really into the spirit of the idea that golf was back in the Olympics," Rathouz said. "Because I knew that golfers needed caddying and I wanted to be that guy and was like, 'There's no other way that I would be in the Olympics, period.'"
The Olympics turned out to be the perfect chance for Power and Rathouz to refine the player-caddie relationship, one of the most delicate partnerships in sports.
"There are some guys that are really really good at (caddying)," Power said. "When I have a question, John is always ready. He's done his work in the practice rounds, he knows what's going on. There's so much that goes into it, and it's a tough balance because you want to be friends, but then you also have to have the other side of it where he has to say what he thinks about a certain hole, or whatever. It's a tricky relationship, but John and I have been able to work really well together."
Power followed up his Olympic performance with a solid 2017 season. Despite missing qualifying for the U.S. Open at Erin Hills a few weeks back, Power has logged a pair of top-30 finishes this year: two weeks ago at the FedEx St. Jude Classic (27th) and in January at the CareerBuilder Challenge (21st). Last weekend, Power finished tied for 38th at the Quicken Loans National.
"Keeping his PGA Tour card is the number one thing for both of us," Rathouz added. "I think he's been playing really well at the moment and he has a great chance ahead of him."
Rathouz has come a long way since his time at Marquette. Golf has given him a career, taken him across the globe, and has set him up in unique situations. Despite the often demanding schedule and uncertain future, Rathouz has no regrets.
"Being a caddie is like playing the lottery. It's kind of addictive, and you've got a horse you're betting on every week. And you're hoping that he wins or at least gets in the top 10. If you keep getting on the horse and he's a good player, good things are bound to happen and you hope that you're around for it."