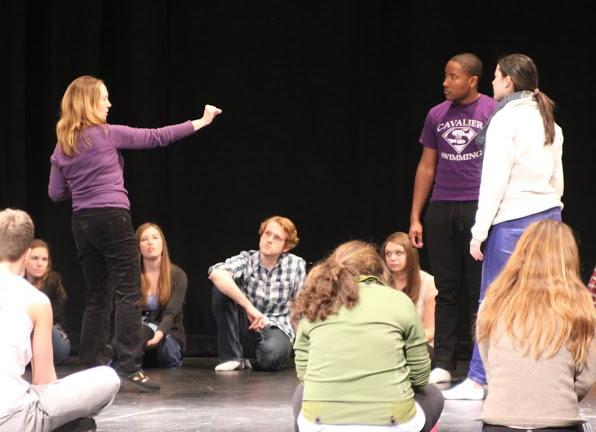 When making bold acting choices to nail an audition, confidence is key and practice is essential.
Audition Performance Technique, a 1.25-hour-long seminar on Tuesdays and Thursdays, teaches students how to prepare for auditions.
Jennifer (Niffer) Clarke, a professional actress, director and educator who has graced the Marquette stage in years past, developed the class in collaboration with theater department staff.
Clarke discussed the idea of a seminar with department chair, Stephen Hudson-Mairet. Because she had already worked with the department to direct both the spring and fall musicals during 2015, Hudson-Mairet was more than happy to bring her back.
"There was a desire amongst our students to increase their exposure to musical theater training," Hudson-Mairet said. "Over the past few years, it's been through private voice lessons or other such things – this course is an extension of this initiative."
Clarke has performed and educated throughout the U.S. for over thirty years. In that time, she created a workshop called "Acting the Song," which she presented to both professional and college-aged performers. Based on her own experience on both sides of the audition table, her goal is to give performers a new perspective as they approach their musical pieces.
"Coaching students to feel confident in what they are presenting … helping them to bring who they are, their truth, their voice to share through song … (that's) the goal for me," Clarke said.
The class focuses on vocal technique and audition preparation. Throughout the course, students focus on two audition pieces to add to their repertoire. With practice, repetition and feedback, students develop not only the instrument of their voice, but the ability to use it to its full dynamic potential.
"I (was) aware of her directing style, which often speaks to an individual's teaching method," Hudson-Mairet said.
Students are excited for the opportunity to work with Clarke to improve their audition skills.
Lindsay Webster, a sophomore in the College of Communication, said she enjoys the personalized attention to detail that comes from a smaller class size.
"Everyone is really comfortable with each other, and Niffer is very welcoming and extremely knowledgeable," Webster said. "We really get the chance to know other people's voices and then learn off of constructive criticism."
Story continues below advertisement