Theology students learn with Marquette Visualization Lab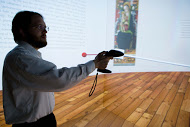 The College of Engineering and the Center for Teaching and Learning awarded Associate Theology Professor Deirdre Dempsey and Lynne Shumow, curator of education at the Haggerty Museum of Art, a grant to use the Marquette Visualization Lab (MARVL) as a teaching tool for Theology 2310: Explorations in Christian Theology; Theology and the Visual Arts.
The class visits the Haggerty three times during the semester, two of which are paired with visits to MARVL. The students study Salvador Dali's "The Madonna of Port Lligat" and "The Book of Hours," a medieval prayer book in the Haggerty. Students then view an enlarged, 3-D version of the painting and book in MARVL.
CTL Director Shaun Longstreet said MARVL is an important teaching tool.
"(CTL) is trying to encourage and support faculty as they do more innovative type things," Longstreet said. "(The use of MARVL with art) is to increase student's visual literacy, but also to recognize that there is a variety of theological expression in art."
The grant allows for a $3,000 stipend for faculty, 40 hours of technical support from MARVL and access to the MARVL space during the semester.
Dempsey said the grant is important for innovative teaching and learning.
"(The grant) gives incentive, in terms of spending time working on this kind of integration," Dempsey said. "It is also going to fund some of the things I am going to need if I do a more in-depth job – travel to the art institute to do more work on medieval manuscripts."
Located in Engineering Hall, MARVL is an immersive technology that allows students to view life-size projected images with 3-D glasses.
Christopher Larkee, a visual technology specialist in the College of Engineering, said to view "The Madonna of Port Lligat" in MARVL, he had to first use Photoshop.
"It started off as a high-resolution source image, and I took it into Photoshop and just broke apart the image into multiple layers and spread them out three-dimensionally," Larkee said. "So when you look at it from the front, everything is in the same place, but when you look at it, if your position shifts to the side, you still get a little bit of a perspective effect to create a depth illusion."
Viewing "The Madonna of Port Lligat" and "The Book of Hours" in MARVL allows students to better analyze each piece.
"("The Madonna of Port Lligat") is surrealist," Dempsey said. "You can look at it and say, 'That's kind of random. Why in this madonna and child do they have fish over here? Why are there three lemons here? What's with the shell and the egg hanging above?' We can, because of what they've done with the lab, pull those apart and talk more about the symbolism."
"The Madonna of Port Lligat" is rooted in Christian symbolism but also draws on Dali's personal purpose. Dali used his wife as the model of the painting as a cultural statement.
Shumow said student feedback has been positive.
"(Students) were so excited because it is a very different way of learning, so for me, it is really important that something isn't just, 'Oh, it's fun, and it looks cool,' but that it has some learning outcomes," Shumow said. "We saw that some of the learning outcomes are that you can see it in a way that you can't see it in a museum setting."
Leave a Comment