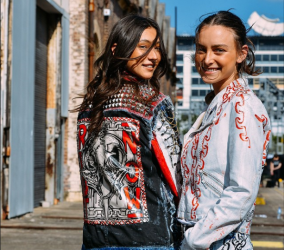 Jean jackets are frequently worn during the warmer months to complete an outfit. Lately, bulky jean jackets have been making a comeback in fashion. Rather than short and fitted, longer and loosely structured jackets are being paired with short sundresses and more flowy looks.
To bring jean jackets to another level, embroidered and patches seem to be heavily used. Not only is this eye catching and unique, but can be used as a fun DIY project with your friends.
Getting patches, lettering and even sewing on a creative word, band or subject on your jacket can bring life to what you're wearing. A craft store is a good place to start. It's also really easy to use fabric paint, or sharpie if you're artistically gifted with a steady hand.  Picking up a jean jacket from your local resale or thrift store and making it your own ensures that you'll have something unique. Seeing a cool phrase, object or a person's favorite band is always interesting to see when incorporated with an outfit.
If you're not extremely crafty or don't have the time, purchasing one is always an option and able to find today in most clothing stores.