Downtown Upswing
How Milwaukee's eastward focus could help keep graduates from leaving the city
April 26, 2016
In 10 years time, Marquette's Vice President of Public Affairs Rana Altenburg sees downtown Milwaukee's Westown neighborhood as one of the hottest spots in the state for millennials. She envisions young professionals living downtown right after graduating college and sees Marquette basketball and the Milwaukee Bucks championship banners hanging in their new arena.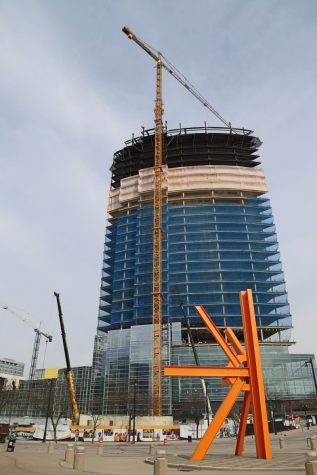 She called it an "urban renaissance." Downtown Milwaukee has seen a surge in development over the past year. The Bucks arena, the 32-story Northwestern Mutual Tower, Bublr Bikes, the Milwaukee streetcar and the Athletic Performance Research Center are all part of the city's, and Marquette's, plan to give Milwaukee a fresh look. Altenburg said this new look is directly linked with Marquette's future, which she said is a bright one.
"I just think this is such an exciting time for Marquette," Altenburg said. "It's an exciting time to be part of Milwaukee, and 10 years from now people will look back and say, 'Thank God I went to Marquette.'"
Chief University Planner and Architect Lora Strigens said the new development in Milwaukee could be seen as more than just a renaissance. She sees it as a chance for Milwaukee to rebrand itself.
"This is a great opportunity for Marquette to have a stronger connection with the surrounding community," Strigens said. "Everything that is being done, whether Marquette is doing it or a private development, enhances the overall image of the city, and I think we are trying to lift everything up together."
Jeff Fleming, a spokesperson for city development, said Marquette was not always interested and engaged in building up Milwaukee, but now the university is "embracing the area to the east."
"There is a clear embrace in the success of downtown," Fleming said. "Marquette, through its history, is tied to downtown Milwaukee. When one does well, it benefits the other."
Marquette's campus expanded eastward last year when the university purchased land just south of Straz Tower for the Athletic Performance Research Center on the 800 block of W. Michigan St. and when Marquette opened its space in downtown Milwaukee's Global Water Center Jan. 28. 
City & Residential Development
From 2005 to 2015, the city completed nearly $2.9 billion in development. As of October 2015, there is almost $1.02 billion worth of construction underway and $1.3 billion of proposed construction – which would nearly double the amount of construction completed in the last 10 years. Fleming said there has been a huge resurgence in building, investments and job creation.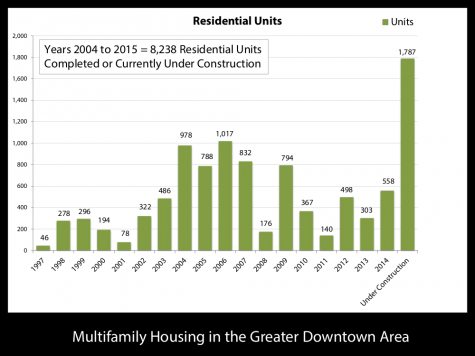 Fleming cited the $450 million Northwestern Mutual Tower that is being built on Wisconsin Avenue as an example of job creation. He said Milwaukee residents, some previously unemployed, are constructing Northwestern Mutual's future world headquarters.
"The word 'renaissance' is being repeated by developers and businesses, and it is attracting additional investors," he said. "Milwaukee is in a building boom similar to the one in the late '80s and early '90s."
Fleming said the city has a strong focus on residential development in the downtown area. In 2015, 1,787 residential units were completed or under construction, as opposed to 2014 when only 558 units were completed or under construction. He said, "Downtown is the place to be," and the young fuel downtown residential growth.
For Altenburg, residential development provides an opportunity for Milwaukee to keep its college graduates. In what is known as the "brain drain," college students tend to leave Wisconsin after they graduate. Altenburg is hoping for a "brain gain."
"We are starting to see a development of housing options downtown that attract a younger population," she said. "Millennials don't need a big house in the suburbs. We want them to stay here after they graduate."
Strigens said stopping the brain drain is one of the key things a city task force will focus on – everyone is asking the question, "How do we keep people here?" She said.
Milwaukee has a number of strengths, but the city has never been great at promoting them. One thing in particular she wants to create is a "walk to work environment" for university employees as well as upperclassmen students looking to reach out into the city for job opportunities.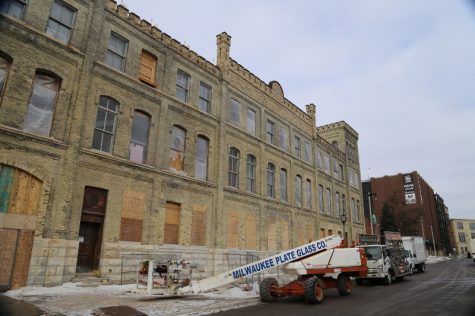 The newly renovated Pabst Brewery – which will provide student housing within walking distance of downtown Milwaukee – is an example.
"As we start to redevelop student housing, we want to contribute not just to our campus and the Marquette community, but to the surrounding neighborhood as well and provide an opportunity for engagement," Strigens said. "I think you might see more of a blurring of the edges between what was once a distinct downtown and a distinct university campus to one that bleeds together a bit more in a cohesive way."
Altenburg also talked about this walk-to-work environment. She said walking to work is the "trendy" thing to do. She hopes more residential opportunities downtown will not only promote students to engage in the city, but encourage university employees to move into the city.
"We would love to see employees move out there," Altenburg said. "There is so much excitement about living where you work."
Tying all the development together is the new Milwaukee Bucks arena. Altenburg said it would have a "profound impact" on downtown and the direction of the university and create a more pedestrian- friendly environment in the city.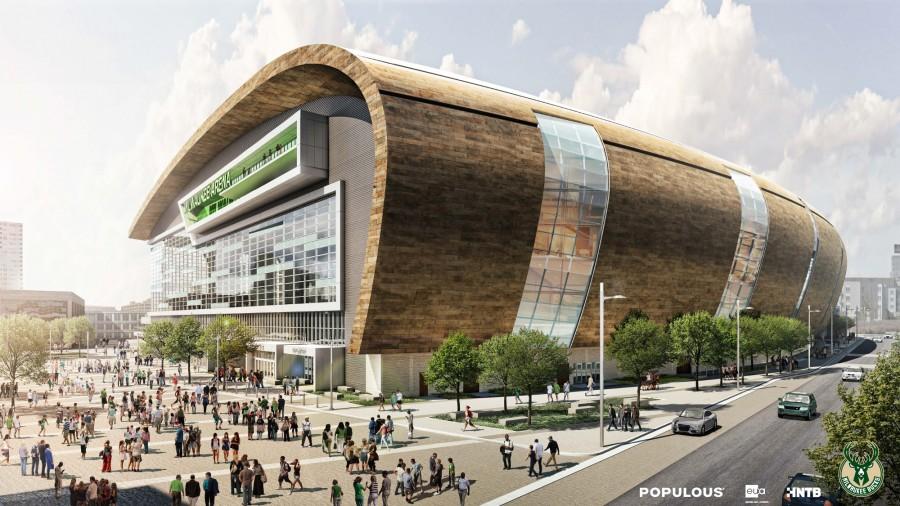 The Arena
 When athletic director Bill Scholl arrived on campus fall 2014, he was put right to work on one of the biggest projects the athletic department has ever been involved in – backing and planning a new billion dollar basketball arena.
The NBA said publicly for years that the Bucks needed a new arena, since the BMO Harris Bradley Center no longer met the league's standard. When Wes Edens and Marc Lasry purchased the Bucks from Herb Kohl, the wheels starting rolling.
Marquette wasn't just along for the ride. As the arena's secondary tenant, the school has a lot at stake on a new facility. The school is one of seven college teams in the country that play in an NBA arena. If the Bradley Center gives them a recruiting advantage, a state-of-the-art facility could conceivably boost that advantage. In addition to many people in the athletic department, Marquette's Office of Public Affairs was actively involved in the approval process.
"We certainly did what we could to help them get through all the approval process," Scholl said. "We were on board with what we felt was a legitimate need … We've been very engaged with the process from very early on. (The Bucks) carry the ball primarily, but we certainly helped where we could."
After years of negotiation, speculation and many levels of approval, the new arena is finally set to be built. The Bucks will break ground on June 18 in order to finish construction before the 2018 season. The new arena will be right next to where the Bradley Center is currently, still a short walk from campus.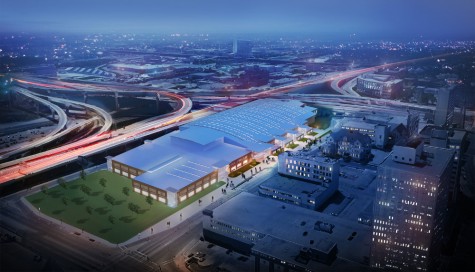 Marquette and the Bucks have become serious business partners the past few years. In addition to the new arena project, the two groups are working with Aurora Health Care on the new athletic facility.
"It's the vision of Mike Lovell as a developer, an innovator and an economic genius who sits there and says, 'How can we partner where one and one equals three?" Bucks president Peter Feigin said.
The connection between Marquette and the Bucks benefits both sides: Marquette gets to play in a world-class facility, which the Bucks will help finance- and help financing the athletic facility, while the Bucks get medical facilities, possible practice space and 18 to 20 dates filled on the new arena's calendar.
"To be the head leasing (tenant) is a pretty big deal and really gives us the foundation to build an event platform beyond the Bucks," Feigin said. "The fact that we've got Marquette as a partner to begin with is a great head start."
Although the arena is funded by the public, Edens, Lasry and Kohl, Scholl said it's important to note that doesn't mean Marquette isn't investing.
"Being a tenant who pays on an annual basis, we will be investing in that building over the course of the next 20 to 25 years," Scholl said.
The two sides sat down to start planning the blueprint of the arena, but aren't far enough along to make anything public. Marquette laid out the general parameters, but hasn't figured out how everything fits together just yet. Scholl said only the locker room has been planned in the new arena so far.
Marquette has also seen the plan for the lower bowl, but a student section hasn't been designed yet. The blueprint should be completed sometime in the near future, since it needs to be finished before breaking ground. The two sides are currently working on a lease.
Scholl said men's basketball coach Steve Wojciechowski started bringing renderings of the arena on recruit visits as soon as he could. Incoming freshmen will get a chance to play at the brand new arena if they stay four years with the team.
"He made a great statement at an alumni event, where he talked about, for some period of time, we will probably have the best basketball arena in the world," Scholl said.
The players aren't the only ones impacted. A new arena means updated amenities and VIP areas that can bring the Marquette basketball experience to the 21st century.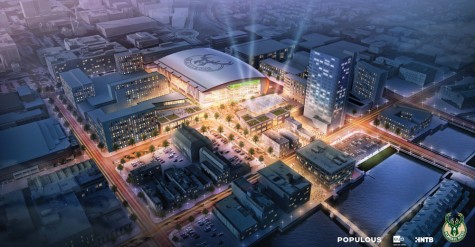 There are also big plans for where the Bradley Center currently sits. The Bucks released plans for an entertainment district around the new arena, possibly adding another $500 million investment downtown. The area will feature restaurants, hotels, residential space, parking space and entertainment. This is a long-term plan that likely won't be fully completed for another 10 years.
"You're talking about two areas that I think will look completely different," Scholl said. "I think it will definitely enhance the game day experience for Marquette fans, but I think beyond that, it will enhance downtown Milwaukee on an everyday basis."
Scholl said it's important that Marquette is playing a role in these changes based on the university's mission statement.
"It'd be disappointing to all of us if we weren't one of the driving forces," Scholl said. "There are several partners that are jumping on board in a lot of ways to help make Milwaukee as good as it can be. It's thrilling to me that Marquette is playing an appropriate role in that process."
The new project faced some backlash from citizens who thought the $250 million in taxpayer money would be better used for other purposes, especially since Gov. Scott Walker cut education budgets near the same time the arena was passed.
Still, Feigin said the project can have a lasting effect on the city and state that goes beyond basketball games. He hopes it can be a catalyst for a transformation of downtown Milwaukee, creating jobs and an atmosphere that encourages people to stay.
"It's not just an arena," Feigin said. "How do you transform geographic spaces to encourage employment, to encourage residential, to encourage entertainment? Marquette has forged great grounds and really spearheaded development around the city in a time when it desperately needs it … To partner with one of the major developments in the city in Marquette, that's a big win."