The Waukesha Expo Center was at full capacity, with a winding line of people reaching all the way to the parking lot entrance.
Stands selling merchandise printed with phrases like "Proud to be a Deplorable" and "Hillary for Prison" filled the venue. The Rolling Stones song "You Can't Always Get What You Want" played loudly several times. This was Donald Trump's presidential rally.
The crowd burst out into a spontaneous "USA" chant four times throughout the event. Eight speakers opened the rally, including former New York Mayor Rudy Giuliani, Milwaukee County Sheriff David A. Clarke Jr. and former Wisconsin Governor Tommy Thompson.
Sheriff Clarke and Former Governor Thompson both referenced the greatness of the Ronald Reagan era, expressing their hopes for America to return to its former Reagan glory.
Giuliani focused on Trump's opponent in the presidential election, Hillary Clinton. He discussed her email scandal, the Clinton Foundation, and argued that Clinton is not a true feminist. Giuliani incited the crowd to chant "lock her up" six times throughout his speech.
Local police, private security and Wisconsin Expo Center security watched over the event. Police were placed all around the perimeter, including a group of officers posted at each door.
Rally organizers provided a safe protest area outside of the building near the street. Prior to the start of the opening speakers, attendees were advised how to handle demonstrators that interrupt the rally.
"If a protestor starts demonstrating in the area around you, please do not touch or harm the protestor. This is a peaceful rally. In order to notify law and order officers of the location of the protestor, please hold a rally sign over your head and start chanting, 'Trump, Trump, Trump.'" The announcement continued, "Ask the people around you to do likewise until officers remove the protestor. Thank you for helping us 'Make America Great Again.'"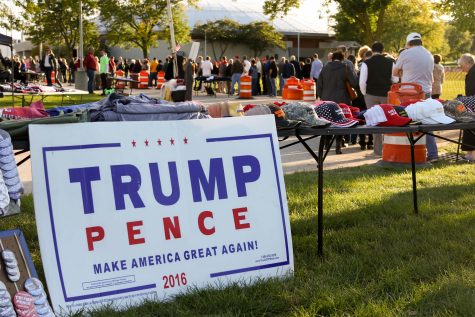 The first protest consisted of two animal rights protestors who were subdued before Trump came on stage.
The second, a single female protestor, stood on a media platform and shouted about animal rights. Her sign read, "We are all animals."
Vicki Francis, a 67-year-old Trump supporter from Gurnee, Ill., was a part of the coalition to stop the protestors.
"The protestors were right next to me. I was able to be somewhat significant in helping point them out in advance," Francis said. "This particular rally was very mild."
Francis has attended four rallies since the start of the campaign. She said she felt very safe and comfortable and was proud of how the police handled the situation.
However, the crowd was not solely die-hard Trump supporters. Quinn Fiske, a 1974 Marquette graduate from Waukesha, Wis., said that he did not support Trump in the primaries.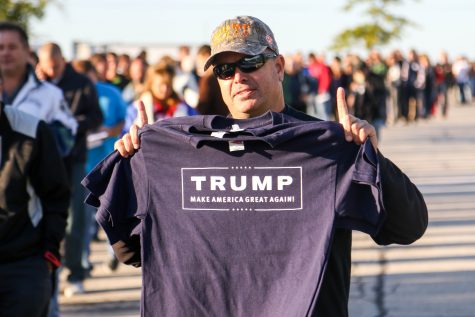 "I think he is preferable to Hillary," Fiske said. "I was actually a Cruz guy, as long as I could hold out, but (Trump) is the only choice now."
When asked if he thinks Trump will win in November, Fiske expressed doubts.
"I don't know," he said. "I think it's a toss-up, I don't know. It really is close. They say they hate him around here because he made a lot of comments about (Wisconsin Governor Scott) Walker earlier in the campaign. So he wasn't really all that popular. That's probably the reason he is here now. He needs to do some work here."
Bob Salentine, a 71-year-old veteran from Waukesha County, is not fully sold on Trump, but he is not interested in voting for Clinton.
"I'm leaning towards Trump because I just can't stand Hillary," Salentine said. "I'm an ex-vet and what she did to the poor people in Benghazi is atrocious, and then she lies to the mother, and then she tells her daughter that it wasn't the video. She's no good. She's a bad person."
With this event following the first presidential debate, attendees were interested to see what Trump had to say about it. Catherine Mezo, a 68-year-old Republican from Brookfield, Wis., said the debate was unfair.
"According to what he had to work with, he did very well," Mezo said. "But Lester Holt was extremely unfair and as I said, biased, a complete Clinton supporter. He did not ask the most important questions that Donald Trump should have been asked, besides the fact that he interrupted Donald Trump over 40 times."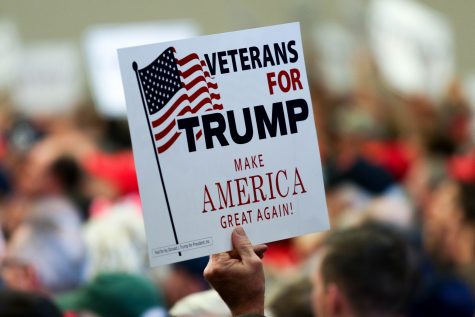 Andrew Gunst, a 24-year-old from Neosho, Wis., had a positive review of Trump's debate performance on Monday night.
"I think he did pretty well," Gunst said. "I think the fact that he just hung around (was impressive). I feel like it was a tie, maybe a lot of people think Hillary won, I don't know, but the fact that he was able to stand up there for 90 minutes and hang with her – I think that's a victory for him."
Trump walked onto the stage accompanied by the song, "Proud to be an American." The crowd exploded into uncontrollable cheers and "Trump" chants. The stage was surrounded by hundreds of "Make America Great Again" rally signs.
The crowd responded well to his statements. At one point in the rally, a man from the balcony shouted, "We need Trump!" in response to Trump's description of the state our country is in. Trump, who heard the man, replied, "You're right!" and then playfully waved his hand.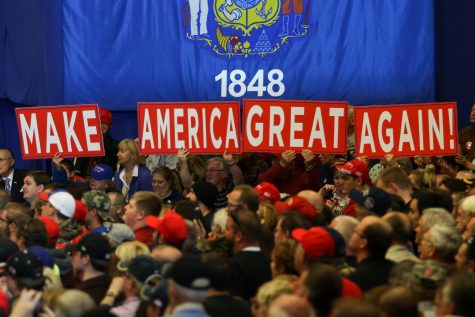 Trump discussed various topics at the rally. He covered the recent issue of "law and order," which was mentioned during Monday's debate. He also discussed the outcome of the debate and described it as a "tremendous success."
He disparaged Clinton throughout the rally, especially focusing on her scandals and her use of the word "super-predators" to describe young African-American men. At one point, he compared her to a globalist dictator.
At the end of the rally, Trump specifically reiterated his plans if he wins the White House. He intends to lower taxes, eliminate some government regulation, repeal Obamacare, end illegal immigration, build a wall, fix relations with Mexico, keep out radical Muslims, save the second amendment, protect law enforcement, appoint the right people to the Supreme Court and rebuild America's infrastructure. A plan he claims will Make America Great Again.