Looking West
Marquette Police presence brings more students to the western part of campus
October 1, 2015
Since the formation of the Marquette Police Department last May, several businesses have noticed an increase in the amount of students venturing further west off-campus.
Aldo Tase is the current owner of Harp and Shamrock, a bar on 21st and Wells Street, and a 2011 alumnus of the College of Engineering. He said that when he was a student at Marquette, 19th Street was considered the edge of campus, and hardly anyone would dare cross that line.
Tase said he has noticed a significant amount of foot traffic between 21st and 22nd St., which he says is much more than he saw during his time as a student.
"Having gone to school here, which wasn't even that long ago, I noticed it right away, seeing that much more foot traffic going past the Channel 12 station (on 19th and Wells Streets)," Tase said. "Everyone used to stop at the end of 19th, and that was it."
---
Good for business
Tase said this marked increase in pedestrian traffic toward the western edge of campus has been good for his business.
"Judging by what a lot of my bar staff say, because they have been there for the past 10 years, is that people are feeling more comfortable going out to 21st street." Tase said. "Now it seems like more of the foot traffic is headed toward 21st and Wells instead of Wisconsin Avenue, and that speaks volumes for Marquette (Police)."
Not far from Tase's bar, Craig Brahten works the counter at his cafe, Ruby G's Espresso Bar on the corner of 20th and Wells. He said that he has also noticed an influx of students making their way to the western areas of campus.
"I've noticed we have done more student business all the time, but they still don't come this direction (west of campus) as often as they do the other direction, and they still tend to go further east," Brahten said. "But definitely I have noticed more of the student body coming here, and I see a lot more of them walking around in the area."
Brahten was not overly optimistic, however. Even with the MUPD presence, he believes that the new police force alone is not enough to truly impact the area. The café owner said that while MUPD is great for the area, the burden of safety still falls on the students.
"Marquette hasn't done a lot in this area," Brahten said. "There are just a lot of students living around here, so I don't know if Marquette has really impacted any area past the borders of their campus. I think (MUPD) will make the campus safer, without a doubt. But students need to be more aware of their surroundings. They have their heads buried in their iPhones, and have no clue who is around them; it's like they have a sign on their back that says 'please rob me.'"
Keith Stanley, the executive director of the Avenues West Association – an organization that focuses on improving the neighborhood – said that overall, the change to the police department has been positive.
"They have done an excellent job reaching out to businesses and stakeholders within the area," Stanley said. "All the feedback I've heard has been positive … Having them actively there to deal with the concerns of the community is positive; as a police department they can provide services that they may not have been able to before."
Stanley said that he and Avenues West meet with MUPD about once a week. They participate in one another's meetings, and MUPD works with the Avenues West Safety and Security Task Force and the Near West Side Partners Safety Working Team. Those platforms come together with MUPD to look at issues and data to solve problems in the local community. Stanley also said that MUPD works with them on solving landlord disputes, among other property issues in the area.
MUPD Chief Paul Mascari said MUPD has heard from local businesses about the positive impact they are having on the surrounding neighborhoods.
Marquette Police captain Jeff Kranz said the partnership is beneficial.
"I got a call from the Ambassador Hotel, and they just wanted to say thanks and say their employees feel safer. It was after an assignment that we responded to, and they said our officers were there quickly and interested in the assignment," Kranz said. "It was nothing complicated (or) complex, but we are right around the corner on these things. It's more personalized, now you get Steve the cop there, and you get to know that person."
Kranz added MUPD is trying to bring that "small town police" feel to the area.
---
A Safer Feel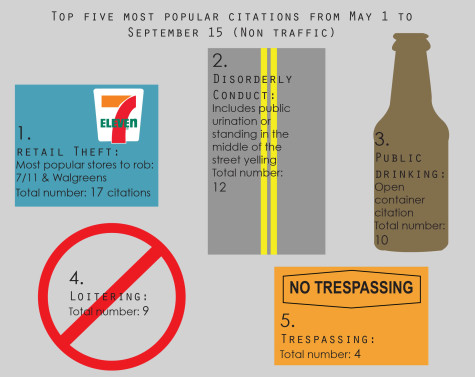 The Rescue Mission on 18th and Wells Street was burglarized on Aug. 5. A year ago, DPS would call MPD and have them handle the situation. Now, MUPD can conduct their own investigation, effectively cutting out the middle man.
"The way I look at it is that the burglary could have happened across the street at student housing, so it is affecting the campus," Kranz said. "In the past we had to have MPD send somebody, and that can take hours. Now we are there in minutes."
Mascari said MUPD's ability to react to crimes quickly has freed up MPD's time, and allows them to devote their resources to other areas.
"That's really freeing up the Milwaukee Police Department to pay attention to other areas in their district," Mascari said. "It has to have an impact on efficiency."
On Marquette's campus, the summer of 2015 experienced a 47 percent drop in crime from the summer of 2014, according to a statement from University President Michael Lovell. Stanley cited this statistic when talking about how the mere presence of MUPD has deterred crime. He said that just having the word "police" can have an impact.
"The patrols are highly visible, you do see the vehicles and how they actively patrol the area," Stanley said.
However, with crime being deterred from the area, there is a concern that criminal activity will simply be displaced from the area and will move into another, though Mascari said there has been no evidence of that yet. With MPD having the ability to devote resources to other areas, Mascari said displacement can be prevented.
Overall, Mascari said the only negative has just been adjusting to their different role as a police force.
"We started this transition over the summer, it's a new role, it's not really a negative because our officers have adjusted well," Mascari said.
---
Looking ahead
Way down on 21st street at Harp and Shamrock, Tase sees his block and 22nd street as the next big thing, even suggesting that it will eventually be "booming." The bar owner said he believes that MUPD has done their part in making the area safer, but now it's on him and other businesses in the area to make it look "more attractive," and add a "human touch."
"I think that there will be some very positive changes happening on the 21st block in the near future, maybe one or two years down the road, the idea makes me feel very bullish and positive," Tase said. "With a lot of students already living in this area, I think this is a very underestimated part of campus."
Mascari said the collaboration efforts they are starting now with neighborhood organizations, like the Near West Side Partners, are going to have a difference on off-campus areas, including Tase's bar. "There is a lot of momentum and buy-in to what's going on," Mascari said.
Currently, MUPD patrols up to 24th street. Mascari said that may extend, especially as the campus expands. He said that Marquette recently purchased property to the southeast, and that area is now part of their patrol zone.
"Overall, with what is going on in the neighborhood as a whole with the Near West Side Partners, and the Avenues West, I see this neighborhood really transforming," Mascari said. "In 10 years, the efforts we are starting now are really going to make a difference."