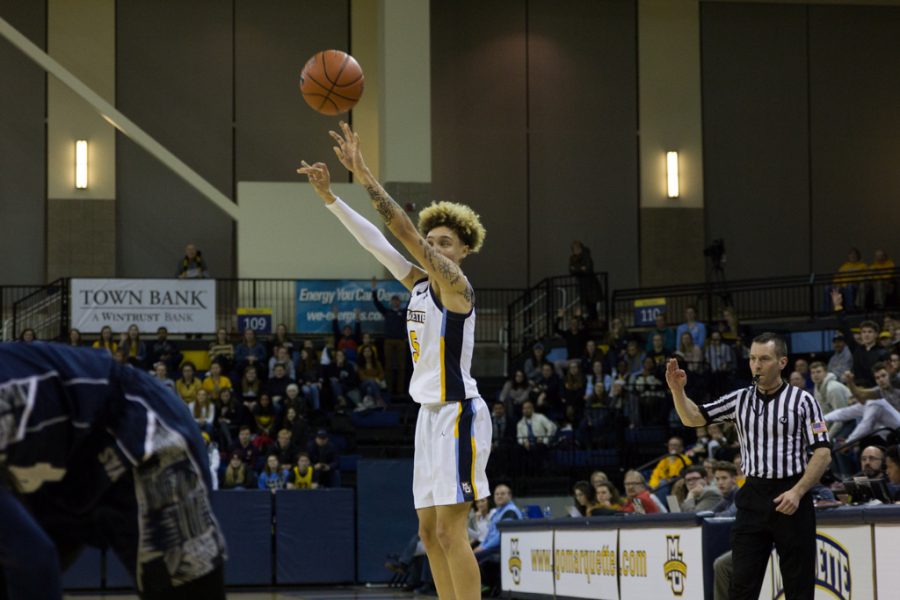 Photo by Andrew Himmelberg
AVINGTON: No. 11 Marquette in midst of historic season
It is no secret the Marquette women's basketball team is having one of its best seasons in program history. In fact, the Golden Eagles can accomplish something they have not done in 13 years.
With just four BIG EAST contests remaining, Marquette has a legitimate chance to escape conference contention with its best season since joining the league in 2005-'06.
The team originally had the chance to go undefeated in its conference slate for the first time since the 1992-'93 season when they went 10-0 in the Great Midwest Conference. However, the loss Friday to St. John's University at Carnesecca Arena scratched those hopes.
Regardless of that outcome, Marquette still has a very unique opportunity this season: suffer only one loss in BIG EAST play. 
Marquette already advanced past the most difficult part of its schedule, defeating Butler University at Hinkle Fieldhouse and DePaul University at McGrath-Phillips Arena. By comparison, the final matchups for the Golden Eagles do not exactly provide much of a challenge.
Carolyn Kieger's squad takes on Butler at the Al McGuire Center Feb. 22, where Marquette has not lost since Dec. 22 against then-No. 2 Notre Dame. The Bulldogs did not put up much of a contest in Indianapolis against Marquette, taking a 87-58 beating Jan. 27.
After that, the Golden Eagles will host Xavier University. The Musketeers are a sub-.500 team and have struggled greatly in conference this season, including a 46-point loss to Marquette in the last meeting.
The penultimate matchup will be against Creighton University in Omaha. The Bluejays have not performed nearly as poorly as Xavier in the BIG EAST, but the Golden Eagles beat them 85-67 Dec. 31.
The final contest of the regular season will be at Providence College. The Friars lost by 39 points at the Al Dec. 29.
Looking at the upcoming games for the Golden Eagles, it's incredibly reasonable to think they will finish out the conference slate with only one BIG EAST loss.
Marquette supporters have many reasons to be confident in this outcome.
First of all, the Golden Eagles boast the likely BIG EAST Player of the Year in senior guard Natisha Hiedeman, a player whose limitless range and exceptional ball-handling skills are unrivaled throughout the league.
In addition, Marquette has a phenomenal supporting cast around Hiedeman. Marquette's all-time leading scorer Allazia Blockton hasn't had her best season due to an ankle injury, but she is still likely an All-BIG EAST player. Senior guard Amani Wilborn, who won BIG EAST Tournament Most Outstanding Player in 2017, gives the team a driving threat, often slashing to the basket for easy layups. 
Senior Erika Davenport is a two-time All-BIG EAST forward and Cheryl Miller Award finalist. Fellow senior point guard Danielle King is one of the steadiest presences in the league and might be one of the most underrated players in the conference. 
Sophomore defensive sensation Selena Lott and sharpshooting junior Isabelle Spingola, a member of last week's BIG EAST honor roll, have made gigantic contributions this season as well and provide the team with more depth than Marquette has ever had.
These seven players combine to form a potent Marquette rotation.
There are very few teams in the country that have the talent to stop all seven of these players at the same time.
Few teams in the BIG EAST have been able to keep up with the Golden Eagles, and it's difficult to envision any of them giving Marquette much of a game in the final regular season matchups.