Five years ago, tensions were boiling between football and non-football members in a once-proud basketball conference.
"The last several years prior to the basketball schools breaking away, we had a lot of tension in our conference meetings," BIG EAST associate commissioner John Paquette said. "And the tension was clear."
Fed up with football-centric decisions tarnishing the conference's superb basketball reputation, the seven Catholic non-football members, dubbed the "Catholic Seven," split with the rest of their former conference and formed the new BIG EAST.
As the conference enters its fifth season of play in 2017-'18, similar tactics to what put the BIG EAST on the map originally are leading its resurgence into the college basketball landscape.
Over the air
The old BIG EAST, in an attempt to distinguish itself from conferences with much larger state schools, was the first conference to create its own television channel and syndicate it into various local markets. Its television contract with ESPN was also the precursor to the mega TV deals conferences currently have with cable sports networks.
"The BIG EAST and ESPN really grew up together," Paquette said. "(Inaugural commissioner) Dave Gavitt forged a relationship with ESPN. ESPN was looking for programming, and the BIG EAST was a new league looking for television exposure."
ESPN hallmarks like "Big Monday," a marathon of high profile college basketball games on Monday nights, started with the BIG EAST. Paquette attributed it to the conference's success at selling major markets.
"There were much fewer games on television, but the BIG EAST carved out a niche with Big Monday and other time slots," Paquette said. "And that helped forge the BIG EAST identity."
Now, the new BIG EAST is doing the same with a new network – FOX Sports 1 and FOX Sports 2. Like ESPN in the 1980s, FS1 was a new network looking to establish its identity and a competitive line of programming compared to larger, more established networks. FOX had stations in small markets like FOX Sports Wisconsin or FOX Sports North, but did not have a national sports network until 2012.
"
"The BIG EAST and ESPN really grew up together … ESPN was looking for programming, and the BIG EAST was a new league looking for television exposure."
— John Paquette
The BIG EAST-FOX marriage has experienced a few bumps in the road. In FS1's first year on the air, ESPN would routinely trounce the new network in ratings. In one of the first weeks of the 2013-'14 season, ESPN2's viewership for Akron-St. Mary's, a game between two mid-major schools, doubled FS1's Tennessee-Xavier ratings on the same night.
But FS1 has gradually cut into ESPN's ratings lead. Since the inaugural season, the average viewership on FOX, FS1 or FS2 jumped from 93,000 to 182,000. Even with the jump, FOX is nowhere near ESPN, which averages over a million viewers per game.
Through an app
Looking for a way to give exposure to non-revenue sports, the BIG EAST channeled its past, establishing the online-only BIG EAST Digital Network prior to the 2014-'15 fall season.
Before BEDN, member schools were responsible for all home broadcasts, creating a disparity between schools with different athletic budgets.
"A lot of the production responsibilities were on the individual institutions," Patrick Reed, Marquette Athletics' director of digital media and internet operations, said. "That can be both good and bad."
Schools with money could create professional-quality broadcasts with graphics packages rivaling the glory days at ESPN. Other schools would be stuck doing the bare minimum.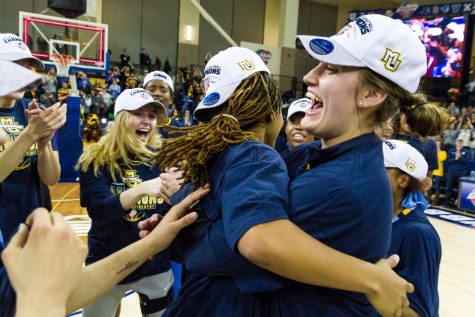 The rise of online streaming services, including the FOX Sports Go app that hosts BEDN,  allowed it to become a reality.
"Really, until seven or eight years ago, there was no space for many of these events outside of what you would typically see, whether it's football, basketball, some parts of the country hockey and some parts of the country baseball," Reed said. "There just weren't channels available to see a lot of this stuff."
In the app, BIG EAST events sit alongside NFL and MLB games.
"Certainly having that connection to FOX Sports Go, there's a much larger audience of people that are going to check that on a daily basis," Rob Anderson, Creighton's sports information director, said. "Maybe they're trying to find something NFL or Major League Baseball, NASCAR, UFC and maybe they'll see something from the BIG EAST that draws their attention."
BEDN started by airing mainly women's basketball games. Now it's streaming over 200 events across a range of sports and is expected to broadcast nearly 300 games this season.
The next step for the league will be partnering with stations in individual markets to air some BIG EAST programming. This has already happened in Chicago, where NBC Sports Chicago (formerly CSN Chicago) airs DePaul women's basketball games.
"BIG EAST Digital, as good as it looks now, looks even closer to a network television event when they're producing those types of shows," Reed said. "So I think that's the next stage of growth you're going to see in a lot of these markets."
On the court
Success in men's basketball's postseason March Madness was supposed to define the BIG EAST conference, but re-establishing its former glory was a slow task. The new BIG EAST only had two Sweet Sixteen teams in the first three years. The Big 12, another major 10-team league, had eight teams in that same time period.
"In the first couple years, we didn't have the postseason success," Paquette said. "That's a significant yardstick in the mind of the public and the mind of the media."
That changed in 2016, when Kris Jenkins' buzzer-beating 3-pointer over North Carolina clinched the 2016 national title for Villanova, instantly bolstering the BIG EAST's profile.
"That was really — in some ways, I think — the final box to check to show or to help prove that we are a major conference and we can compete with anybody else," Paquette said.
The conference did not have a team make it past the Elite Eight last year but placed seven teams into the field and had two Sweet 16 bids, a first for the young conference.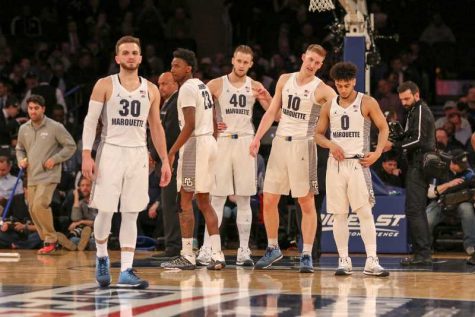 "Seventy percent of our league made the tournament last year … That's just remarkable," Marquette athletic director Bill Scholl said. "You can see the progression really across the board in so many ways."
That on-court success has not translated into every sport. Only two BIG EAST teams of 10 made the NCAA Tournament in volleyball, for instance.
"There are some sports where the Missouri Valley (Conference) is just as good or better," Anderson said. "But certainly some of the highest profile sports — like men's basketball, like women's basketball, soccer —(are) where the BIG EAST is among the best in the country."
In the conference room
Scholl repeatedly said he was not looking to leave Ball State, where he was the athletic director from 2002-'14. However, when Marquette's position opened, he couldn't resist.
"I really enjoyed our student-athletes and enjoyed the school, but Marquette offered an opportunity to compete again at the absolute highest level in several programs," Scholl said. "Their membership in the BIG EAST was certainly a factor."
That same level of prestige has helped Creighton, a campus of 8,019 students in Omaha, Nebraska, attain more visibility in regions previously out of reach.
"The visibility has really helped," Anderson said. "I think it's helped increase the university's brand and awareness, especially on the east coast."
Creighton is a case study of the impact the BIG EAST has on new programs. The Bluejays went from playing six conference games on national television as a member of the Missouri Valley Conference to playing over 20 BIG EAST games watchable anywhere in the country.
"We were trying to compete at a national level previously regardless of our conference affiliation," Anderson said. "It just now means we're running into more of those teams on a nightly basis in league play as opposed to trying to get it all done and out of the way in the preseason."
Five years after tense league meetings, the new BIG EAST's commonalities keep it revolutionary and productive.
"Now we go to conference meetings, and people are on the same page, and we're working together. Our coaches get along. Everybody is working toward the same goal," Paquette said. "Because we have similar institutions with similar goals, similar missions."