A strong line of fighters
Years later, a daughter reflects
April 10, 2017
I am tempted to start my story at the climax —the point of drama — in media res. But I am also reminded that before any story is my mother's story. That's where it all began.
My mother moved over 11 times in her youth and found permanent sanctuary in college in playing basketball at Marquette.
When she was my age, 20 years old, she had already met my father. The two basketball players met in Schroeder Hall, where I now live. They married in Gesu. I pass it every day on my way to class.
I am one of three Fischer kids: Elise, Charlie and me, Jenny. My mom called me her "groundhog," due to my odd birthday falling on Feb. 2.
When I was a kid, my grandma would come over every morning to help my mom iron and watch me play piano. She was my mom's best friend, and mine, too.
As a 5-year-old, I didn't acknowledge my grandma's hair slowly falling out, or her crying to my mom before chemotherapy. I witnessed it all. It just wasn't real until I watched my grandma pass after eight grueling years of battling ovarian cancer.
I come from a strong line of fighters, despite ailments.
When my grandma was in her childbearing years, doctors told her she was infertile. After adopting one child, my grandma became pregnant.
My miracle-baby mother came into this world Nov. 4, 1965.
My mother's mental illness worsened when her mother exited this world Dec. 31, 2009.
My mother died by suicide Dec. 2, 2010. Her "groundhog" was the one to find her.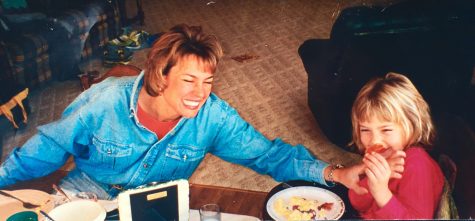 Welcome to my story. It's ugly and it's painful, but I own it and I live it. Since 13 years old, death has lingered in my life. Grief has knocked around my soul. And my mom's suicide has affected me more than anything else.
My mom's mental illness worsened further as the anniversary of her mom's death drew closer. Unaware to me at the time, she had already attempted suicide.
The day it happened started like any other. I exchanged the usual "I love you" with her after petting our dog Mollie, named after my grandma, goodbye. After school, I walked into the house to find droplets of blood in the kitchen. I called for my mom a few times – no answer. Her car was in the garage. I spotted her phone on the counter – 12 missed calls.
I wandered to my parent's room, still searching. I could see the light in the bathroom was on from underneath the crack of the door.
I jiggled the doorknob – locked.
"Mom?"
Mind racing, I walked outside so I could see in the bathroom window. And there she was.
I screamed.
The rest is a blur. The mind has a way of automatically blocking out bad memories to save you.
I remember calling my dad and 911. The police told me to get out of the house immediately. So, my 13-year-old self sat in my driveway on a gloomy Thursday in December with my dog Mollie next to me, my mother already dead for hours inside.
I do not tell the gruesome details for the sake of being gruesome. I tell them for the sake of honoring the story for how it happened. Suicide is ugly and real, heartbreaking and world crushing, and a tragedy in all aspects. Not everything worth talking about is easy or enjoyable.
I could tell you about having to go into your own home, which the police labeled a crime scene with yellow caution tape, to pick out funeral clothes. I could tell you about standing up at your mother's funeral at 13 in front of thousands of people. I could tell you about the number of times people automatically assume you have a mother, and having to awkwardly tell them she died — but even more awkwardly having to answer the question, "What happened?"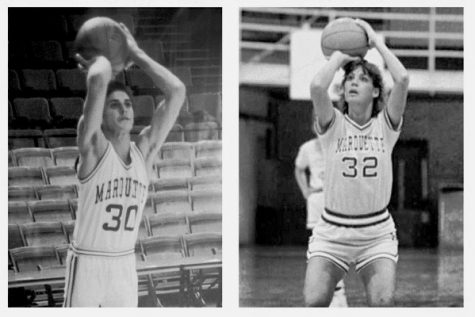 But I could tell you what else happened. I could tell you what came of this on the other side. I could tell you how I've refused to give up and found resilience and integrity. I received a card on my 14th birthday, exactly two months after my mom died. It read, "Don't ask for a lighter load, but a stronger back." And that's what I have done. I could tell you about getting into Marquette, fulfilling my parents' legacy and making them proud, even if one of them can't physically tell me. I know she's beaming. I could tell you about the reigniting of my faith. God has held me in the palm of His hand. I cannot explain or own this strength; it is only the strength of Christ within me. I could tell you about being able to separate the suicide from the subject, and how important that is. My mom is not her death; mental illness was not who she was.
People leave, but how they left always stays. I did not get a goodbye. I did not get any explanation. My grandma's last words to me were this: "It can take years to forget, but it takes just a second to forgive." I'll never be able to forget, but I have forgiven without being asked to.
Suicide is permanent and pertinent — but also preventable. Be aware. I have learned to never give up the fight. You will come out stronger and better on the other side. I used to think my mom gave up the fight, when in reality, she fought and lost. Giving up is different than losing.
I come from a strong line of fighters, despite ailments.
My story is ugly. It's painful. My story is my mother's and it's mine. I own it and I live it. And I will not let suicide take anything more away from me.
This story is part of the Marquette Wire's "Breaking the Silence" series to increase awareness and start dialogue about suicide in college. Read, watch and listen to more coverage here.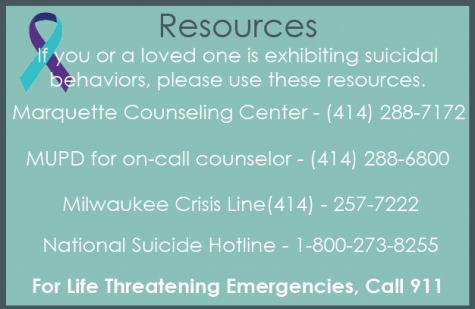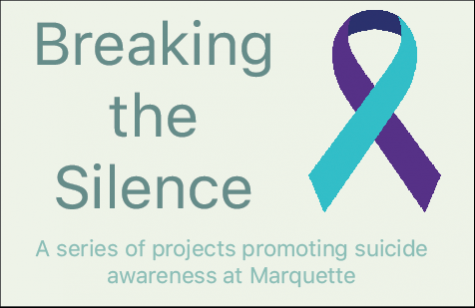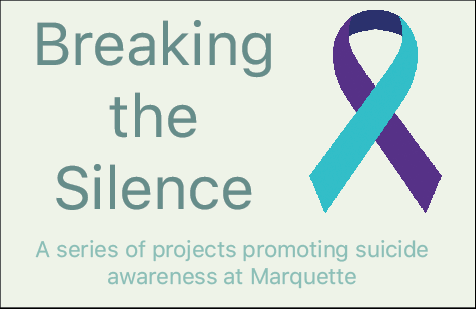 Graphic by Anabelle McDonald