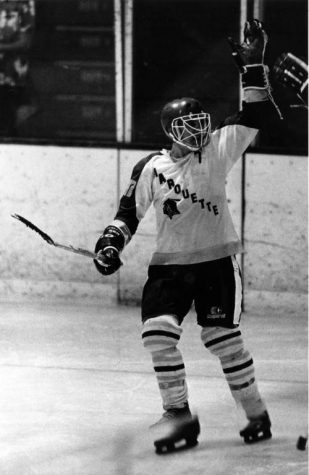 It was the fall semester of 1969, and sophomore Dennis Butler had an idea of creating a hockey team at Marquette.
An ice rink at Wilson Park was set to open in January 1970, the first rink in the Milwaukee area. Having played hockey in high school, Butler saw it as a great opportunity and spoke with academic administrator Bob Deroche about the possibility of creating a student-run hockey team. Deroche said he would help Butler and the others interested as much as he could. Soon after, Butler and fellow students hung flyers around male dorms. Before they knew it, Marquette had a team.
"Our first semester we had around 30 to 35 guys, most of them with little experience playing hockey," Butler said. "Most of our experience came from guys from the East Coast, because Milwaukee at that time did not have a lot of hockey to offer."
"If we didn't have a hockey rink, I don't think there would be have been a team," Deroche said. "The first year we had nothing, all we did was scrimmage against ourselves."
Butler said at first it was difficult to find any teams to play against, and they only played six games during their first season. The major struggle was finding enough money for the team. Butler described that year as a "pay-as-you-go" season, with most of those funds going toward ice time, which cost $105 an hour. The team paid for almost everything themselves and were forced to borrow club football's uniforms for their first games.
"During the first couple seasons, we had to fight for our money," Butler said. "We were lucky if we got a couple thousand from the university."
Deroche, who served as a faculty advisor for the club until 1975, said he went into then-men's basketball coach Al MCGuire's office and asked for help. According to Deroche, McGuire said the school's "M" club, an alumni organization, had helped them out with funding before.
"
I walked into Al's office and said, 'Look, these guys want to play hockey, but they have nothing.'
— Bob Deroche
"I walked into Al's office and said, 'Look, these guys want to play hockey, but they have nothing,'" Deroche said. "At the end of our meeting, McGuire told me not to worry about anything, and we would get what we wanted."
Not long after, the team had uniforms and were receiving more support from Marquette's student government. Deroche handled the scheduling, and although the club was not a member of any league, they still found plenty of opponents like Milwaukee Institute of Technology, Milwaukee School of Engineering, UW-Parkside and Northern Illinois University.
The club saw success on the ice as well. In their first season competing against other schools in 1970, the club defeated MSOE and declared themselves the "Milwaukee City Champions." Many of the players said they could compete at a varsity level, and Butler said he even met with Marquette's athletic director about the possibility.
"I asked our athletic director to consider us moving, but he was not interested at all," Butler said while laughing.
"Sure, we talked about it all the time amongst ourselves," Deroche said. "But I don't think anyone was really listening."
Throughout the years, the club had many ups and downs, but none as low as the early 2000s when the club fell apart. Peter Shutt, who played from 2005 to 2010 and has served as an assistant coach since, said when he got to the club, they had just begun playing again a couple years earlier. He credited the senior class his freshman year for re-establishing the program.
"Those guys were pretty passionate about the team," Shutt said. "They are a big reason why we are still here."
In 2011, the team dropped to Division III. When Shutt graduated in 2010, he was the president of the club and said the culture was nothing like it is today.
"We didn't have as much player involvement," Shutt said. "We never made any cuts and were always looking for guys. I never would have thought we'd be where we are today."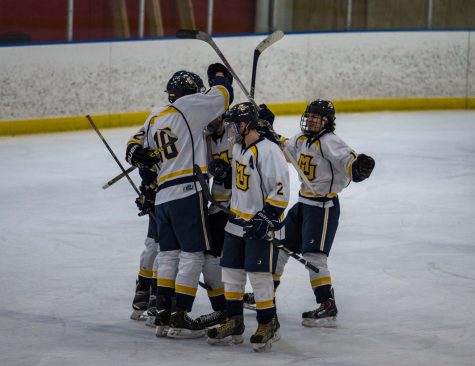 Current head coach Will Jurgensen, who played from 2009 to 2013, said his class set a new tone.
"My freshman year, a lot of the guys on the roster played just for fun," Jurgensen said. "Then sophomore year we looked at each other and said, 'Hey, let's actually go out and play some good hockey.'"
With that mentality, the club took tremendous strides, and Jurgensen's senior year the team reached nationals. Since then, the Golden Eagles have competed at a high level in their conference and are consistently knocking on the national tournament's door. This year, the club returned to nationals and finished 1-2 in the tournament.
Marquette feels confident enough with its level of play that the club decided to make the move back up to Division II for next year.
"It's another step in showing the team is once again growing," Shutt said. "We've showed great success in recent years, and this is positive for our program."
Jurgensen hopes the winning culture his team has created will have a lasting effect on the club.
"You give up so much playing hockey here, so you might as well make it worth your while," he said.