One semester in: MUSG check-in
As the MUSG's president and vice president look to next semester, plans to complete more than half of their campaign promises are revving up.
December 6, 2016
Last spring, Abe Ortiz Tapia and Adam Kouhel were named president and vice president respectively of Marquette Student Government on promises to increase community engagement, clean up student organization funding and beautify campus.
The candidates created a 19-point action plan that addressed topics such as diversity and improving student organization funding. Halfway through the year, the team has completed 5.3 percent of their promises, 63.2 percent are in progress and 31.6 percent are not started.
"Everything on (our platform) is attainable, and we have been in conversation with student organizations," Ortiz Tapia said to the Marquette Tribune last April. However, now that the semester is coming to a close, the MUSG president said they have not completed as much as he would have liked, because of time spent on unforeseen complications.
"I think both Adam and I realized there were a lot of things that came up that we never would have expected," Ortiz Tapia said.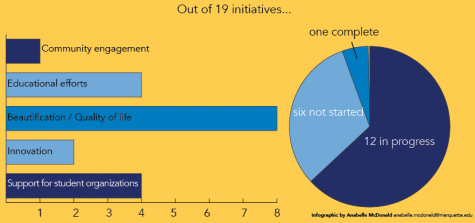 He cited the Student Organizations Committee suspension as an example of one of these challenges. This suspension caused controversy because it prevents new clubs from receiving SOF.
One of Ortiz Tapia and Kouhel's campaign promises was to increase funding for student organizations. However, since MUSG approved their budget before Ortiz Tapia and Kouhel took office, they were not able to make any changes.
Kouhel said the plans to increase SOF are preliminary. He said they will work on it more in the spring when it is time to re-evaluate the budget.
Although club funding is one aspect of the platform, efforts toward increasing club sport practice space and diversity initiatives remain underway.
MUSG is having conversations about expanding hours in the Helfaer Recreation Center for club organizations, but some clubs are still having trouble finding adequate places to hold practices.
Devinne Love, former vice presidential candidate and one of the captains on the club basketball team, said her team currently practices in the Helfaer Recreation Center, in the same room with many other teams.
"We have men's basketball on one side and women's volleyball on the other," Love said. "It's so loud in there we cannot even hear each other."
She said she wished more was accomplished in terms of adding availability of practice spaces. She worked with MUSG over the summer to get a practice time in the Al McGuire Center, but no progress was made.
Kouhel said practice space is "always a challenge that Marquette has had to face" due to high demand and limited area.
In addition to promises regarding club sports, there were a number of diversity initiatives in their action plan.
Josh Miles, former diversity committee coordinator and MUSG presidential candidate, said MUSG is still working on many of their projects concerning diversity.
Miles is a part of Youth Empowered in the Struggle, an organization that has been working to establish the Ignacio Ellacuria S.J. Dreamers Scholarship for undocumented students. YES is collaborating with MUSG and discussed options like increasing the student activity fee to support the scholarship, but no action has been taken yet.
Miles said that the work on their initiatives has been taking a while, but is not  something that will happen overnight.
"I think they set obtainable goals," Miles said. "It's just a super long process. I think the second semester will be a lot more fruitful for them, which tends to be what normally happens."
Ortiz Tapia said the 19 initiatives were set in place as an ideal goal. However, he said the main priority is to complete initiatives that serve the student body.
"We need to look at that fundamental question," he said. "Are we serving students on campus the best way we can?"
Lucas Segovia, a senior in the College of Arts & Sciences, thinks MUSG could better serve students by making its message more widely known. "I think a lot of students don't know a lot about the stuff (MUSG is) doing," he said.
Segovia did not vote in the spring elections, but criticized Ortiz Tapia and Kouhel by saying they could have had specific plans. "A lot of these are vague, so it's hard to determine how effective they can be."
"Things take time and you're always continuing to work on things, so just because they aren't getting accomplished today or tomorrow does not mean that we've forgotten about them or that they won't get accomplished in the future," Kouhel said.
Ortiz Tapia and Kouhel outlined their progress on each promise thus far.
Encourage community engagement through new local partnerships and support for neighborhood initiatives: in progress.
MUSG brought nonprofits to campus for Urban Expression, the art show it sponsored. They are continuing to work on their Good Tenant Program, which tries to build bridge between landlords, students and businesses by teaching students how to pay electricity bills and sign a lease. 
Work continues on the Good Neighbor Designation, a program in which MUSG inspects off-campus housing to determine if a property meets certain criteria on overall quality. Kouhel said MUSG worked with more than a dozen landlords during summer to let them know how to improve their properties.
Support campus sustainability efforts with investments in water bottle fillers, a campus-wide can collection program and expanded composting: in progress.
Water bottle fillers were installed at the end of spring semester last year in Practice Space East through an allocation from the reserve fund, which is a savings fund. MUSG supports the composting project, which is run through Sodexo and is available in almost all dining halls.
"We have not taken action on the campus-wide collection program because that is a much larger project. And as the university is exploring the master plan, we are seeing how the program will fit in with that," Kouhel said. 
Advocate for the creation of the Ignacio Ellacuria S.J. Dreamers Scholarship: in progress.
This scholarship would be for undocumented students who demonstrate merit and financial need to pursue an education at Marquette. The Center of Intercultural Engagement and Youth Empowered in the Struggle are actively working to bring the scholarship to campus. "We in MUSG advocate for it and bring it up in meetings with university leadership," Kouhel said. 
Increase Student Organization Funding for student organizations and club sports: not started.
Student organization funding was not increased this semester. The budget was already approved before Ortiz Tapia and Kouhel were elected, so they could not change anything. Kouhel said he and Ortiz Tapia have not made a plan yet, and it will be a task for next semester. 
Kouhel also said increasing SOF is a priority due to the record number of applications received this year. Right now they are looking at budget lines, exploring "external options." One such option is increasing the student activity fee. "It's on the forefront of our minds, but nothing to share just yet," Kouhel said.  
Establish an SOF second chance program to provide student organizations with an additional opportunity to receive funding: in progress.
This is not a program yet. Kouhel said now that this semester's funding period is over, the SOF committee will now have more to look at and re-evaluate its policies. "One of the best parts of my job is the opportunity to work with so many students and organizations on campus and being able to see the passion they have," Kouhel said.
MUSG currently has an appeals process which only applies to bulk funding, and is discussing making an appeals process for spot funding and hopes to have the second chance program implemented by spring. 
Support the expansion of the Center for Intercultural Engagement and LGBTQ+ Resource Center: in progress.
In the beginning of this semester, MUSG gave a reserve fund allocation, to help build an office for the Center for Intercultural Engagement coordinator. They continue to meet with the two centers and the students who use them, partially to teach students the SOF process. 
Support the creation of a new Recreation and Wellness Center: in progress.
The new center will eventually be on 16th Street and Wisconsin Avenue. Last spring, there was a referendum for a $100 fee to be added on to every full-time undergraduate student's tuition bill. "We've had a lot of meetings this semester on talking about how the fee will get implemented, students that the fee will impact, what are the short- and long-term things we can do with that fee," Kouhel said.
The fee is up for approval from the Board of Trustees in its meeting later this month. MUSG hopes to have the fee implemented in fall 2017.
Establish a Student Rights Handbook to promote and educate on diversity, free speech and open dialogue: not started.
Ortiz Tapia said this task was "overlooked" due to the busy nature of the semester. It's still something that the president said he thinks about and continues to bring up.
He said he worries that it would not properly address the issue of free speech and open dialogue. "You can do all of these things with the best of intentions," Ortiz Tapia said.  "We can have the Student Rights Handbook, but I feel that it would be a disservice."
There no timeline was given. 
Introduce a mental health and wellness student task force that advocates for positive development: not started.
"Unfortunately, we're not there yet," Kouhel said. He added that MUSG wants it to be accomplished "as soon as possible because we know how important mental health and wellness is for students."
Ensure Marquette University is certified as a Bike-Friendly Campus: in progress.
"We're slowly but surely getting there," Kouhel said. "Looking at the criteria, I know right now we could easily meet it, but I know that they rate them on different standards, and I want to make sure that we're at one of the high standards."  
In addition to the campus's Bublr bike station, Kouhel talked this semester with university stakeholders in several departments about getting Bublr bike stations at Valley Fields and on the west end of campus "between 18th and 22nd Streets."
MUSG is also in the premature phase of working with Alderman Robert Bauman to explore the opportunity of a bike lane on Kilbourn, Clybourn or State Streets.
Revamp the bulk and spot funding applications for clarity and transparency: completed.
MUSG was able to revamp the applications this semester, though responses have been mixed.
Emily Gaietto, vice president of the equestrian club, said she did not have much trouble understanding the application process this year. 
"I think it was pretty straightforward," Gaietto said. "They were pretty specific about what they wanted. It seems like they're doing a thorough job." 
Jordan Benusa the treasurer of the men's frisbee club, had a different experience. 
"It could have been a little more user friendly," Benusa said. "For example, in the spring you can only put two events, but we're doing five or six, so I had to fill out five separate forms." 
Kouhel said he has received minimal complaints about the organization application process, but there are "always, always, always opportunities to improve."
Ensure club sports and performance groups are provided with adequate resources and access to sufficient practice space: in progress.
Throughout the last semester, MUSG discussed extended hours in the Helfaer Recreation Center for club organizations and purchased dance mirrors for performance groups in the AMU, Humphrey Practice Space and Practice Space East.
Kouhel said practice space is "always a challenge that Marquette has had to face" due to high demand and limited area. Kouhel wants MUSG to be a liaison of sorts between university administrators and the clubs and groups trying to get things done.
To allow performance groups more room to practice or perform, weekend movie nights were moved from Varsity Theatre. 
Develop a comprehensive academic-focused innovation program with the Kohler Center for Entrepreneurship: not started.
MUSG will establish an Innovation Court — a green space outside of the Kohler Center — after the center is moved to the first floor of the 707 building. MUSG plans to host a variety of programs, possibly yoga and musical performances.
Establish the Ignite Fund to support innovative campus-focused initiatives: not started.
"This is not one of our main priorities at this time," Kouhel said. "We look forward to exploring more next semester." 
Re-evaluate the Sodexo contract to ensure a transformative dining experience that provides healthy dining options, lower student costs for catering and improved partnerships with students and their needs: in progress.
Kouhel said he is not allowed to uncover many details, but  "progress is being made." The VP serves on the advisory committee for this initiative and is speaking with students about what they would like to see from a food service provider. He said the university is exploring other vendors outside of Sodexo. 
The committee will continue to meet into the spring. 
Pioneer a university-wide program focused on improving campus aesthetics: not started.
"One thing we heard on campus is there isn't enough seating, green space or beautification," Kouhel said.
However, his initiative is addressed through the master plan. Neither Ortiz Tapia nor Kouhel served on the master plan committees or subcommittees. Kouhel said he and Ortiz Tapia "relayed the importance of campus" to Lora Strigens, vice president for strategy and planning. 
Advocate for expanded hours in the library and AMU during midterms and finals: in progress.
Ortiz Tapia and Kouhel hope to have this completed for this semester's finals week. He is working with Janice S. Welburn, dean of the university libraries, to possibly have expanded hours in Memorial Library. There may be extended hours in certain campus buildings, but MUSG still awaits confirmation on exact locations and hours.
Implement a student-to-student textbook exchange program: in progress.
Their aim is to launch second semester. MUSG is currently working with the textbook company Follet, Book Marq and Jenny Alexander, the university's director of purchasing.
"Within a week, we could go live if we wanted to, but we're having conversations with Follett and purchasing on new programs down the line" on new and improved textbook programs and costs.
No timeframe provided.
Strengthen student and faculty communication through improved advising guides and D2L usage: in progress.
Kouhel has been in contact with Sean Longstreet, director of the Center for Teaching and Learning, about the initiative, which has been a topic of discussion for the last two years. The two discussed increasing the usage of the grade book on D2L. They are looking at a software program that can transfer grades from D2L to Checkmarq. 
"D2L has always been a challenge for faculty to use, and we've seen more adaption as we have younger faculty and we have more engaged faculty that are really interested in student engagement in the classroom," Kouhel said.