Exclusive: Sandy Cohen heads in new direction
Recently departed basketball player discusses why he left, where he's looking and what basketball means to him
December 5, 2016
Sandy Cohen III could no longer take it. His boredom was unmanageable. He had to play basketball. He decided to grab his shoes and go to the Helfaer Recreational Center on Marquette's campus to play pickup.
He began warming up on a side court by himself. Eventually, to the dismay of just about everyone there, he made his way over to the main courts and asked to join in one of the games.
"I was just shocked that he ended up doing some pickup games," said Nick Contezac, a senior in the College of Arts & Sciences, who at one point drew the unfavorable task of having to guard Cohen.
At 6-foot-6, 200 lbs., Cohen was able to use his length and ability to blow by defenders and slam down dunks, both of which are rarely seen on the Rec court.
"It's just kind of funny because you don't even think that he would want to play against us," Contezac said.
Since asking for and being granted release from his basketball scholarship in late November, Cohen went from playing hoops every day to not playing at all. Shooting at the Al McGuire Center with the rest of his team wasn't on the table anymore, leaving the Rec as the only viable option for him to be able to play basketball.
"All my life, at some point in the year, I have been involved in a sport, whether it was football, basketball, track, baseball, something like that," Cohen said. "Right now it is just nothing for me, it's kind of new, really. I haven't not played a sport in a really long time. The semester has kind of really been weird for me. I'm excited to get to my new school and have a new beginning." 
Basketball has always been Cohen's outlet. He said it allows him to be free, to be himself, to connect with his family and provides him with a great educational opportunity. Over the course of this season, Cohen grew frustrated with his diminishing role on Marquette's basketball team. After leaving the team, he had to step away from the game that gave him everything.
As challenging as the adjustment has been, Cohen said he is excited for his future at a new school. Currently, he said the favorites are Green Bay and Oakland. (UPDATE: Cohen is transferring to Green Bay, as first reported by Mark Miller)
Sandy Cohen Jr., Cohen's father, has always had a deep passion for basketball and he taught his son to love the game in the same way. Cohen quickly became a regular at his dad's adult league games, watching and taking in as much as he could.
"That's kinda how the love of the game started," Cohen said.
His dad wouldn't always be present in his life, as he spent time in and out of prison, but basketball was how the two remained close.
"I didn't have the ideal childhood, but I feel like it made me stronger and better," Cohen said. "Basketball was how we connected. That was our common ground. That just made our relationship stronger."
As Cohen grew older, his basketball prowess became evident. When he reached high school, it was clear that he had the talent to do something special. Cohen, however, was hanging around the wrong crowd. He was ignoring his mother's curfews and it looked like he was going down the wrong path. To provide Cohen with the best chance to succeed, in his sophomore year at Seymour High School he moved in with his coach Jon Murphy.
"I have known this kid since he has been a little boy and watched him grow and he was really struggling and he needed something," Murphy said. "My wife and I and our family talked about it and we said, 'Sandy we have financial room if you want to give this a try.'"
"I grew up in a bad kind of neighborhood," Cohen said. "Coach Murphy really helped me out a lot. He really gave me a father figure and showed me right from wrong and stuff like that. They just really gave me a stable house, really a home, a place to lay my head. I will forever be indebted to coach Murphy and all things they have done for me."
Cohen showed up to the Murphys' house with one duffel bag, but he quickly became a part of the Murphy family and after three years of hard work, Cohen emerged as a top-100 recruit and drew attention from college coaches across the nation.
"We watched this kid grow up and develop into a young man, who in a matter of three or four years really got things squared away, and fight his way through an ACT and get a college scholarship," Murphy said. "Basketball meant so much to him, but he had so much development to do as a person and as a student and so much catch-up to do, he was a really busy kid. You know, it just worked out. He flourished here."
Cohen grew up watching Marquette on TV, dreaming of one day playing there. When then-Marquette head coach Buzz Williams called, Cohen decided to accept the scholarship offer.
"It was crazy because I had always said that I wanted to go to Marquette," Cohen said. "I didn't think it was that realistic, to be honest. No one from my town ever played Division I, high major or anything like that. When I started getting all these offers, it was kind of like a shock. It was really a dream come true when I got the scholarship from Marquette."
"
I was in love with the idea of Marquette. I really wasn't in love with Marquette."
— Sandy Cohen
The dream, however, was short lived. Cohen and his family had never been through the recruitment process and they were overwhelmed.
"I really didn't look into it too much, it was the idea of Marquette," Cohen said. "It was so close to home. It's a high major. They have a lot of players that go to the league, they are on TV all the time and sponsored by Jordan. I was really looking at all of those things, I really wasn't looking at the team, the coach, the culture. I wasn't looking into things like that, that mean so much to college basketball. I was in love with the idea of Marquette. I really wasn't in love with Marquette. That's something I figured out."
Shortly after Cohen signed with the Golden Eagles, Williams left Marquette to go to Virginia Tech, and current Marquette coach Steve Wojciechowski was hired. Cohen asked for his release from his scholarship, but before his request was granted, Cohen needed to meet with Wojciechowski. On his second day on the job, Wojciechowski drove to Seymour to visit Cohen. Following the meeting, Marquette's head coach did his best to stay in contact with Cohen to make sure he knew he was welcome in the program.
"The thing that really sold me is when we were in the gym working out. I still remember, he was like, 'You are the most skilled guard we have,'" Cohen said. "My thinking at the time was I would be able to step in right away and just be one of the best guards, but that is really not how it turned out."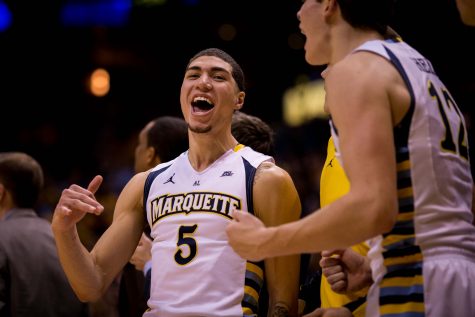 Cohen appeared in 31 games and started seven his freshman year, averaging 3.8 points per game in 15 minutes of action. Early on in his sophomore season, it appeared Cohen had emerged as a regular starter. Through the first 12 games, he was averaging 9.5 points per game and was a key contributor to Marquette's win over Wisconsin. Cohen's production dropped off, however, and he lost his starting spot in the lineup during BIG EAST play.
"Obviously I'll be an upperclassman, probably more of a leadership role," Cohen said to the Milwaukee Journal Sentinel after the Marquette season ended last year. "Just more of a consistent player on the team. I know I had a lot of ups and downs this year and started out kind of hot and kind of slowly went down, so just more of a consistent, backbone player — tough defense, makes the right play, makes the good play, makes the easy play and when I'm on the court, you just know what kind of player I'm going to be and the things I'm going to do."
He remained on campus during the summer trying to improve his game, but when the season began, he saw his role changed and minutes diminished.
"That's the hardest point because the coaches are always going to say, 'Stay ready, you got to play your role the best even if your role's not getting in the game,'" Cohen said. "That's tough. Especially for me, a player top-ranked coming out of high school. I had a lot of schools I could have went to. I come here and my role was completely changed to a rebounder, a defender and a junk yard dog, something that I have never been in my basketball career. It was really tough."
The thought of transferring had been in Cohen's mind since the summer, but he wanted to stick this year out. Following the Veterans Classic, Cohen felt it was time for a change. He played only three minutes in the Michigan game, didn't see the court at all against Pitt and didn't see his fortunes improving at Marquette. When Cohen returned to Milwaukee, he met up with Murphy, who was in town with his high school team. After talking at Murphy's hotel, the two went to the Bucks-Warriors game where Cohen met up with a few of his teammates and let them know that he would be asking for a release from his scholarship.
"There are a lot of kids across the country that are really good players that are sitting on the bench at different institutions," Murphy said. "You either make a decision — if you don't see it going anywhere, maybe it's time to go somewhere where you are on the court instead of watching. He loves the game and he wants to play. I think this is a very viable option for him."
"The biggest part was just I wasn't in a place where I could reach my full potential as a basketball player and hopefully take that next step in my game," Cohen said. "My dream and my goal has always been to play at the highest level. I just felt here at Marquette I wasn't in the right situation for that to happen. I love everybody at Marquette, coaches and everything. I just had to make the best decision for me. … Being a junior and not being able to play much is not really what I envisioned and not really what I thought would happen. It pretty much comes down to playing time."
At the end of the day, as Murphy put it, it just wasn't the right fit.
"I think Sandy really tried to make it work," Murphy said. "He just didn't feel like he had a connection. … Sandy made a comment, 'I don't have a relationship with any coach. No one ever talks to me.' I said, 'Sandy, maybe it is time for us to look elsewhere and feel like you are a part of something.' Because he felt like he was on the outside."
On Nov. 20, Mark Miller of the Wisconsin Basketball Yearbook broke the news that Cohen had asked for and been granted released from his scholarship. Marquette confirmed the report later that afternoon.
"We want to thank Sandy for his contributions to the program over the last three seasons and wish him the best of luck in the future," Wojciechowski said in a statement. He was unavailable for further comment.
Since being released from his scholarship, Cohen has remained on campus to finish his classes before he leaves for Christmas break. Cohen is close to satisfying his desire to play basketball again beyond just the Rec. Before Christmas, he plans to pick a new school to transfer to. Due to NCAA transfer rules, Cohen has two options. He could sit out this spring and next fall, joining his new team for the second semester as a senior. He could also extend his final year to a full season by sitting out this spring and all of next season, returning to game action the year after that.
"This is a great opportunity for Sandy to kind of get his mojo back," Murphy said. "He has a year to work on his strength — this is his redshirt year now — work on his skills, so he comes back stronger and better and confident with his mojo back. He felt kind of lost here."
"I mean, when you only have one year of college basketball, you have to be motivated and you have to have goals and do everything in your power to achieve those goals," Cohen said. "That is why I am so excited, because I know I only have one year left and I have to put my all into it if I want this to work out."