A duality of gratitude
Nursing students and veterans share stories and teach one another at the VA
November 17, 2016
Kelly Koronkowski was making her afternoon nursing rounds at the Clement J. Zablocki Veterans Affairs Medical Center when she checked in on an older male patient with brain damage.
He was ill, and did not seem to be especially alert. His wife was playing an instrumental soul song. Koronkowski said she enjoyed the music.
Her comment sparked a change in the man, who seemed to forget his suffering and reminisce about his younger years and love of soul music.
"I feel like he, for a fleeting few minutes, really escaped and became himself again," Koronkowski said. "He smiled and was remembering what he loved about his life."
Koronkowski is a senior in the College of Nursing and a member of Marquette's Veteran's Affairs Nursing Academic Partnership (VANAP) program. Despite jovial celebrations last week for Veteran's Day, the holiday also serves as a reminder that many of the country's veterans do not receive adequate health care after returning home. The VANAP program helps address veteran health care issues while providing a unique clinical experience for nursing students.
The VANAP program began in the fall of 2013, after Marquette and the Zablocki VA received a five-year, $5 million grant from the Office of Academic Administration (OAA) in the U.S. Department of Veteran Affairs. The grant mostly pays for the salaries of two program directors – one at Marquette and one at the VA – and 10 VANAP faculty members between  Marquette and the VA.
The faculty members are responsible for training nurses at the VA how to work with students. They also teach part-time on campus. The increase in faculty allowed enrollment at the College of Nursing to significantly increase, from 110 students in 2012-'13 to 162 today. Nursing students apply as freshmen or sophomores, and work in the VA for four semesters total.
Students branch out
Students work one-on-one with VA nurses during their rotations. With this guidance, student nurses work directly with patients in two designated education units, one focusing on spinal cord injuries and the other emphasizing surgery and medicine.
Sandi Van Den Heuvel, VANAP program manager at Marquette, said while Marquette and the VA are separate entities, Marquette clinical instructors are well-integrated because they spend significant time at both institutions. "These nursing instructors have done a really good job of being part of the culture here (at the VA), which has by proxy helped these students so much," she said.
Students work four days per week, and patients know when students will be working with them. The majority of patients are older men, including some who served in World War II, but there are also young men and women who served in Iraq or Afghanistan.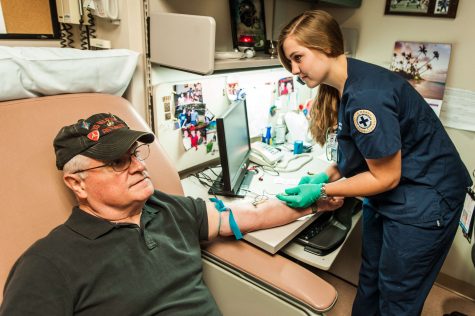 Ashley Hauser, a registered nurse who has worked at the VA for four years, accompanies students during their clinical rotations on Thursdays and Fridays. Hauser, along with most of the other VA nurses who work with students, volunteered for the position.
"That's part of why we work on this floor, is because we like to teach," Hauser said.
Likewise, Hauser said students want to learn. "They like to be hands-on, and so it's just kind of nice to be a part of that process," she said. Hauser said adjusting to the students' speed is the biggest challenge. "When you're working with students, you really just have to take the time to step back and let them learn and let them do things."
Laura Hale, a Marquette VANAP clinical instructor, has more than 20 years of experience as a clinical instructor, including the past three years at the VA. She said veterans are the best patients to work with because they are so grateful. "After everything they've done, we're the ones (who should) be saying thank you to them," Hale said.
Colleen Eckert, the VANAP program manager at the VA, said the beginning of the program was a learning experience for everyone involved. "Many of our expert clinical nurses had never worked in academia in any fashion, so they were learning how to become nurse educators," she said. "There was a lot of training of ourselves in addition to training our partners."
The VANAP program now seems to be operating efficiently, but like any joint activity between organizations, there were some logistical hurdles. "Whenever you're creating something that is a concept and trying to turn it into reality, it's challenging," Eckert said. "It's a pretty big task in front of us and we're in year four, just feeling like we got a really good handle on it. Years one, two and three were growing and developing years."
The mission of the VANAP program is to improve the education and practical experience of student nurses, and to work with the VA "to achieve unit-specific initiatives" for the patients, Eckert said.
Creating caring professionals
The OAA's funding will dry up in 2018, but the professionals involved indicate that the VANAP program is here to stay. After the grant ends, Marquette and the VA will assume complete responsibility for program funding and operations. "It's as if we're a startup," Eckert said. "OAA is giving us that seed money to develop this collaboration, with expectations that both sides of the partnership continue it in some fashion."
However, the specific details of where funding will come from and what the program will look like are still being worked out at the executive level, Eckert said, also noting that active planning and discussion are currently taking place.
Hale said the VA now employs several VANAP graduates. Students in the program also receive priority when applying for full-time jobs and summer programs at VAs across the country. VANAP students are not required to work at VAs after graduation, but most do, making the transition from student to full-time nurse relatively smooth.
Margaret Kerrigan, a junior nursing student in the VANAP program, knew at a relatively early age that she wanted to be a nurse. "I really like the idea of helping people and it's very rewarding," she said. "Especially being in the VANAP program and helping these war vets who have done so much for us."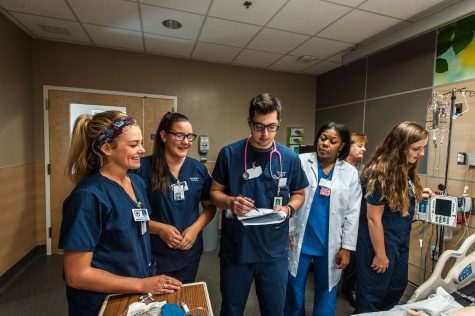 Kerrigan said the work, which demands continuous mental and physical exertion, "does get exhausting at some points," but, "if you have one good experience in a sea of bad, that's what makes up for it."
She recently had a memorable encounter one afternoon, when an older veteran shared his appreciation. "He just stopped me as he was leaving and genuinely thanked me for what I was doing, and he was saying, 'No one makes you sign up for this,'" Kerrigan said. "He was just so thankful for the time that we give back to them, so that was awesome."
For the students, the experience is one thing, but the chance to give back to the veterans is entirely another. Jeffrey Kopaniasz, a junior nursing student in the VANAP program, said the value of the experience lies in the patients.
"These are our nation's heroes," he said. "So getting to hear their stories and being able to help them, it's definitely the most fulfilling part."