Marquette has been thrust into the national soccer scene since men's head coach Louis Bennett arrived on campus in 2006. After accumulating just three wins in his first two years at Marquette, the team now gets top-15 recruiting classes, has made two NCAA tournament appearances and earned its first BIG EAST title in 2012.
The program is at the forefront once again, this time for its forward-thinking when it comes to interweaving technology into the beautiful game. The Golden Eagles took things to a level rarely seen among college teams. The coaching staff is no longer sitting around a TV watching game film. They are tracking players, analyzing detailed infographics about their play and making adjustments to practice, pregame, warmups and strategy based on players' feedback.
"There are a few (using this), but they are few and far between," Bennett said. "It's not cookie cutter… I can't actually say how many people are doing it. It might be in the teens. It might be less than ten."
At the center of the technological progression is Calvin Deutsch, the team's performance assistant,  hired this summer. The Creighton University graduate is a physical therapist with a specialization in strength and conditioning. He has a board certification as a sports clinical specialist, and when he's not at Marquette, he is a part of the Olympic committee's physical therapy database. If an athlete is injured in Southeastern Wisconsin, he or she goes to him.
His job for the Golden Eagles is to ensure players are as ready as possible for game action, which goes further than traditional PT practices. As opposed to just looking at the medical side, Deutsch examines multiple factors to keep the players at their best.
"He's responsible for keeping them fresh," Bennett said.
Deutsch and the rest of the coaching staff have a multitude of tools at their disposal in order to make that possible.
Fit For 90, used by clubs like the U.S. women's national team and Sporting Kansas City and Orlando City SC of Major League Soccer, helps the team analyze the players' readiness. Using the mobile app or online, players enter their own data, ranging from how difficult they felt the training session was, how tired or sore they are or even how much water they drank that day. Deutsch focused on this program most in his first season with the team.
"It was developed by John Cone, who has done a lot of work with the Portland Timbers (of the MLS)," Deutsch said. "He and one or two other guys came out as the first real high performance directors in the MLS. They wanted to roll together a lot of different aspects. They weren't just strength and conditioning guys. They needed to do total player performance."
It's sort of soccer homework for the players, but it's only a handful of questions and takes about two minutes a day. Like any teacher collecting an assignment, Deutsch will remind players to complete the survey on bus and plane rides home from games or walks home from practice.
"If you're trying to stay fit, you have to be on top of that," said redshirt senior forward C. Nortey.
Based on the information entered, Fit For 90 calculates a readiness score from zero to 100 for each player. Deutsch says this is particularly important to monitor for student-athletes, whose scores may be low due to school-related stress. Data shows that when players are anxious about school, their physical stress increases as well, increasing the likelihood of injury.
The players also enter feedback through After Action, a program that allows players to enter their thoughts about their own performance, as well as their teammates'.
This is in addition to the more established tactical systems the coaching staff uses, like Gamebreaker and Prozone. Gamebreaker, which Marquette has done in-house longer than the other programs, tags players' positions on the pitch and tracks the location of headers, shots and passes. Prozone goes a bit deeper tactically, showing not only video but graphs and schematics as well.
Sometimes professional teams looking at former Marquette players will ask Bennett to see the numbers from Prozone and Game Breaker, such as the number of passes a player makes, his speed of play and to whom he passes the ball.
These four tools, in addition to the traditional eye test by coaches, form a more personal and holistic view of the players. The tactical, physiological and medical sides all need to click for the team to perform well consistently.
"Everything that I want to do is just one or two spokes on a really big wheel that has to do with the players winning games," Deutsch said. "We can have everyone physiologically ready to go on game day, and they could come out and lose 3-0. That's happened this season. It has been really trying to assess: 'Are these methods really helpful?' I have all the data that says they are, and I have to talk to Louis who says, 'I saw them play. It didn't look like it really helped today.'"
Deutsch's analyses help dictate the intensity of practice or if certain players need to focus more on recovery for the next match.
"If they've all got the same sore spot, (like) their hamstring or their quads, and we've just done exercises the day before, it's a counterbalance to say we might want to lay off of that," Bennett said. "It's a check and balance so that we can get our players to maximum performance without risking breaking them."
This can lead to certain positional groups, or even individual players having a slightly altered training schedule.
"I know what the targets are in regards to how hard the sessions are supposed to be based on when we play and travel and all that kind of stuff," Deutsch said. "I can come to practice and say 'OK, we need to do 15 minutes of foam rolling to start the day. We need to extend the warmup, and then two-thirds of the way into the training session we should do these balance exercises and risk prevention exercises.'"
Deutsch factors into these plans how frequently a player gets on the pitch and the physical demands of the position he plays. For example, a starter who played the full 90 minutes two games ago needs a different practice environment than a player who hasn't seen the pitch in two weeks. Even players in the same position group, like the defenders, are treated differently depending on whether they play center back or winger.
"(Adam Hermsen) as an outside back (needs to) be able to get up and down the field a lot," Deutsch said. "That's different than, say, John Pothast who plays as a central defensive role. He's more just winging the ball around."
The program is for a player like Nortey, who missed the 2012 season with a knee injury. Fit For 90 has a feature that allows players to click exactly where the soreness is on their bodies, and for Nortey, that's almost always his knee. He hasn't missed time with an injury all year.
"It was fantastic," Nortey said. "I get to tell the coaches and Calvin how I'm feeling physically. I had surgery a few years back, so it comes back enough when I'm playing. Fit For 90, I can tell them, 'This week I felt a little sorer than last week,' or, 'This week I felt better.'"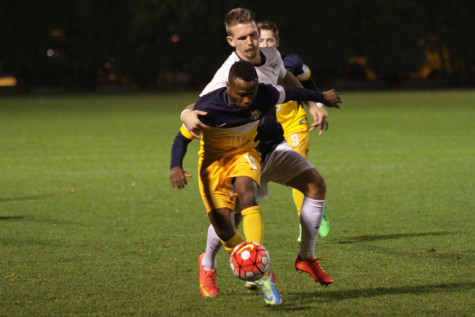 He appreciates the coaches personalizing practices, saying it just makes sense.
"You can't just go hard every day and risk injury," Nortey said. "The coaches and Calvin have to listen to our bodies."
Keeping the players fresh was especially important this season for the Golden Eagles, who suffered a handful of unpreventable injuries. The midfield unit was thinned out after defender Danny Jarosz's injury forced Ruben Sanchez to the backline and Martin Alba missed the second half of the season with a hip injury. Forward David Selvaggi also dealt with multiple leg injuries.
Deutsch is venturing into unknown waters. While there are similar programs set up at the professional or club level, the NCAA schedule poses a tougher challenge. Teams often must fit two or three games into a week's span, as opposed to once a week in many professional circles.
"Condensing this many games in this short of a time period and then having that supposed to be one of the primary developmental ways to play as a player of this age, looking to potentially move on to the MLS, it's tricky," Deutsch said. "The injury risk of playing three games in a week or even two games in a week are at least six times greater compared to once a week."
In many respects, Marquette is the guinea pig or trailblazer of this technology at the college level. Bennett said he has had multiple college coaches call him asking what they are doing. Deutsch said he believes they are creating a model that other teams will follow in the future.
"What we've tried to do is consistently become a team that is nationally respected by other teams and other colleagues," Deutsch said. "It becomes a pioneering model that really breaks down the traditional (model of) strength and conditioning in the weight room, the nutritionist gives the nutrition info, the sports psychologist just comes in and delivers some info, the coaches just do the soccer thing. We're bringing all that stuff together."
Deutsch said he will have the greatest impact with the team during the spring and summer, something he wasn't able to do prior to this season since he was not with the team yet. He plans to work with player volunteers to prep them for the 2016 season.
"Soccer is kind of stuck being a fall sport in that guys come in from the summer into the season," he said "We get guys coming in who played too much over the summer, guys that haven't played enough and everywhere in between."
"This program, we started it midway through what we consider the year, which is the season," Bennett said. "Looking forward in January we can see the full benefit. We can see it through from January to December of next year. With Calvin on board, that will give us a full gamut of what we can do."
Bennett stresses the goal of making sure the program is a step up from the MLS Development programs many of the players come from. He said the fancy gadgets set the tone for what Marquette soccer is about and the level of commitment to the program.
"They think, 'wow, we're really serious,'" Bennett said. "All of our guys that we've had in this incoming freshman class, four of them have been involved in an MLS club or training overseas. They understand what may or may not happen. A lot of our overseas guys who come from pro clubs, they think we're more advanced."
Deutsch plans to delve further into the data as the program moves along, and generally focuses on a three-part goal. He wants to improve the culture in the program by combining on-field work with science and research, end preventable injuries and keep as many players ready to go at the highest level as much as possible.
"If we can do that over the long term, I think we can breed a system and a culture in our program that is continually able to do well on the training field, as well as on the competition field," Deutsch said. "These guys, some of them will become coaches as well. I want to help change when these guys go out and start coaching, what they do to the players that they coach."