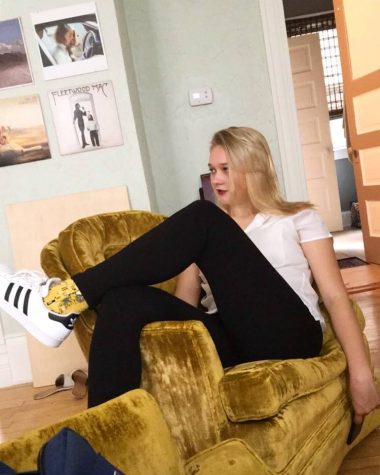 Cecilia Anderson is a business major/frat star who got lost in Johnston Hall one day and was given a puppy and a radio show. A "New Music Monday" host, Cecilia loves rock and its derivatives (chillwave, chamber pop, krautrock, slacker rock, shoegaze), as well as rap. When she's not busy writing about herself in the third person or making up genres of music, she likes to paint. She's from Minnesota. They're all like that out there.
SUPERLATIVE: Voted most likely to blow up and act like she doesn't know nobody
CATCHPHRASE: ALLEVIATE ME SWEET 80'S SYNTH
FAVORITE MOVIES: "The Graduate," "Jaws," "Hot Rod"
FAVORITE BOOK: "Raise High the Roof Beam, Carpenters and Seymour: An Introduction" by J.D. Salinger
BEST GOODWILL FIND: A cobalt blue Hawaiian barbecue dad shirt with red parrots on it
SPORTS: Twitter
Cecilia Anderson, Assistant Music Director
Mar 22, 2018

Penning A Belated Valentine for Mitski

(Story)

Feb 13, 2017

Noname's hopeful hip-hop realism shines at Miramar

(Story)

Dec 28, 2016

Lex Allen keeps it movin' with new soul-pop releases

(Story)

Dec 22, 2016

Cecilia Anderson's Top 10 of 2016

(Story)

Dec 02, 2016

'Best Summer Ever' lasts all year with Har Mar Superstar

(Story)

Nov 30, 2016

New Music Monday: Derek Sallmann

(Story)

Nov 30, 2016

NO/NO enchants with 'Sound and Light'

(Story)

Nov 01, 2016

Spooktacular line-up at Cactus Club Friday

(Story/Media)

Oct 17, 2016

Of Montreal embraces everything weird, obscure at Turner Hall

(Story)

Sep 18, 2016

Trampled by Turtles: a Shell of a Good Time

(Story)

Sep 06, 2016

Seattle-based Revel Releases New EP "2002"

(Story)