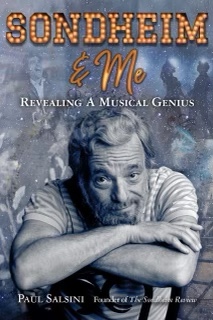 When he wasn't in the classroom teaching journalism courses to Marquette University students, Paul Salsini was exchanging messages with Stephen Sondheim, a Tony award-winning musical composer. 
Paul Salsini, a 1958 Marquette alum and former adjunct instructor in Marquette's journalism and media studies, published a personal memoir titled "Sondheim and Me: Revealing a Musical Genius."  
In the memoir, Salsini detailed the personal relationship that he developed with Stephen Sondheim over the course of ten years.
Stephen Sondheim was an American lyricist and composer who is credited with composing the music for several Broadway productions such as "West Side Story," "Into the Woods" and "Gypsy." 
Salsini said the two communicated with each other for a decade before Sondheim's death in November 2021. It was after Sondheim's death that Salsini became inspired to write the memoir and include the dozens of notes he received from Sondheim within it.
Before writing the memoir, in 1994, Salsini co-founded and became the editor of a quarterly magazine, The Sondheim Review, that was centered around Stephen Sondheim. 
"I was always enamored of Stephen Sondheim's works, so I decided to found a magazine that would be devoted to his works," Salsini said. "It would not be a fan magazine, but instead a journalistic magazine with news, reports, interviews and essays."
Shortly after the magazine came out, Salsini said he realized that Sondheim himself was one of his magazine readers. 
"Sondheim and I started to develop a relationship during that time, over the phone and through notes back and forth," Salsini said. "It became clear that he apparently would read the magazine cover-to-cover and send me notes commenting on it."
Realizing that he could provide a deeper insight to the public about who Sondheim was as a person, Salsini said he started incorporating the feedback he received from Sondheim into the memoir.
"I had all of this material, so when Sondheim died, I thought that people would be interested in reading all of his notes about how he viewed our magazine, and even just learning more about how he worked and his thought processes," Salsini said.
In October 2022, "Sondheim and Me: Revealing a Musical Genius" was released to the public. 
Tim Cigelske, a Marquette graduate and adjunct instructor in the College of Communication, was introduced to Salsini during his college years when Salsini was working as one of Marquette's writing coaches. 
Cigelske said that Salsini's unwavering dedication to crafting a story out of his decade-long communication period with Sondheim does not come as a surprise. 
"Paul showed me how to look for the 'relevant detail' that other people may miss when writing a story," Cigelske said. "He also taught me how to be observant of everything and how to always write with purpose." 
Lawrence Baldassaro, professor emeritus of Italian at the University of Wisconsin-Milwaukee and friend of Salsini, said that it's also important to keep in mind that Salsini's professional career is not the only admirable thing about him. 
"Paul has pretty much excelled at everything he's tried, yet he's remarkably humble and unassuming," Baldassaro said. "I would say Paul is as good of a friend as anyone could hope to have."
While Salsini said he is currently focusing his personal career on writing fiction novels, he still has advice for any journalist looking to improve their work and storytelling. 
"Read and do your research," Salsini said. "It's very important to go into a story with background information and knowledge about the subject you will be writing about. Just do a tremendous amount of research for any story you write." 
This story was written by Erin Howard. She can be reached at e[email protected]