Ighodaro and Kolek lead men's basketball to season opener win
The Marquette men's basketball team made enough plays to pull out a win in its season opener.
Behind the second-half performances from junior guard Tyler Kolek and junior forward Oso Ighodaro, the Golden Eagles defeated the Radford Highlands by a score of 79-69 Monday night at Fiserv Forum.
"When we were at our best we were really good and connected on the defensive end," head coach Shaka Smart said. "There was a couple of times where we put ourselves in a position where we could have really broken the game open but we didn't make the next few plays after that."
Ighodaro's presence on the floor served to be the difference maker for the Golden Eagles as he finished with a game-high 19 points on 9-for-12 shooting.
"He's a huge key for us," Smart said.
The 6-foot-9 forward began the second half scoring four of Marquette's first six points on a jumper and dunk off passes from Kolek. Then, Ighodaro found Kolek on a pick and roll to give the Golden Eagles a 48-34 lead.
Marquette's best stretch of the half came from the 12:39 to 7:52 mark when Smart went to a lineup of sophomore guard Stevie Mitchell, junior forward Olivier-Maxence Prosper, Kolek, Ighodaro and first-year guard Chase Ross.
During this stretch, the Golden Eagles went on a 16-0 run to jump out to a 69-50 lead forcing the Highlanders to call a timeout.
"We talked about having a defensive identity going into this game and thought those five guys did a great job of that during that stretch," Smart said.
But Radford didn't give up a fight there, as the Highlanders put together an extended run of their own, 14-0 to cut the Golden Eagles' largest lead of the night, 21 points, down to seven, forcing Smart to call a timeout with 2:03 left to go.
The Golden Eagles iced the victory at the free-throw line, going 8-for-8 in the final minute.
Marquette also got some help on both ends of the ball from Mitchell, who earned his first collegiate start. He finished with 11 points, seven rebounds, an assist and a steal.
"He brought a level of energy and joy to the game that was needed because at times, we had other guys that got a little frustrated," Smart said. "Stevie was a positive domino in that way."
Kolek finished with nine points, eight rebounds and nine assists on the night, seven of which came in the second half alone.
Ross finished with seven points on 3-for-5 shooting from the field in his first collegiate game.
"He played really well," Smart said. "Chase is a guy that his impact on the game will be even bigger than any numbers would dictate. Today was his first game as a freshman and I thought he played with very poised being it his first time out there on our home floor in college basketball."
Marquette turned over the ball 18 times across the night, to which Radford scored 21 points off of.
"A lot of those turnovers it's like get the ball back to Tyler please and we won't turn it over," Smart said.
All available scholarship players saw action Monday night, including sophomore forward Keeyan Itejere who made his Marquette debut after redshirting last season.
Marquette will now host Central Michigan Thursday at 7 p.m. CST inside the Al McGuire Center in its student-only game.
It is the first time the Golden Eagles will play a game on campus since 2018 when they hosted the National Invitational Tournament.
"We didn't play any games there last year, it's a little bit unique," Smart said. "We're looking forward to it. The basket is still 10 feet high and the court still 94 feet."
This article was written by John Leuzzi. He can be reached at [email protected] or on Twitter @JohnLeuzziMU.
Leave a Comment
About the Writer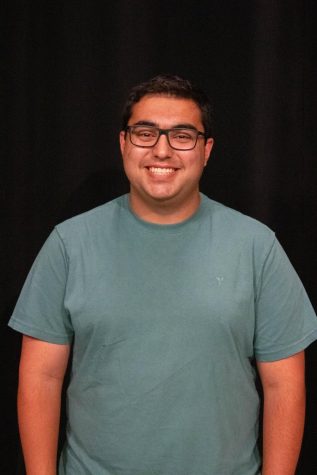 John Leuzzi, Executive Sports Editor
John Leuzzi is the Executive Sports Editor for the Marquette Wire. He is a senior from Mount Laurel, New Jersey, majoring in journalism and minoring in...