Trap and Skeet club welcomes novice members
No birds have been injured during this club's sports outing. The Trap and Skeet Shooting Club at Marquette University only shoot sporting clay "pigeons" that are thrown in the air at the Waukesha Gun Club.  
Emmett Marinic, a fifth-year in the College of Engineering and club president, said the sporting clays are used during practice.
"They're called clay pigeons and are bright neon orange, but I try to avoid calling it that because some people think we're shooting animals. When you shoot up in the air and hit it, it explodes and pops so you see it go everywhere," Marinic said.
The club is open to everyone and beginners are encouraged to join, said Abby Pohodich, a first-year in the College of Business Administration.
"I was very comfortable going to the gun club with the group for the first time," Pohodich said. "I was a little intimidated about what to do but everyone was nice and helped explain the safety protocol." 
Abbie Gunter, a first-year in the College of Engineering, said she had never shot a gun before joining the club earlier this year.
"Trapshooting is mainly what the club does and there are five people in a group that can shoot together. You are lined up on a concrete strip so there is no danger of hitting anyone, which was important to me because I had never shot a gun before," Gunter said.

Marinic said trap shooting is scored as each of the shooters goes through their rotations.
"You have one person that's clicking the button to launch the clay pigeons and then one person next to them with the scoresheet. The five people rotate and you'll shoot five times at each position," Marinic said."You just sit there watching, like, 'OK, hit. OK, miss, hit miss' and then you count them and the winner gets bragging rights."  
The club promotes numerous friendly competitions with each other but there are other members who will join competitive shoots at various gun clubs in the Milwaukee area, Marinic said. 
"We have members that have competed in the past and there are a lot of good shooters in our club and more of them want to start shooting competitively.  In the future I could see us becoming involved with competitive shooting in Wisconsin,'' Pohodich said.
While the club has fun, Marinic said safety is first and foremost in the training of beginners as well as members who have shot before.
"When you line up to shoot, you need to have eye and ear protection on which we provide and it is also a legal requirement in all shooting ranges.  When you are away from the shooting line, you take your equipment off so we can share equipment between club members," Marinic said.
Many club members have their own guns which are shared among the members and stored at the Marquette University Police Department or in gun safes throughout the members' apartments.
Pohodich said there have 72 people interested in joining the club, but there is not that many when they go to the range.
"It sounds like a lot, but there's usually 20 to 40 people that come out. We don't go every week, especially when it's called cold or rainy, so it averages about five times a semester," Pohodich said.
Although she thought of it as more of a men's sport, Gunter said trap shooting offers the same opportunities to all. 
"There are definitely more men in the club, but every outing the club has women make up one-third of the shooters," Gunter said.
Marinic said as the club continues to get its foot in the door, he encourages anyone to give the club a try, no matter if one has experience with trap shooting.
"We want people to know we exist, you can come to a shoot having never shot a gun before deciding if you like it or not. I didn't think in high school that I would ever be shooting but I wanted to challenge myself to do something I had not done before so I did and now I have my own gun and really enjoy the sport," Marinic said.
This story was written by Catherine Fink, she can be reached at [email protected]
Leave a Comment
About the Contributor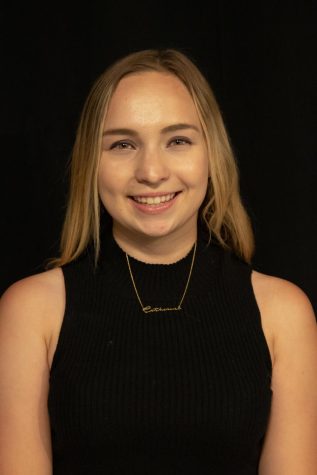 Catherine Fink, Sports Reporter
Catherine is a Sports Reporter at the Wire. She is a sophomore from Milwaukee, WI studying corporate communication and minoring in information systems...