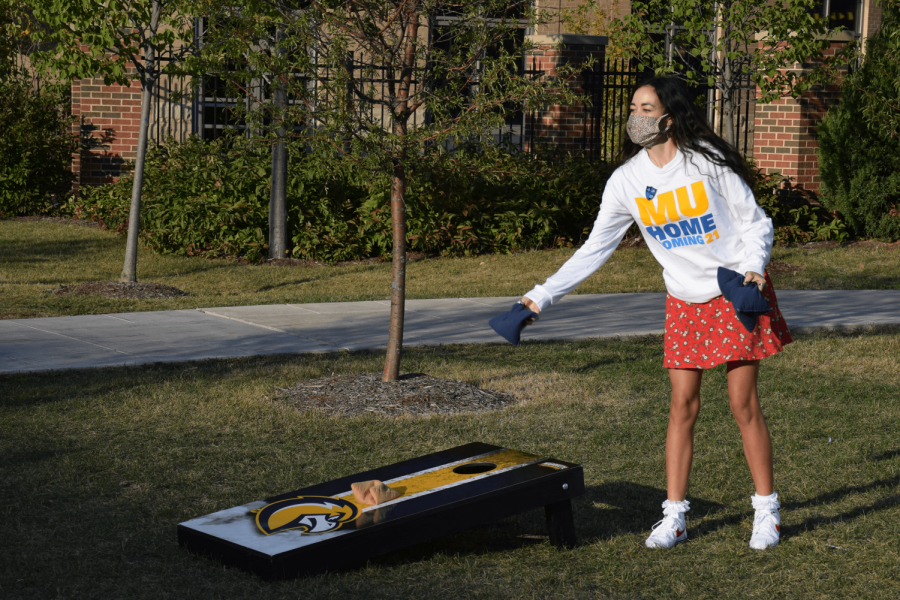 Sarah Kuhns
After being mostly virtual last year, Marquette is bringing back in-person events for Homecoming 2021. 
Homecoming week will be a lot different this year as it'll be the first "real" Marquette Homecoming week in nearly two years. And for Aine Grady, a junior in the College of Engineering, she's glad to see this yearly event make its return.
"I'm just excited in general for things to get back to normal, so I think it'll be really fun," Grady said.
For freshman and sophomores, this will be their first taste of a real college homecoming week at Marquette. For juniors and seniors, this will be their first real celebration since the fall of 2019. For Lauren Flannagan, a senior in the College of Arts & Sciences, it feels different to have the event come back to campus.
"It's honestly weird. Sophomore year and junior year had been such a blur because of the pandemic," Flannagan said. "The fact that we're doing this again is really exciting! [It's] just really hard to digest, like 'oh my God, I'm graduating.'"
 While there may be students who are excited to see Sean Kingston perform, Timothy Horton, a junior in the College of Arts & Sciences, isn't feeling this year's performer.
"No disrespect to Sean Kingston, but he hasn't been hot since 'Beautiful Girls'," Horton said, who feels that Homecoming culture at Marquette is not up to the level of other schools.
"I think it's a lack of hype around it. [At] other colleges, homecoming is a pretty big thing. But here, it's pretty trash and nobody really cares about it."
When asked who he'd choose to see perform, he had one person in mind: Future. 
Yesterday, there were yard games at Ray and Kay Eckstein Common, here's a look at what else is going on campus for the week.
Tuesday 9/28: Free food and bowling at the Annex at 6 p.m. 
Wednesday 9/29: Court Carnival – come to the Albumni Memorial Union ballrooms at 7 p.m. to talk to the Homecoming court nominees and get into some games!
Thursday 9/30: The National Association for Advancement of Colored People at Marquette offers their own version of comedy show Wild N' Out, with help from comedians Navv Greene, Tyler Chronicles and Mr. Bankshot! The event is being held at the Weasler Auditorium at 7 p.m.
An alternative to the Wild N' Out event is Glow Bingo in the AMU Ballroom at 9 p.m. where you can win exclusive prizes. 
Friday 10/1: At 5 p.m., women's volleyball takes on UConn at the Al McGuire Center. Then at 7 p.m., Marquette Madness introduces the men's and women's basketball teams as their season approaches! 
You can also checkout MU Spotlight at Weasler Auditorium at 8:30 p.m. to see talented Golden Eagles show off their abilities!
Saturday 10/2: The Homecoming Bash will be on the Ray and Kay Eckstein Common, with food trucks and games on standby! Afterwards, the Homecoming court is announced, then Sean Kingston performs at the Varsity Theatre! Doors open at 6 p.m., with the show starting at 8 p.m.
Sunday 10/3: From 11 a.m. to 2 p.m., the Cobeen and Commons dining halls will have brunch! Students without a meal plan can get a voucher. At 6 p.m., Mass will be held at Gesu to reflect the 500th Ignatian Year. 
Despite mixed feelings, one thing's for certain: a sense of normalcy is back just in time for Homecoming.
This story was written by Rashad Alexander. He can be reached at rashad.alexander@marquette.edu.
Check out the radio package by Arts and Entertainment Audio Producer Julianna Okosun.