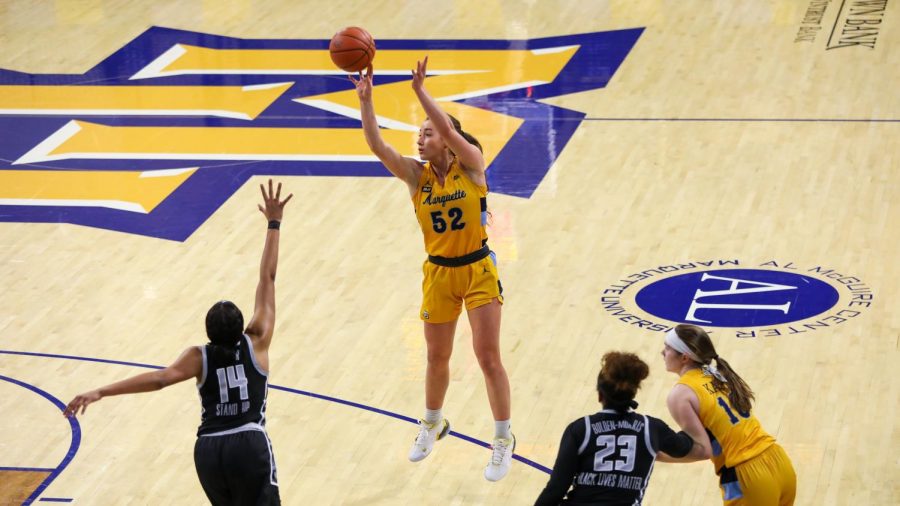 In a season filled with uncertainty, one thing that remains clear is that Marquette women's basketball junior forward Chloe Marotta is on track for a career-best season. 
In the games that the team has been able to play in the 2020-21 season, Marotta has been putting up some of her best numbers during her time in a Marquette uniform. She is averaging career-highs in points, rebounds and assists per game with half of the regular season schedule still to be played. 
Marotta has attributed her success this season to the extra work she has been putting in with her teammates, going all the way back to last summer.  
"We're constantly in the gym with each other, and I think that's a great attribution to the success we've had on the court," Marotta said. "As you get older and become an upperclassman you start to feel more confident on the court and you understand your reads a little bit more, so I think I've seen myself as a player grow in that aspect as well." 
As the only junior and one of three upperclassmen on the roster, Marotta has developed a bigger leadership role this season to help mentor the younger players on the team.  
"As you become older, you're expected for a lot more and I take leadership pridefully as I love to lead and want to be looked at as a leader in our program," Marotta said. "I've also learned a lot from our seniors in Selena Lott and Lauren Van Kleunen when it comes to leadership as we're a very player-led team."  
Head coach Megan Duffy also attests to seeing Marotta grow as leader, not only on the court, but also in the locker room. 
"Chloe wants to be impactful for her team with her voice and with her actions," Duffy said. "She's motivated to be that voice and be the example for her teammates. The great thing I also love about Chloe is that I think there's a lot of room for her to develop on the court and in her leadership role because I know she's hungry to do that."
Coming off her best performance of the season against St. John's with 11 points, 14 rebounds and seven assists in a 72-61 win, Marotta followed up with a career-high 21 points along with seven rebounds and four assists in Marquette's 72-40 win against Georgetown Jan. 20.  
Marotta's impact in the paint has been key when it comes to rebounding opportunities and turning them into scoring during fast breaks. Since Duffy has been in charge, Marquette has won the rebounding battle in 39 out of 42 games, and Marotta is averaging a career-high of 7.6 rebounds per game this season. 
Marotta's hard work and dedication has been paying off, with her influence on the court both defensively and offensively. 
"I think Chloe Marotta is probably one of our hardest working players in our program," Duffy said. "She really took it upon herself after our season was cut a little short last year to really dive into improving her versatility and I think she's always been a player who's been able to contribute in different ways, and she's really stepped things up in every statistical category so far this season."
Many may think that having a breakthrough season when no fans are allowed in person can be tough, but Marotta is still thankful to be sharing the court with her teammates. 
"Being together is the most important thing," Marotta said. "You don't play a lot this season, but when we're on the court together and doing what we love together, that's the best part."  
As for the remainder of the season, Marotta and the Golden Eagles are looking to improve their 5-1 BIG EAST record and compete for a BIG EAST title.  
"We want to become the best team that we can possibly be," Marotta said. "We always have team goals to get to that BIG EAST championship game, but I think this year is important that we take every day one day a time and see where we can go because nothing is guaranteed this season." 
This story was written by Sam Arco. He can be reached at sam.arco@marquette.edu or on Twitter @sam_i_am119.