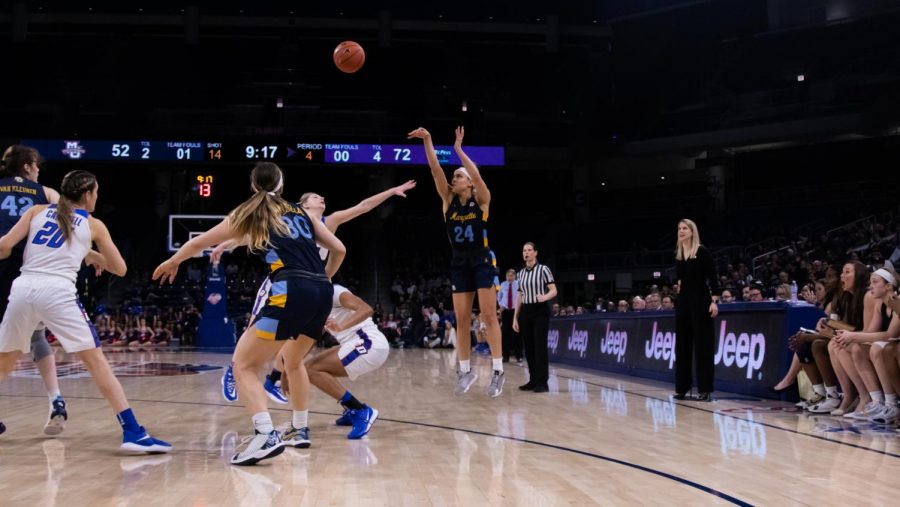 Zach Bukowski
The readmission of the University of Connecticut into the BIG EAST Conference is not the only change of the 2020-21 season. The BIG EAST Women's Basketball Tournament is also moving to Mohegan Sun Arena. 
The league announced Sept. 1 that its postseason tournament was heading to Uncasville, Connecticut.
The past seven BIG EAST Tournaments have been played in the Midwest. From 2014-2016 the tournament was hosted by DePaul in various locations around Illinois. Marquette University hosted in 2017 at the Al McGuire Center before it was played three years in a row in Chicago at the Wintrust Arena. 
The Mohegan Sun Arena is a state-of-the-art facility home to the WNBA team the Connecticut Suns. The WNBA team also has connections to Marquette, as alum star basketball player Natisha Hiedeman is currently playing for the Suns. 
BIG EAST Commissioner Val Ackerman said the change of venue will be beneficial for many reasons. 
"Women's basketball is supported at such a high level (in Connecticut)," Ackerman said on BIG EAST Media Day Oct. 28. "It is a fantastic facility, just a great environment. There were so many reasons why it made sense for the BIG EAST to be in Connecticut."
The Huskies have generated a lot of attention throughout the years due to their many successes. They have won a record of 11 national championships, including four in a row from 2013-2016. Adding on to that, they are ranked at third in the nation in preseason predictions for this upcoming season. 
As UConn is one of the most successful women's basketball programs in the nation, Ackerman said the motive to move the BIG EAST Tournament to Uncasville has to do with addressing the underappreciation of women's basketball, among other reasons. 
"We brought in a team that has, in many ways, put women's basketball on the map," Ackerman said. "To now have that as a part of us is a fortifying stop for a league that has flown under the radar screen a little bit on the women's side. (UConn), nonetheless, has a full range of great programs committed to basketball."
Vice President of the Connecticut Sun Amber Cox said she is also looking forward to the type of attention that women's basketball may be able to generate due to the new location.
"For us, as a staff, it brings a lot of excitement," Cox said during BIG EAST Media Day Oct. 28. "As soon as the announcement was made about UConn moving back to the BIG EAST our phones were ringing off the hook from fans asking to buy tickets. The excitement level is really really high. We have such a great luxury to be what I like call the 'women's basketball capital of the world,' where there is just so much excitement around the college and pro game."
Cox said the tournament destination will be a place where fans will not only be able to enjoy basketball, but other activities as well. 
"This event is really going to be supported by the fan bases," Cox said. "I like to affectionately call Mohegan Sun just a wonderland of entertainment. You can come in and just get lot in there between the shopping and the restaurants and the gaming. We hope that it will be a great destination for fans across the BIG EAST to come and not only to enjoy what is sure to be great basketball action, but all of the great amenities offered at Mohegan Sun."
Besides basketball, Mohegan Sun offers numerous retail shopping outlets, dining options, hotel accommodations, live entertainment and entertainment for children. Specifically, the Mohegan Resort and Casino is one of the most popular attractions offered at the location. There are over 300,000 square feet of gaming and gambling machines, and the resort offers 1,563 rooms for people to stay in. 
"When the casino was built years ago, that arena was such a great addition because it allows for such a variety of programing to come through," Cox said. "Basketball is a big part of that, sports are a big part of that. We are always looking to versify content. Certainly continuing to look at opportunities for UConn, for other BIG EAST teams, for basketball in general to be at Mohegan Sun, we love to see it and certainly will always welcome the opportunity."
Marquette women's basketball head coach Megan Duffy said that when she played collegiately as a Notre Dame guard, the BIG EAST tournament was always out in Connecticut.
"We always had it out in Connecticut. We had to fight all the Husky fans and all that goes into it," Duffy said Nov. 12 in a Zoom press conference. "A lot of teams came in from all over to watch some great basketball, and that was the intention when we decided to, as a league, move it out of the Midwest. … It'll definitely feel like a tournament atmosphere and kind of a cool vibe that will hopefully enhance the league again." 
Redshirt senior Lauren Van Kleunen said her and her teammates are eager to play in the new location.
"Going out to Connecticut, I've never been so it's going to be pretty cool to experience that," Van Kleunen said Nov. 12 in a Zoom press conference. "I understand they get a bunch of fans too, regardless if it's UConn or whatever team, they just love their basketball out there."
This story was written by Molly Gretzlock. She can be reached at molly.gretzlock@marquette.edu or on Twitter @mollygretzlock.