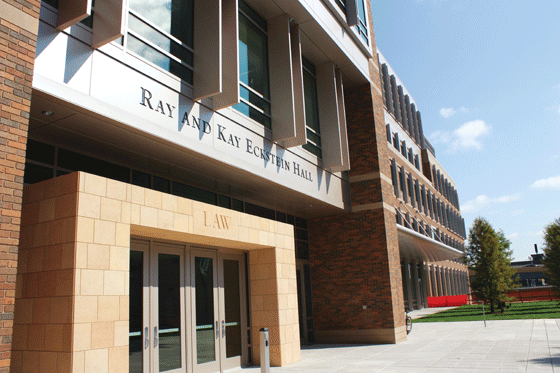 Judge Amy Coney Barrett was confirmed to the United States Supreme Court thirty days after being nominated by President Donald Trump, which was nearly one week before Election Day. The Senate vote was 52-48. She fills the seat of the late Justice Ruth Bader Ginsburg, who died Sept. 18.
With Barrett's confirmation to the court, it now makes the Supreme Court a 6-3 conservative majority. Since the death of Ginsburg, many suggested — and argued — if Democrats win in November, they should consider increasing the number of justices. That idea is called court packing, and it gives the president a chance to further elect justices to increase the amount of judges on the court, further balancing or leaning the court one way or another.
"(Barrett's nomination) helped motivate both sides," Paul Nolette, a professor of political science, said. "Both the Republicans and the Democrats were motivated by this court appointment which will decisively shift the court to the more conservative side."
Nolette said he thinks a lot of Democrats were angry about the process, in which the Republicans quickly nominated Barrett.
When Supreme Court Justice Antonin Scalia died in February 2016, Senate Majority Leader Mitch McConnell said the next Supreme Court justice should not voted on during an election year. He blocked a vote on then President Barack Obama's nominee for Supreme Court.
President Donald Trump later filled that spot early in his presidency.
"It's not the biggest issue in the election for sure," Nolette said. "The coronavirus, the economy are much bigger issues on people's minds, but for a lot of the partisans in the election, it helped boost their enthusiasm further."
Nolette said over the last few years, there has been a stable, ideological balance between liberals and conservatives on the court.
"Now with … a solid conservative replacing a solid liberal, that balance is really completely gone," he said. "The conservative side is much more likely to prevail, I think, moving forward than in the past."
A misapprehension that a lot of people have is that somehow the Supreme Court must have nine members, he said.
"But, it does not," Nolette said. "Nothing in the Constitution requires that, in fact, it allows Congress to determine the number of justices and the number of justices has varied over time since the framing of the Constitution. It's been stable at nine since 1869, so shortly after the Civil War, but Congress can change it." Prior to the war and during, the Supreme Court fluctuated between 10 and seven justices on the court.
If former Vice President Joe Biden wins, he has the opportunity to 'pack the court,' or increase the amount of justices to be added. Nolette said that if Biden is to win, there is talk of how many liberal justices would be added to the court to gain back the stable,  ideological balance.
Nolette said the magic number the court could be at is 12, if Biden wins and decides to add three more justices to the three liberal justices on the court already.
"There's nothing, by the way, says that the court has to be an odd number, opposed to an even number of justices," Nolette said.
Sarah Isgur, a staff writer for The Dispatch and a political analyst, said in an Oct. 29 "On the Issues" with Marquette University Law School's Mike Gousha that the election litigation for this cycle feels higher because there is tension in the country.
"But there are actually reasons why it might be higher, which is because of the expansion of mail in ballots because of the pandemic. Mail in ballots have a lot of problems with them not the least of which what we've already seen in litigation," Isgur said during "On the Issues."
Post stamps on ballots when they arrive, which ballots get counted, and signature matching are some problems, or potential problems, that could happen on this year's election night, similar to issues that occurred on the year 2000's election night, with President George W. Bush and former Vice President Al Gore.
"You think back to Bush v. Gore, and the theory behind that was an equal protection violation right of some counties were counting ballots differently than other counties, so what in theory could happen this time is that some counties within a state or some states versus other states are for instance, not using signature matching at all despite what the law in their state says, and other states are using very strict signature matching … you could see any of those types of cases go to the Supreme Court," Isgur said.
After several national news networks had projected the winner of Florida for then presidential candidate Gore, they quickly recalled their projection, switching to Bush as the projected winner. Then altogether, they retracted their projection. Gore conceded to Bush, then rescinded.  The Supreme Court stepped in to resolve the dispute on who won Florida after Gore asked for a recount on select Florida county votes.
An important thing to remember as well, Isgur said, is while most may think of Bush v. Gore as a 5-4 case, it was actually a 7-2 case on the equal protection violation. The equal protection violation is an equal-protection claim based on uneven enforcement of law that the plaintiff must show the government is applying.
"Especially under the Roberts court, you will see a hard push if there is any election challenge to ensure that it is not a 5-4 decision and so in that sense, the addition of Amy Coney Barrett certainly makes it a nine person court instead of an eight person court so if it were to be 5-4, you want that fifth person because a 4-4 court ties and the lower court decision then stands … that would not be great for this contested election of all contested elections," Isgur said.
On whether the process of nominating and confirming Barrett was rushed or not, Isgur said, "It is in the eye of the beholder to a large extent — these are political processes."
"Would anything have changed if the process had been another three weeks? No, the votes weren't going to change. No Democrat was going to vote for her and no Republican was going to change their vote against her based on having an additional three years to look into Amy Coney Barrett's record," she said.
In that sense, Isgur said it is silly to say the process was rushed.
"Now did it politicize or delegitimize the court? Sure, I think it could still do that regardless of the process and whether it was or was not rushed," Isgur said. "I think that the court has increasingly become a political punching bag … whereas Congress has largely let go of all of its real responsibilities over to the administrative state and the executive branch, more and more and more is having to get resolved by the courts because Congress just isn't legislating at all."
Because of that, Isgur said, the courts become more politically involved and the parties actually use it more and more as a political punching bag.
An example of this is back in 2012, when the Supreme Court was looking at the Obamacare program and then President Barack Obama said that he would run against the Supreme Court and make the Supreme Court his number one issue heading into the election if they were to strike down Obamacare.
On the other hand, former Wisconsin Senator Russ Feingold said in an Oct. 22 "On the Issues," the process is an "abuse of our constitution."
"They're delegitimatizing the United States Supreme Court, they are making it look like a kangaroo court in the eyes of the American people because of this process," Feingold said.
Feingold said that the empty Supreme Court seat should not have been President Trump's.
"The questions is whether the process works," Feingold said. "Progressives and democrats may have no choice but to consider changing the nature of the judicial tenure or the number of members on the Supreme Court."
Nolette said while there is a further concern about legitimacy, there is no question, at least constitutionally, that Congress can't change that number. 

This story was written by Natallie St. Onge. She can be reached at natallie.stonge@marquette.edu.