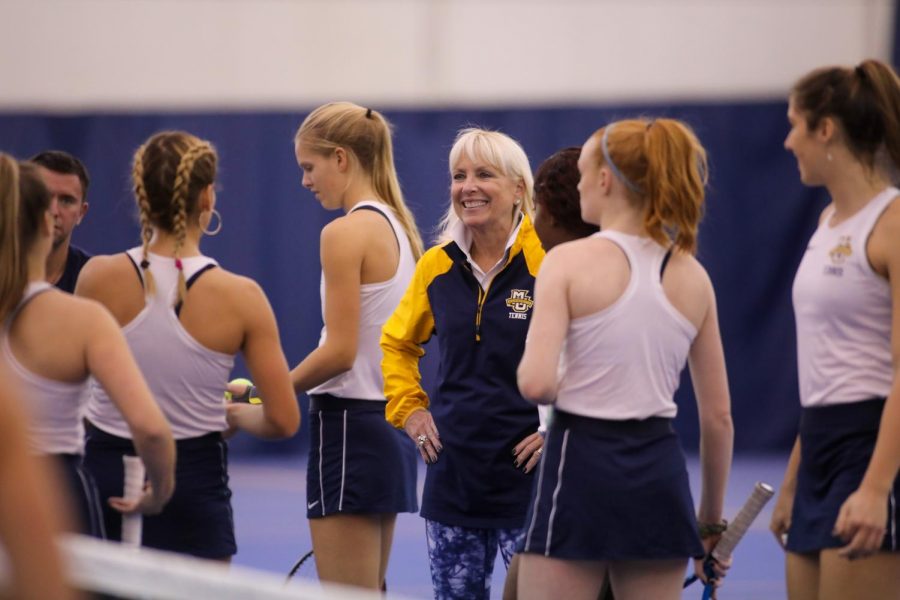 The 2020-2021 women's tennis season is going to be very different in comparison to previous years, as the season has been postponed due to the pandemic.
The Golden Eagles will not be playing in any tournaments this upcoming fall, which will help them prepare for their spring BIG EAST competition season.
Another major change is that for the first time in 35 years, former head coach Jody Bronson will not be leading the program, after athletic director Bill Scholl announced her retirement which went into effect June 18. She was the longest-tenured varsity head coach in Marquette's history.
"I want to thank Jody on behalf of the entire University for her 35 years of service to Marquette," Scholl said in a statement June 13.  "She has been a tremendous ambassador for the department and her dedication to the program has, and will continue to, leave a lasting impact."
After becoming the head coach in 1985-86, she led her teams to a combined 440 wins, three BIG EAST championships, three appearances in the NCAA Tournament and she guided the tennis team to a program-best national ranking.
"Hank Raymonds and Tat Sheily gave me the opportunity to coach the Marquette women's tennis team in its inaugural year in Division I," Bronson said in a statement June 13. "This opportunity proved to be more than I could have ever imagined.  It's been an honor to be able to coach and mentor so many incredible young women, who today continue to use their whole Marquette experience in their daily lives."
The tennis programs' staff was reorganized when Steve Rodecap, the men's coach, was named director of tennis. Rodecap will be overseeing both the men's and women's teams, while men's assistant Jud Shaufler and women's assistant Dusan Medan were promoted to associate head coaching positions. Shaufler and Medan will report to Rodecap.
"I have been fortunate to work alongside Jody the past 17 years and have seen her pour her heart and soul into the program, while transforming the lives of so many young women," Rodecap said.  "She consistently represented the department and University in a first-class manner. … Although her daily touch on the program will be greatly missed, she will always be a part of the Marquette Tennis family."
Redshirt junior Natalija Popovic said the program will miss Bronson deeply.
"It was really sad to hear and we were all got pretty emotional," Popovic said. "We wanted to win the BIG EAST championship under her coaching before she left. Due to (COVID-19) canceling the spring season, that was unable to happen this past year."
Rodecap is no stranger to the women's team and already has relationships with some of the players through coaching last season.
"I have been involved with the women's tennis program for years," Rodecap said. "I already have great relationships with some of the returning players."
With all fall collegiate activities being canceled for the time being, offseason preparation for the team will be unique. Even spring seasons are up in the air at this time. However, the team has started participating in voluntary workouts.
"We are optimistic, but anything is possible," Rodecap said.
Although Bronson may no longer be head coach, she is still seen as a leader to the women and will always be someone special to the team. Popovic said Bronson has pushed the team to their full potential.
"The best advice coach gave me was 'Never give up, there is always a chance to come back.' She would never let you give up," Popovic said.
This story was written by Matthew Valente. He can be reached at mattew.valente@marquette.edu.